Denmark 'criminalising decency' with crackdown on helping refugees, says woman prosecuted for giving lift
Lisbeth Zornig and her husband helped a Syrian family reach Copenhagen railway station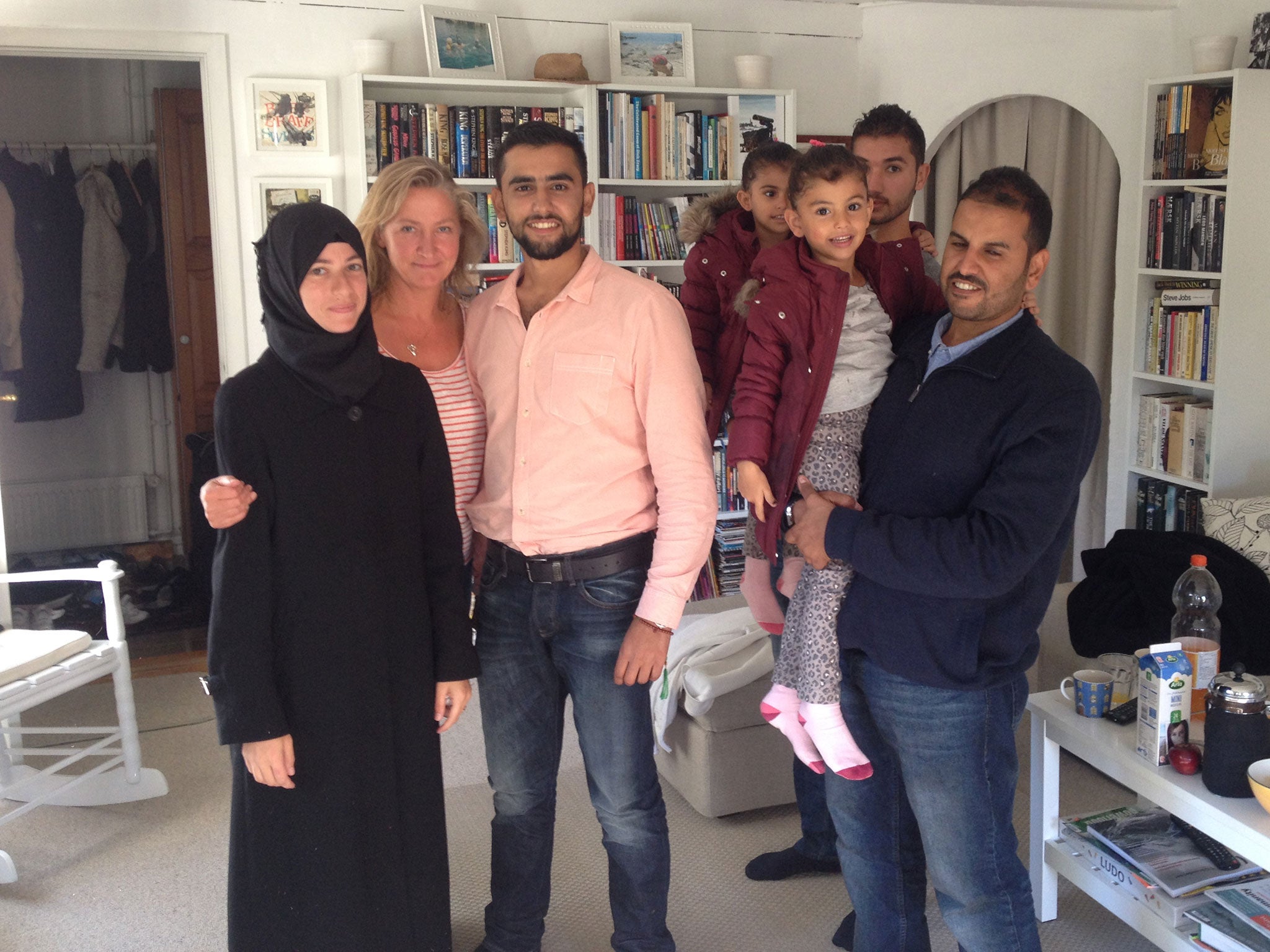 Denmark's former children's ombudsman has accused the government of "criminalising decency" as hundreds of people are prosecuted under human trafficking laws for helping refugees.
Lisbeth Zornig is one of almost 300 Danes to be taken to court for giving asylum seekers lifts around the country or to neighbouring Sweden.
She and her husband Mikael Lindholm say they did not mean to contravene any laws when they helped a family of Syrians in September, driving from southern Denmark to Copenhagen.
The couple, who are appealing their sentence, were handed a combined fine of 45,000 krone (£4,700) by judges in the city of Nykøbing Falster on Friday after being convicted under the Danish Aliens Act.
They are among the first to be sentenced out of almost 300 Danes being prosecuted for transporting refugees in what has been condemned as a "clear political signal" aimed at dissuading volunteers.
"We were found guilty of human smuggling," Ms Zornig told The Independent. "But I didn't smuggle anyone – that's something you do in secret but there were at least three police officers around my car."
She was one of dozens of Danes who picked up refugees on 7 September last year after a train from Germany was stopped in the Danish border town of Rødby.
Footage showed scenes of confusion and panic as asylum seekers fled police on the station platform, running into the surrounding fields to start their long walk along a motorway to Sweden.
Ms Zornig described how she was driving through the Danish island of Lolland when she came to a column of migrants trudging along the side of the road, escorted by authorities.
She said: "We had only seen scenes like it on the television and suddenly they were walking in Denmark carrying their children, without anything but the clothes they were wearing."
Feeling unable to drive past, she stopped and got talking to a Syrian family of two twin sisters, their mother and three others who were attempting to reach family in Sweden.
"They were six people and I had six places in my car," Ms Zornig said. "There were small children and I couldn't leave them, I thought 'I'm going to Copenhagen anyway, so I'll give them a lift'.
"I didn't know it was illegal."
Denmark blocks rail and road links with Germany to stop refugee flow
But there was already news in Denmark of possible prosecutions for "human trafficking" in similar circumstances, and her husband called the police to check if they would be arrested.
Mr Lindholm did not get a definite response, so he invited his wife to bring the refugees to their home for a brief break before they continued their journey.
"The police didn't seem to know themselves at that time because no one had experienced this before," Ms Zornig said.
"We stopped at the house for a cup of coffee and some cookies, then my husband drove them to the railway station.
"That's what he was prosecuted for – giving them coffee and a lift. It only lasted an hour."
The couple received a letter in October announcing the prosecution and were each fined 22,500 krone (£2,300) in a sentence decided by three judges at Nykøbing Falster court.
"We have jobs so we will manage but other people awaiting sentencing are poor – they are studying or retired – they can't afford it," Ms Zornig said.
Within hours of Friday's verdict, outraged Danes had started raising money to cover their fine but the couple want to pass the money on to those who need it more as the prosecutions continue.
Since 6 September last year, at least 279 Danes have been charged with people smuggling and the number is expected to rise as the refugee crisis continues.
Ms Zornig said she was "shocked and angry" at the move, which she said amounted to "criminalising decency".
"I think they want to send a clear signal that refugees have to stay away from Denmark," she added.
"A lot of people are very angry – the government doesn't have to do this but it is choosing not to apply exemptions to the law."
Ms Zornig, who served as the head of Denmark's National Council for Children from 2010 to 2012, rose to prominence after a documentary on her abusive childhood and an ensuing autobiography, and has gone on to campaign for abuse victims and vulnerable groups.
Her supporters have organised several protests and rallies, writing on Facebook to hail the compassion shown by the author and other volunteers.
"It is not a criminal offence to help fellow human beings fleeing from war," a statement said. "Let us show that decency and sense of duty still exists in Denmark…civil society showed courage and stepped in where politicians failed."
Denmark's controversial law allowing authorities to seize asylum seekers' cash and valuables to "pay for their stay" sparked international condemnation earlier this year but several other countries have introduced similar measures as Europe's attitude towards asylum seekers hardens.
Volunteers across Denmark have continued to help migrants on their journeys but could be discouraged by a mounting wave of prosecutions, which could see people punished with large fines or up to two years imprisonment.
Refugee crisis - in pictures
Show all 27
Critics have called the laws "outdated and inhumane" but campaigns to change it seem unlikely to see success as Scandinavian nations continue to tighten border controls.
A 2002 directive from the Council of the European Union stipulates that anyone who intentionally assists irregular migrants to "enter or transit across" a country in breach of national law can be prosecuted – particularly those take payment to do so.
It says that sanctions can be lifted in cases where "the aim of the behaviour is to provide humanitarian assistance", but the waiver is optional.
A United Nations protocol on migrant smuggling, however, defines the act as exclusively motivated by a "financial or other material benefit".
The Danish Ministry of Justice declined to comment.

Join our commenting forum
Join thought-provoking conversations, follow other Independent readers and see their replies