Denmark's High Court upholds people smuggling conviction for couple who gave Syrian refugees lift and biscuits
Lisbeth Zornig Andersen, Denmark's former children's ombudsman, was unaware she broke the law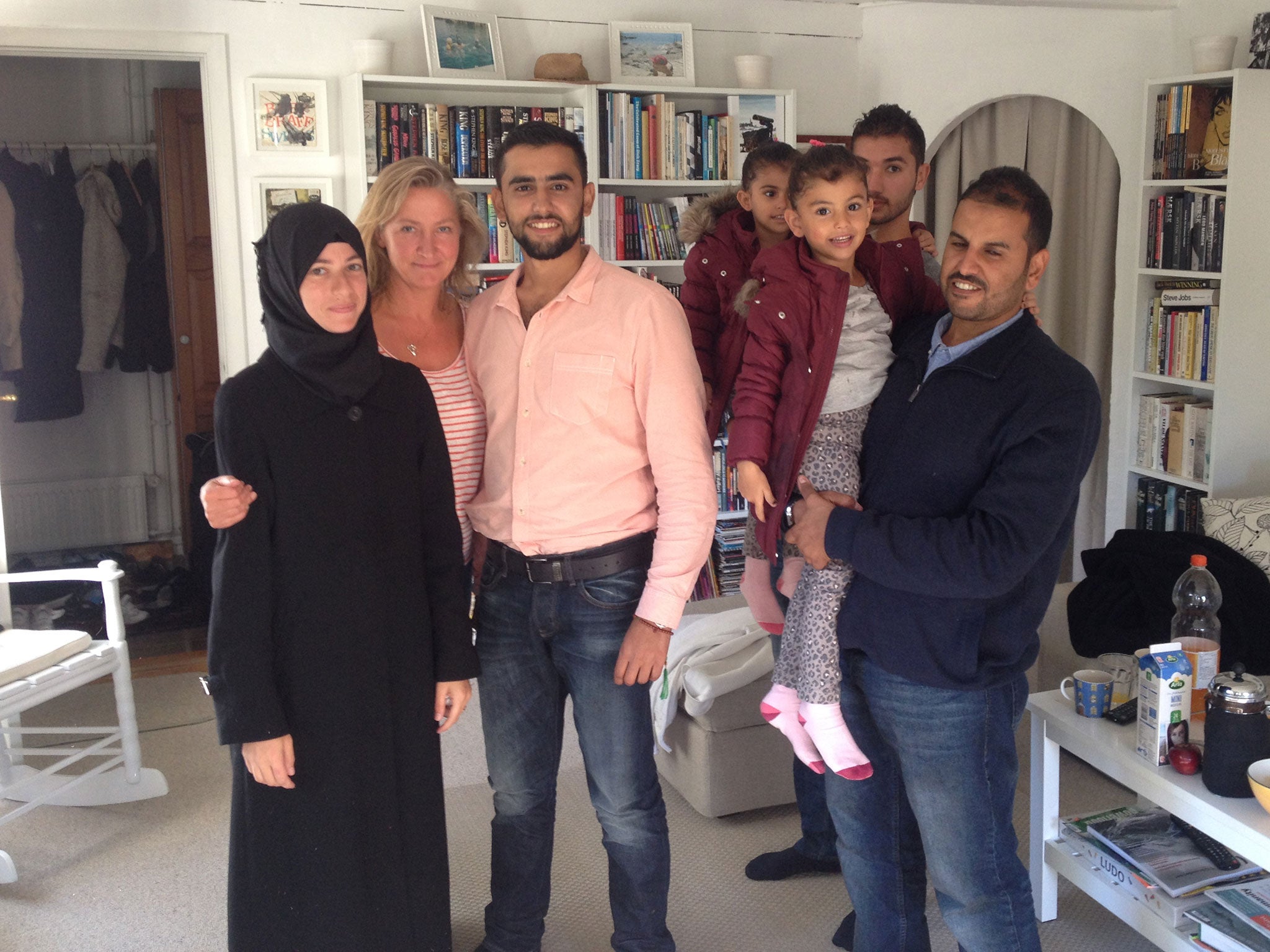 Denmark's High Court has upheld a people smuggling conviction for a couple who illegally "assisted" family of Syrian refugees by giving them a lift and a cup of coffee.
Lisbeth Zornig Andersen, the former president of the Danish government's National Council for Children, and her husband transported the group of four adults and two children from southern Denmark to Copenhagen in September last year.
They did not believe they had contravened any law, as they had consulted police and stayed within the country, but were prosecuted under the Danish Aliens Act and fined 45,000 krone (£5,200) in March.
Ms Zornig and her husband Mikael Lindholm appealed their sentence, citing a legal exception for providing humanitarian assistance, but the High Court of Eastern Denmark upheld their conviction and increased the penalty to 50,000 krone (£5,700) on Thursday.
The couple and their supporters were shocked at the verdict, which came at the end of a two-day hearing, and are now considering a second appeal to the Supreme Court.
"We've been prosecuted because we gave a family coffee and cookies, and transported them to a railway station," Ms Zornig told The Independent.
"It's a strange thing for me because I thought the Danish courts were built on decent principles. I'm so disappointed about our legal system – I don't have faith in it anymore."
The mother-of-five believes the court was "setting an example" as numerous other people-smuggling cases progress through the courts in Denmark, where hundreds of residents have helped refugees passing through the country in the continuing crisis.
Her husband, Mr Lindholm, said he was shocked their sentence had been upheld after two local politicians in Åarhus were acquitted in near-identical circumstances at another Danish court.
"Ours is the first appeal case in Denmark regarding humanitarian assistance of refugees," he added. "Hundreds have been prosecuted for helping refugees on the Danish roads last year, many have already been sentenced, but many other courts were waiting for the outcome of our appeal case."
Bjørn Elmquist, the couple's lawyer, said they were "very seriously considering" taking the case to the Supreme Court in a last-ditch appeal.
He had argued that legal provisions allow people-smuggling sentences to be waived in cases of humanitarian assistance and that the refugees helped were not in Denmark illegally, citing recent acquittals.
"One of the main arguments is that there must be equality in the application of the law," Mr Elmquist told The Independent.
"Denmark is one of the few countries in the EU that does not have exemptions for humanitarian reasons in the law on people smuggling – this ruling could set a new precedent."
Denmark blocks rail and road links with Germany to stop refugee flow
Ms Zornig was one of dozens of Danes who picked up refugees on 7 September last year after a train from Germany was stopped in the Danish border town of Rødby.
Footage showed scenes of confusion and panic as asylum seekers fled police on the station platform, running into the surrounding fields to start their long walk along a motorway to Sweden.
Ms Zornig said she was driving through the Danish island of Lolland on her way to Copenhagen when she came to a column of migrants trudging along the side of the road, escorted by authorities.
Feeling unable to drive past, she stopped and got talking to a Syrian family of five-year-old twin sisters, their mother and three others who were attempting to reach family in Sweden.
With several police officers present who failed to intervene, she offered them a lift with her to the Danish capital, stopping at her home for a cup of coffee and some biscuits before Mr Lindholm dropped them off at Copenhagen's railway station.
The couple received a letter in October announcing the prosecution – one of many in similar cases.
But Ms Zornig said she does not regret their action after visiting the Syrian family in their new home in Sweden, where their asylum applications have been accepted.
"I don't regret what we did that day – it was the only decent thing to do," she added. "We gave them the opportunity for a new and peaceful life.
"I have five children and I would have a real problem telling them that I left a family at the side of the road because I was scared of the law."
Under Denmark's Aliens Act, it is illegal to "assist" or transport anyone without residence permits in the country, with the crime punishable for a fine or up to two years imprisonment.
A 2002 directive from the Council of the European Union also stipulates that anyone who intentionally assists irregular migrants to "enter or transit across" a country in breach of national law can be prosecuted – particularly those who take payment to do so.
Refugee crisis - in pictures
Show all 27
But it says that sanctions can be lifted in cases where "the aim of the behaviour is to provide humanitarian assistance", although the waiver is optional.
A United Nations protocol on migrant smuggling, however, defines the act as exclusively motivated by a "financial or other material benefit", which was absent in Ms Zornig and Mr Lindholm's case.
Following their first conviction in March, outraged Danes had started raising money to cover their fine but the couple plan to pass money on to those who need it more as the prosecutions continue.
Ms Zornig, who served as the head of Denmark's National Council for Children from 2010 to 2012, rose to prominence after a documentary on her abusive childhood and an ensuing autobiography, and has gone on to campaign for abuse victims and vulnerable groups.
Her supporters have organised several protests and rallies, writing on Facebook to hail the compassion shown by the author and other volunteers.
Denmark's controversial law allowing authorities to seize asylum seekers' cash and valuables to "pay for their stay" has also sparked international condemnation but several other countries have introduced similar measures as Europe's attitude towards refugees hardens.
Join our commenting forum
Join thought-provoking conversations, follow other Independent readers and see their replies