Denmark's largest online retailer bans Nazi-themed Christmas decorations because they 'may seem offensive'
Items on sale include swastika baubles, SS officer Lego figure and flags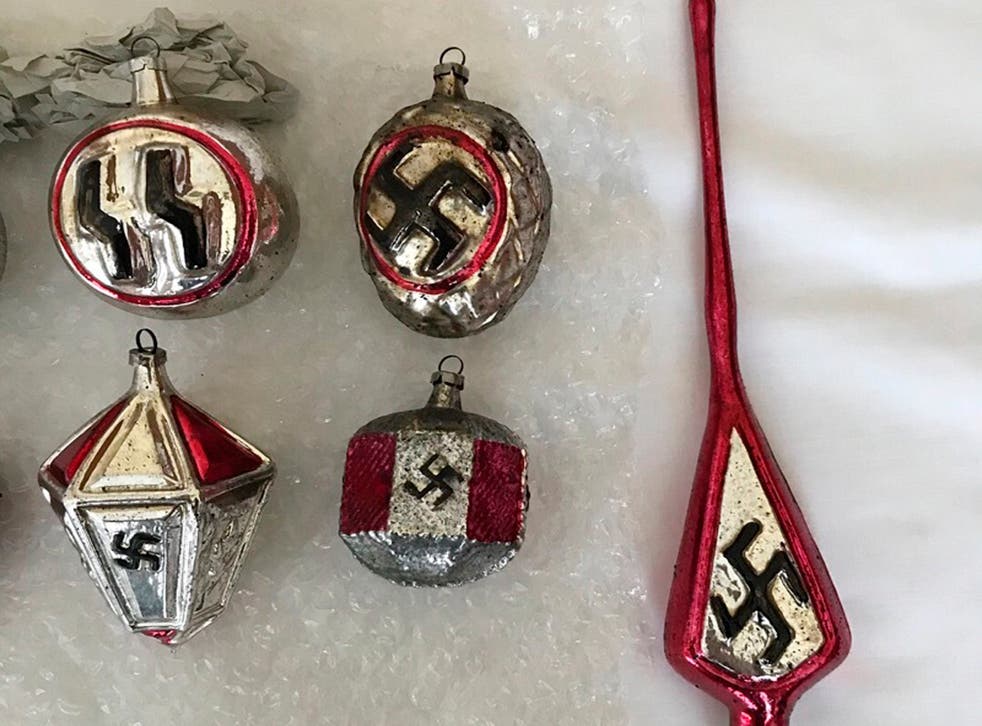 Denmark's largest online retailer has removed Nazi-themed items listed on its website after almost 200 such objects were discovered on sale.
Sofie Folden Lund, a spokesperson for DBA, said on Friday the items had been removed because they "may seem offensive".
DBA is one of Denmark's most popular websites and claims to have more than 1.6 million unique users every month. It was taken over by eBay in 2008.
"As a rule, we have allowed the sale of items created under the category 'collections' as they have collector value and interest," Ms Lund said.
"But we have now chosen to exclude Nazi items in recognition that they cause particularly great emotions and may seem offensive."
Possession and sale of Nazi-themed items is not illegal in Denmark.
However, eBay's "offensive material policy" forbids the sale of items bearing Nazi symbols and any item made after 1933 bearing a swastika.
Denmark's Jyllands-Posten newspaper reported it found 178 items for sale on DBA when it searched on Friday morning, including 12 Nazi-themed Christmas baubles, which were bought in Lithuania by a Danish man who wanted to sell them for 10,000 kroner (£1,188).
Other items included an SS officer Lego figure and a listing for a "super cool Nazi flag".
Claus Dalsborg, who bought the baubles earlier this year, said he understood why they were being removed from the site.
However, he added: "These things are part of [history]. There have been Nazis who held Christmas, we cannot change that."
He said the baubles, which feature a swastika and the symbols of Nazi Germany's Waffen-SS "were so grotesque and insane and nevertheless fascinating that we just had to buy them."
Mr Dalsborg discovered them on a trip to Lithuania with friends but he said the baubles should not be used on a Christmas tree.
DBA's removal of Nazi-themed items came as the Kentucky State Fair Board banned the sale of racists memorabilia, such as Klu Klux Klan and post-World War II Nazi items, at state fairgrounds.
The board unanimously passed a motion to ban the items after Nazi Christmas decorations and a Klu Klux Klan robe were found on display at the Kentucky Exposition Center, according to The New York Times.
Agencies contributed to this report
Join our new commenting forum
Join thought-provoking conversations, follow other Independent readers and see their replies