Denmark plans two more food waste supermarkets selling surplus produce
WeFood sells products between 30-50 per cent cheaper than they would normally cost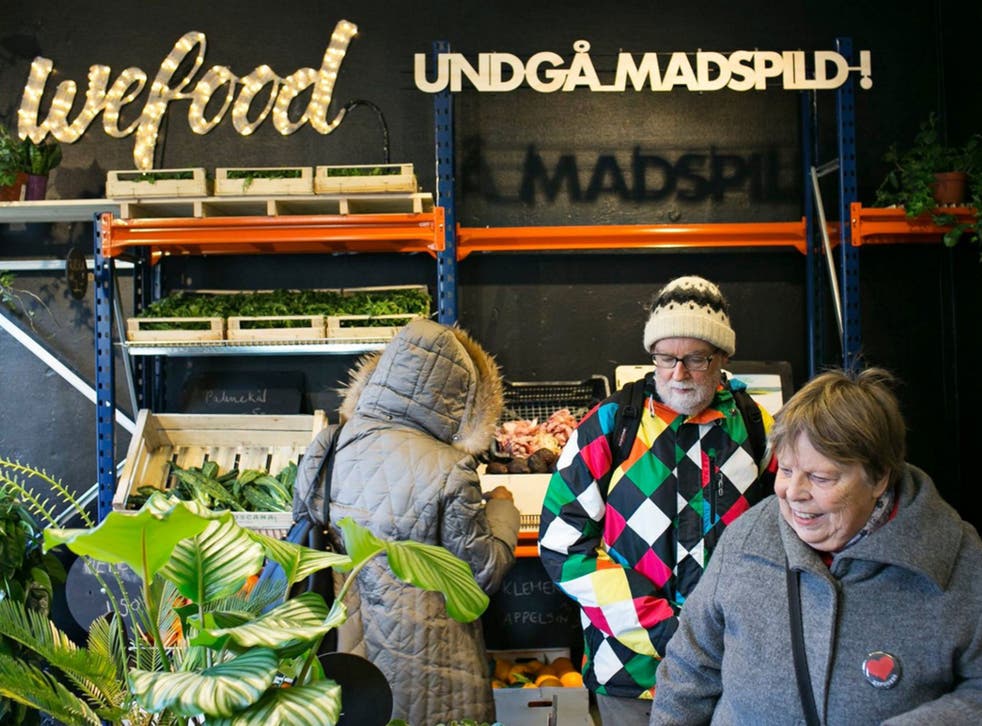 The charity behind the world's first food waste supermarket has said that it is planning to open two more.
Folkekirkens Nødhjælp, which opened the first food waste supermarket in Copenhagen in February, said that it is planning to open another in Copenhagen and a third in Arhus, the second biggest city in Denmark.
WeFood sells products between 30-50 per cent cheaper than they would normally cost.
The products are donated by a range of suppliers.
Danish supermarket chain Føtex has a deal to donate bread and other products.
But not all donations are so ordinary. WeFood once received several bags of nappies that were rejected because the corners were bent.
One supplier donated a large number of soap dishes that could not be sold because they were a limited edition design.
The supermarket is part of a Government initiative to reduce food waste in Denmark.
It came about after the Danish Minister of Agriculture and Food met with the general secretary of charity Folkekirkens Nødhjælp and the head of corporate responsibility at a major supermarket in the country.
"We think it is a new way of thinking about the problem of food waste," a spokeswoman said.
Every year more than 700,000 tonnes of food are wasted in Denmark. After being open just six months, WeFood has received over 40 tonnes of food that would have otherwise been destroyed.
Food and drink news

Show all 35
The biggest challenge facing the store is the struggle to get enough volunteers.
"It takes a lot of time and resources to run a concept like Wefood and we hope someday we can open many stores only run by volunteers," the spokesperson said.
WeFood is believed to be the first supermarket selling food waste in the world that is open to everyone. There are food waste stores in Switzerland but they are only available for citizens who receive welfare.
The Independent's sister paper, the Evening Standard, has launched a campaign on food waste in London.Find out more here.
Register for free to continue reading
Registration is a free and easy way to support our truly independent journalism
By registering, you will also enjoy limited access to Premium articles, exclusive newsletters, commenting, and virtual events with our leading journalists
Already have an account? sign in
Register for free to continue reading
Registration is a free and easy way to support our truly independent journalism
By registering, you will also enjoy limited access to Premium articles, exclusive newsletters, commenting, and virtual events with our leading journalists
Already have an account? sign in
Join our new commenting forum
Join thought-provoking conversations, follow other Independent readers and see their replies