Politician recites bestiality poem about Turkish President Recep Tayyip Erdogan in German parliament
Detlef Seif has become an unlikely internet sensation as his attempt to defend his boss backfired
Caroline Mortimer
Thursday 12 May 2016 23:19 Comments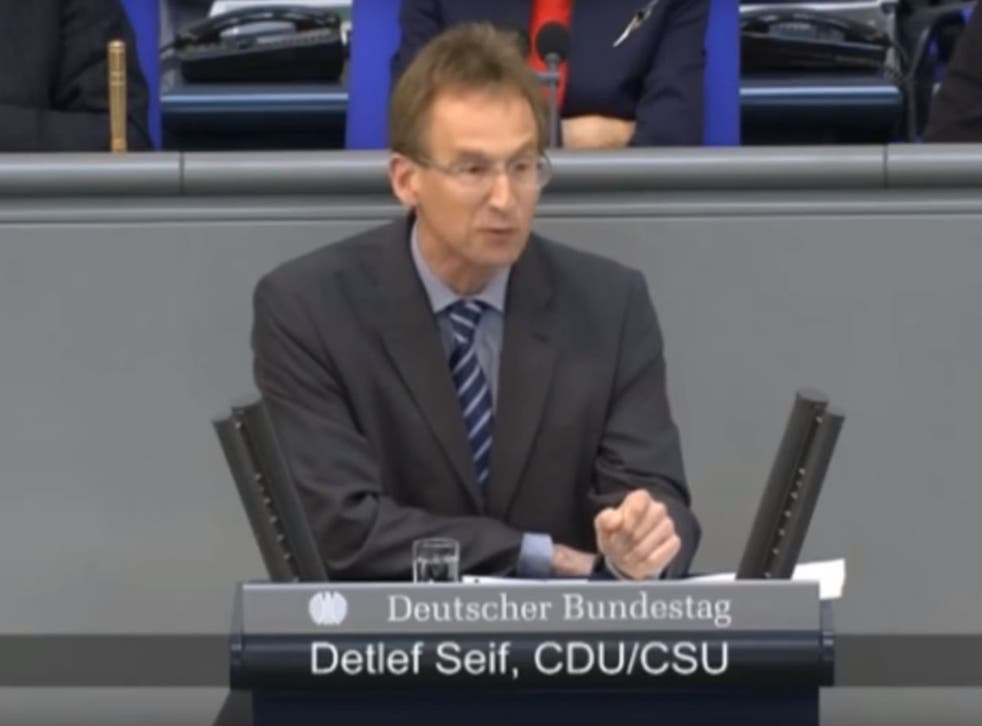 A German politician has ignited a diplomatic row between his country and Turkish President Recep Tayyip Erdogan by reading out a poem suggesting he likes fornicating with goats.
Detlef Seif, a backbench member of Chancellor Angela Merkel's Christian Democratic Party, quoted extensively from the controversial poem which also implies Mr Erdogan enjoys child porn, kicking Kurdish people and attacking Christians in his spare time.
When the poem was first performed by German comedian Jan Böhmermann in April it sparked a diplomatic row between Ankara and Berlin as Mr Erdogan's demanded he be arrested under the terms of an out-of-date German law which forbids insulting foreign leaders.
Ms Merkel gave in to the demand and the comedian is now facing prosecution and up to five years in prison.
But far from sticking up for freedom of speech, Mr Seif was actually attacking the poem in the German Bundestag and trying to defend his party leader by demonstrating it lacked satirical merit.
Unfortunately for him, the proceedings were recorded live on camera so he soon became an internet sensation when Mr Böhmermann uploaded the footage to his YouTube channel, The Local reported.
House Speaker, Edelgard Bulmahn, reprimanded Mr Seif for reading the poem aloud and said he should "keep in mind that we are in the German parliament, and then even with quotations one should not forget this fact".
Debate has raged since Mr Böhmermann first recited the poem.
He said he had written it as a reaction to Mr Erdogan's fury at a much kinder piece of satire aimed at him by a late night German TV show.
He intended to show Mr Erdogan "what real slander is", he said.
But critics called it a tasteless stunt. His supporters criticised Ms Merkel for not standing up for artistic freedom.
Reacting to this latest furore on Twitter, Mr Böhmermann joked that Mr Seif had "read the poem after taking it out of context. Disgraceful, dishonourable and tasteless".
He also jokingly called for Mr Seif's parliamentary privilege to be revoked for breaching the law.
Mr Erdogan has been accused of behaving in an increasingly autocratic way since being elected President in 2014.
Turkey is increasingly targeting journalists, activists and artists who criticise the government.
Last week, the government announced that one of the most prominent opposition newspapers, Zamat, was to close two months after it seized control of it in March.
Register for free to continue reading
Registration is a free and easy way to support our truly independent journalism
By registering, you will also enjoy limited access to Premium articles, exclusive newsletters, commenting, and virtual events with our leading journalists
Already have an account? sign in
Join our new commenting forum
Join thought-provoking conversations, follow other Independent readers and see their replies