Do the participants of Turkey's annual Camel Wrestling Festival enjoy it as much as the audience?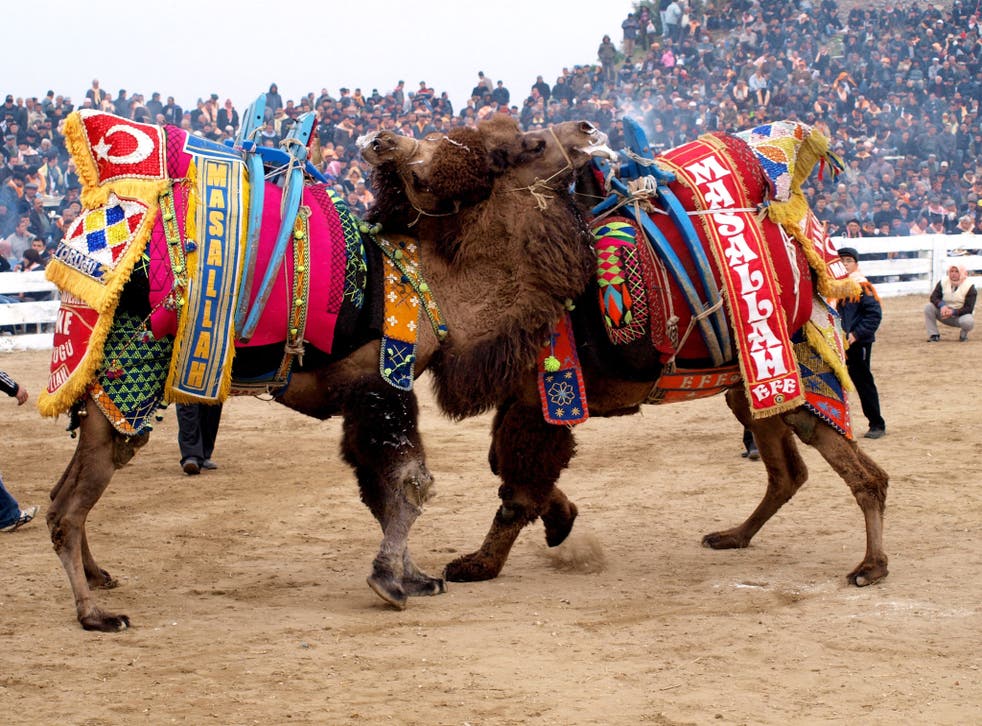 On Sunday, more than 20,000 people will gather in Turkey to watch camels do battle in a spectacle that dates back thousands of years. It is, depending on your attachment to the ungainly beasts, a historic cultural institution to be celebrated – or a throwback to an era before animal-rights campaigns when it was OK to starve an animal for three months to make it cross.
The annual Selcuk Efes Camel Wrestling Festival is a fixture on the Turkish sporting calendar and, increasingly, a major draw for tourists to the country's southern Aegean coast. First practised by Turkic tribes more than 2,400 years ago, the sport angers animal-welfare groups but is big business for organisers.
"We are continuing the tradition of our ancestors," says Mehmet Falakali, one of the brains behind the festival, who has attended the event every year since Turkey's Ministry of Culture and Tourism launched it in its current form in 1982. "It's a gathering, we mingle, it has a picnic feel about it."
Falakali says the festival will attract a broad demographic including tourists, as well as 140 spitting Tulu wrestling camels bred especially for fighting. The animals are divided into different categories depending on their weight and age. "There are also lefty and righty camels that only wrestle with each other," Falakali says.
Fighting tactics vary. Some camels try simply to trip opponents with a foot (a move called cengelci), while others push their competitors to force a retreat (tekci). Some snare their rival's head under their chest and then try to sit (bagci). The camel that doesn't get scared and run away is the winner. Those with staying power can be traded for tens of thousands of pounds.
Duels, which are replicated at similar festivals in Turkey and the wider region, last five minutes at most but can be violent. Turkey's three-month fighting season coincides with a fertile period for female camels, when males are inclined to attack their mating rivals. Camels can be starved for months in advance to make them irritated, and can be goaded during battle with sticks wielded by their owners.
Last year, Turkish animal-welfare groups pointed out that the fights are now technically illegal according to the country's animal-rights laws. "It is a clear crime to make animals wrestle," Ege Sakin of the Animal Rights Federation of Istanbul told Turkey's Today's Zaman newspaper. "Municipalities acquire special permission for such events from the district governors' offices under the cover of festivals."
Burak Ozguner of the Freedom to Earth Association, also based in Turkey, agreed that tradition was no excuse for an exemption in the law. "Animals should be seen as creatures, not as objects of entertainment," he said.
Falakali says organisers at Selcuk have listened to the concerns. "The camels have their mouths covered up to prevent them from hurting each other," he says. "If there is a risk of injury, the referee stops the wrestling. There is even a team of 22 people on standby to protect the camels."
Spectators who travel to the event or watch the hundreds of clips that circulate online are treated to a peculiar spectacle. In one fight, a knobbly-kneed warrior twists and turns while a female camel entices the males with her long eyelashes. Foamy saliva often spurts from the mouths of excited males – a potential hazard for spectators who get too close.
Unlike the losing camels, Falakali, who is 60, won't have the hump come Sunday afternoon, when the stadium starts to empty. He says more than 200,000 Turkish lira (about £55,000) has been invested in this year's event. Despite the concerns of animal-welfare groups, he enjoys nothing more than to see the satisfaction on festivalgoers' faces. "When the people leave happy having experienced the old customs and traditions, I am happy," he says. "When more and more countries hear about the festival, this makes me happy too."
Join our new commenting forum
Join thought-provoking conversations, follow other Independent readers and see their replies