Dominique Strauss-Kahn 'had brutal anal sex with prostitute at orgy', pimping trial hears
Former head of the IMF is one of 13 people accused of organising sex parties with prostitutes in six countries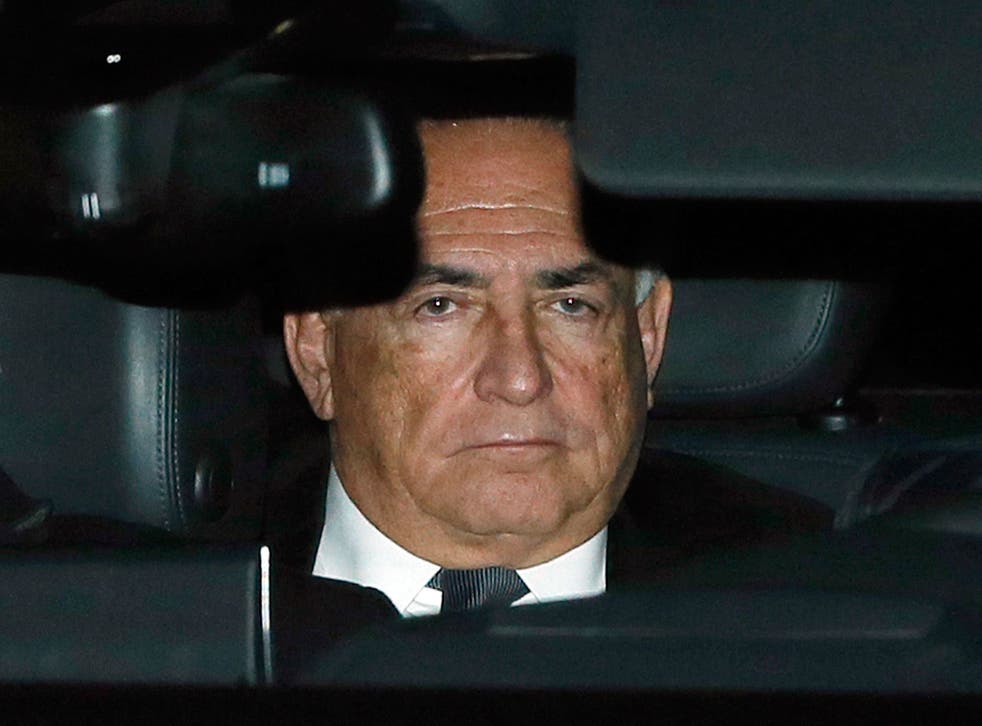 Dominique Strauss-Kahn, the disgraced former head of the IMF, insisted on having anal sex with a former prostitute at an orgy, despite the fact she made it clear she "didn't like sexual practices like that", a court has heard.
The 65-year-old, and 13 co-defendants, are on trial in Lille, northern France, accused of aggravated pimping in connection with a sex ring centred on the Hotel Carlton in Lille.
The ex-prostitute, known as "Mounia", said that the incident took place at a party in Paris at which four prostitutes were also present.
The prosecution witness said she had made it clear that she was "very unhappy" at being asked to have anal sex. "I cried a lot….DSK must have been aware that I was unhappy," she said.
Questioned on Mounia's claim that she had "cried", Mr Strauss-Kahn said that he had "no recollection that she refused in any way."
"If a woman says 'no', it's 'no'," he said. Under questioning by the president of the court, Mr Strauss-Kahn conceded that "submission" and "domination" were "part of the game" at "swingers' parties".
Mounia may have shown some signs of "unwillingness", he said – he could not remember the detail - "but she never objected".
Saying that their encounter lasted 20 to 30 minutes, Mounia said that, while the sex was consensual, it was a "little brutal because he could see that I didn't want to do that."
The president of the judges read out a statement that Mounia had made to investigators in which she described anal sex as "animal, against nature". Did she still agree with that statement?
"Yes. In any case, that's what it was like that day," Mounia said.
Dominique Strauss-Kahn: A timeline

Show all 11
She added that she had been paid before the meeting by Mr Strauss-Kahn's friends, not by Mr Strauss-Kahn himself. She said she thought that there "could be no doubt that everyone there knew the girls were being paid."
Asked whether he never suspected that any of the seven women who came to the "swingers' parties – often alone- were prostitutes, Mr Strauss-Kahn said "never".
"If I had known that I would not have gone along," he said, adding: "I thought they were coming for the excitement and the adventure. I never thought they were coming just for me."
Earlier, giving evidence for the first time in his pimping trial in Lille, northern France, Mr Strauss-Kahn denied he had an "uncontrolled" obsession with sex parties – insisting he was only involved in 12 such orgies in three years.
He said the impression had been given in the media that the sex parties in which he was involved were "something frenetic and out of control".
There had only been 12 such events in three years, he said, or "four a year."
"I had other things to do," he said.
Not only was he head of the International Monetary fund, he was "considering his political options (in France) and he had "difficult relations with my wife" (the journalist Anne Sinclair).
In a letter read out to the court, Mr Strauss-Kahn explained that he had refused to cooperate with a psychiatric report because "I remain convinced that I have committed no crime or misdemeanour in this affair". A psychiatric report would, he said, be immediately leaked to the press.
Mr Strauss-Kahn was asked by the president of a panel of four judges if he had changed his mind about his guilt. He replied: "I assume you are referring to the fact that I was never aware that these women were prostitutes. No, I haven't changed my mind."
The former French finance minister is one of 13 people accused of organising sex parties with prostitutes in six countries. In nearly four years of allegations of sexual misconduct against Mr Strauss-Kahn since he was arrested in a New York hotel room in 2011, this was the first time that he had answered detailed accusations in public.
Before the trial started, two half-naked women belonging to the Femen movement tried to climb on the roof of Mr Strauss-Kahn's car as he arrived at the trial. They shouted "macs (French slang for the clients of prostitutes) are guilty" before they were hauled away by police.
Mr Strauss-Kahn is accused of helping to organise sex parties with prostitutes in Brussels, Paris, Washington, Vienna and Madrid from 2008 to 2011. The last of these "orgies –sans-frontières" allegedly took place in Washington the night before DSK's arrest in New York in May 2011 accused of attempting to rape a hotel chambermaid. All charges were subsequently dropped by New York prosecutors.
The former IMF chief, who was once the front-runner to become French President, is accused of helping to organise the sex parties – which could make him guilty of "pimping" under French law. He admits that he attended the orgies. He says that that he thought the women who took part were "libertines" or swingers, not prostitutes.
Two of the prostitutes who testified during the first week of the trial last week are expected to return to the witness box later today to "confront" Mr Strauss-Kahn.
One of them, a Belgian woman, named only as Jade, told magistrates during the investigation that DSK must have known the women were prostitutes.
She said that the orgies she was paid to attend were "carnage on a heap of mattresses" and included "brutal" sexual practices such as anal sex which did not normally occur at "soirees libertines" or "swingers' evening"
"At swingers' events, people get undressed slowly. Here everyone was naked from the start," she said.
The trial continues.
Register for free to continue reading
Registration is a free and easy way to support our truly independent journalism
By registering, you will also enjoy limited access to Premium articles, exclusive newsletters, commenting, and virtual events with our leading journalists
Already have an account? sign in