Donald Trump: European president Jean Claude Juncker says US-EU relationship at risk after election
'I think we will waste two years before Mr Trump tours the world he does not know,' says commission chief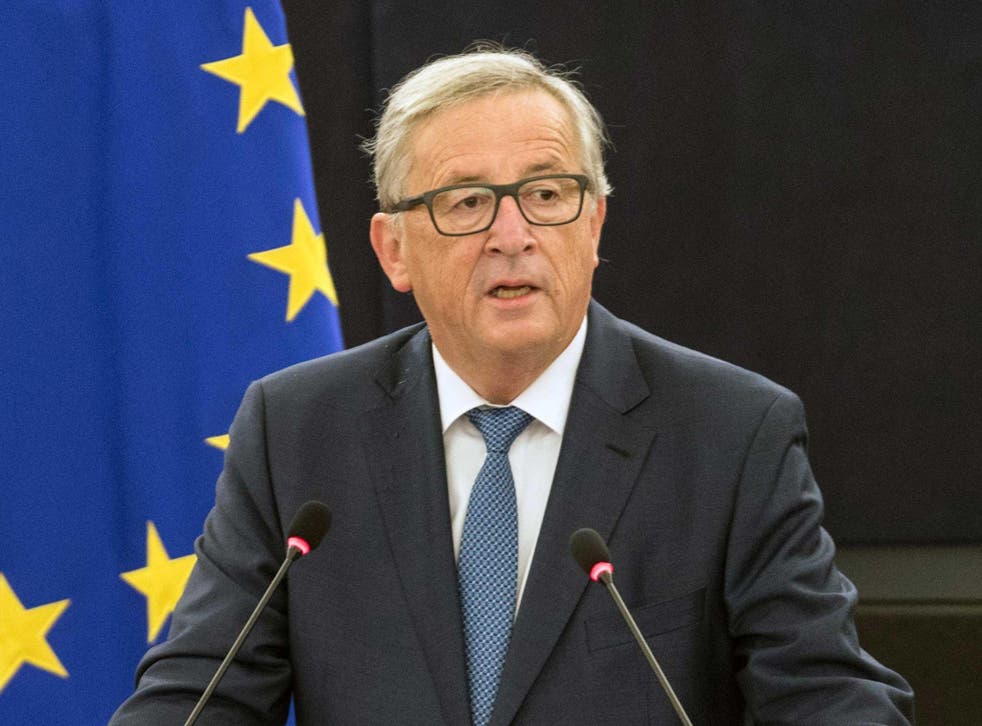 Donald Trump's election has placed America's relationship with Europe at risk, EU president Jean Claude Juncker has warned.
In a series of blunt and forthright remarks on the shock winner of the US elections, Mr Juncker accused the new President-elect of ignorance and said he must be taught "what Europe is and how it works".
Speakng to students at a conference in Luxembourg, the EU Commission President said: "The election of Trump poses the risk of upsetting intercontinental relations in their foundation and in their structure."
His blunt remarks reflected widespread shock and concern among Europeans at the election of Mr Trump, who among other statements had praised Russian President Vladimir Putin and questioned the principle of collective defense in Nato.
His comments contrasted with the more diplomatic reactions of European leaders who have said they look forward to working with the next Republican president.
Mr Juncker also warned against the "pernicious" consequences of the Republican's statements on security policy. He also recalled a Trump statement in which he seemed to think that Belgium, the country that hosts the headquarters of the EU and Nato, was a city.
"We will need to teach the president-elect what Europe is and how it works," he said, adding that Americans usually had no interest in Europe.
"I think we will waste two years before Mr Trump tours the world he does not know."
It comes after Mr Juncker had raised doubts on Thursday about Mr Trump's views on global trade, climate policy and Western security.
European Council president Donald Tusk and Mr Juncker invited the billionaire businessman to visit Europe for a summit meeting with the EU.
World reaction to President Trump: In pictures

Show all 29
In a joint statement, they offered their "sincere congratulations" to the new US president-elect and stressed it was "more important than ever" to work together to tackle problems including Isis.
The two leaders said: "The strategic partnership between the European Union and the United States is rooted in our shared values of freedom, human rights, democracy and a belief in the market economy. Over the years, the European Union and the United States have worked together to ensure peace and prosperity for our citizens and for people around the world.
"Today, it is more important than ever to strengthen transatlantic relations. Only by co-operating closely can the EU and the US continue to make a difference when dealing with unprecedented challenges such as Daesh, the threats to Ukraine's sovereignty and territorial integrity, climate change and migration.
"Fortunately, the EU-US strategic partnership is broad and deep: from our joint efforts to enhance energy security and address climate change, through EU-US collaboration on facing threats to security in Europe's eastern and southern neighbourhoods, and to the negotiations on the Transatlantic Trade and Investment Partnership - we should spare no effort to ensure that the ties that bind us remain strong and durable.
Boris Johnson: End the 'whinge-o-rama' on Trump
"We should consolidate the bridges we have been building across the Atlantic. Europeans trust that America, whose democratic ideals have always been a beacon of hope around the globe, will continue to invest in its partnerships with friends and allies, to help make our citizens and the people of the world more secure and more prosperous.
"We would take this opportunity to invite you to visit Europe for an EU-US summit at your earliest convenience. This conversation would allow for us to chart the course of our relations for the next four years."
Additional reporting by agencies
Join our new commenting forum
Join thought-provoking conversations, follow other Independent readers and see their replies