Donald Trump's presidency is golden opportunity for Turkey, claims Recep Tayyip Erdogan
'I believe we will reach a consensus with Mr Trump, particularly on regional issues.'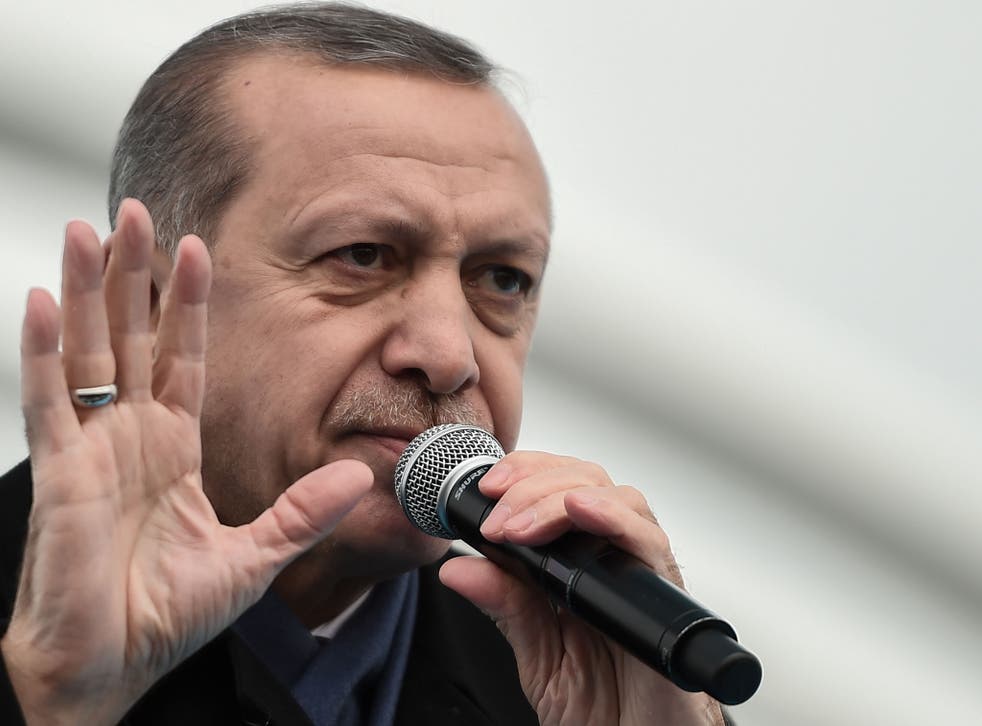 Turkish President Tayyip Erdogan has said relations between Ankara and Washington are likely to improve once Donald Trump is inaugurated later this month.
In a swipe at Barack Obama during his final days in office, President Erdogan said he hoped a "consensus" would be reached with the President-elect that would allow both sides to solve "regional issues".
While not elaborating on what they may be, it is thought he could be referring to the war in Syria and US support for a Kurdish militia group fighting Isis.
Diplomacy between the US and Turkey has suffered as a result of the six-year conflict and America's support for the Kurdish People's Protection Units – or YPG – which Turkey sees as an extension of the militant group PKK.
"I believe we will accelerate dialogue when Mr Trump takes office," the Turkish leader told a conference of Turkish ambassadors.
"I believe we will reach a consensus with Mr Trump, particularly on regional issues."
Seven year old Bana Alabed who tweeted the horrors of Aleppo meets with President Recep Erdogan
Russia and the US have courted Turkey's friendship in recent years, not least because it has the second largest army in Nato and acts as a key power broker in the Middle East.
Shifting alliances in the Trump era could have wide-ranging implications for US and Russian foreign policy in the Middle East.
Mr Erdogan's comments come as a senior member of his government, Foreign Minister Mevlut Cavusoglu, also welcomed the incoming US president.
Mr Cavusoglu said the property tycoon was likely to extradite Fethullah Gulen, an Islamic cleric accused of organising a failed coup in Turkey last summer.
Mr Gulen has lived in self-imposed exile in Pennsylvania since 1999 and denies any involvement in the plot to oust Mr Erdogan in July.
Elaborating on Mr Trump, the Turkish foreign minister said he believed the President-elect would not make the same mistakes as the outgoing US administration in relations with Turkey.
Recep Tayyip Erdogan's most controversial quotes

Show all 8
Turkey expects Washington to extradite Gulen and to end its cooperation with the YPG, he said.
However, US officials say Gulen's extradition is a matter for the courts and that that process could take years.
Mr Trump's policy on the Kurdish militia remains unclear.
The West would lose a major ally in the war against Isis if Mr Trump were to cut support for the YPG, who have been instrumental in defeating the jihadi group in Syria.
Register for free to continue reading
Registration is a free and easy way to support our truly independent journalism
By registering, you will also enjoy limited access to Premium articles, exclusive newsletters, commenting, and virtual events with our leading journalists
Already have an account? sign in
Register for free to continue reading
Registration is a free and easy way to support our truly independent journalism
By registering, you will also enjoy limited access to Premium articles, exclusive newsletters, commenting, and virtual events with our leading journalists
Already have an account? sign in
Join our new commenting forum
Join thought-provoking conversations, follow other Independent readers and see their replies