Donald Trump supporters in Russia wear 'Anonymous' masks during inauguration party in Moscow
Pro-Trump party-goers wear masks linked to hacktivist entity 'Anonymous' in apparent reference to Russian hacking claims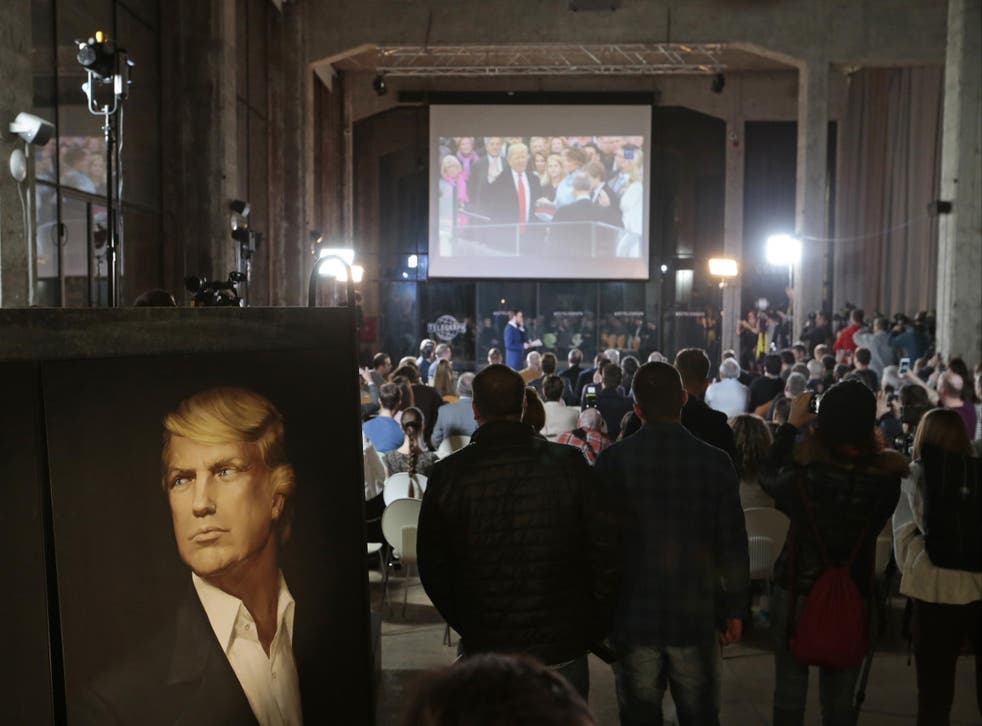 Donald Trump supporters in Russia are celebrating the swearing in of the new president in "Anonymous" masks, famously associated with hacking, at an inauguration party in Moscow.
Around a hundred Trump sympathisers, nationalist activists and spin doctors gathered in the vaulted hall of Moscow's main Soviet-era post office to listen to watch the new president's speech, translated live, before opening Champaign bottles ahead of an all-night party.
Attendees posed for photos in front of embellished portraits of Mr Trump, Vladimir Putin, and hard-right French Front National leader Marine Le Pen, produced by an art group especially for the occasion. Several guests wore the masks which were made famous by the film V for Vendetta.
At one point, a cartoon image of superman with the face of Mr Trump appeared on the large screen, echoing chants heard at a Trump party the night before proclaiming Mr Trump as a superhero.
"Trump, Trump — it is unbelievable. Trump, Trump, he's a superman, Trump, Trump — symbol of America," Willi Tokarev, a famed Russian-American singer-songwriter, had sung as he performed his new hit.
Several political experts spoke to the crowd during the event. Political scientist Aleksandr Dugin reportedly predicted Mr Trump would mean the US would end their "mission" to control the world, proclaiming: "America died from that mission".
Another political analyst, Stanislav Byshok, described the Russian celebration as a "sign of the times", telling guests: "It's weird, but it's great, and for the first time ever Russians are applauding the victory of a US presidential candidate, it's a sign of the times."
One of the organisers, Konstantin Rykov, who has served as a Russian MP affiliated to Putin's United Russia Party and has also been described as a "Kremlin web propagandist", wrote on Facebook ahead of the event: "Washington will be ours".
The elation of the event feeds into the "Trumpomania" that appears to have gripped Russia since Mr Trump won the presidential victory in November.
Silver and gold commemorative coins engraved with "In Trump We Trust" have emerged amid the frenzy, while new Trump matryoshka dolls have been added to the popular line-up of, including dolls carved in the likeness of President Putin and Josef Stalin.
Mr Trump's praise for Putin has raised expectations that he could move to build bridges between the countries, although the new president hasn't articulated a clear policy and some of his Cabinet nominees have made hawkish statements on Russia.
Leonid Slutsky, the head of the foreign affairs committee in the lower house of parliament, expressed hope that Mr Trump would move to establish constructive ties with Moscow, but cautioned there was no "magic button" to instantly achieve that, saying: "We expect a slow but steady revival of our relations."
Speaking at the World Economic Forum in Davos, Switzerland, Russian Deputy Prime Minister Igor Shuvalov expressed hope that Mr Trump would work with Mr Putin on solving the Ukrainian crisis and other problems, but added: "Difficulties will remain".
Register for free to continue reading
Registration is a free and easy way to support our truly independent journalism
By registering, you will also enjoy limited access to Premium articles, exclusive newsletters, commenting, and virtual events with our leading journalists
Already have an account? sign in
Register for free to continue reading
Registration is a free and easy way to support our truly independent journalism
By registering, you will also enjoy limited access to Premium articles, exclusive newsletters, commenting, and virtual events with our leading journalists
Already have an account? sign in
Join our new commenting forum
Join thought-provoking conversations, follow other Independent readers and see their replies