Dresden bombings: Home-made bombs target mosque and conference centre in 'xenophobic' hate crime
The blasts struck hours after a march by supporters of the far-right Pegida movement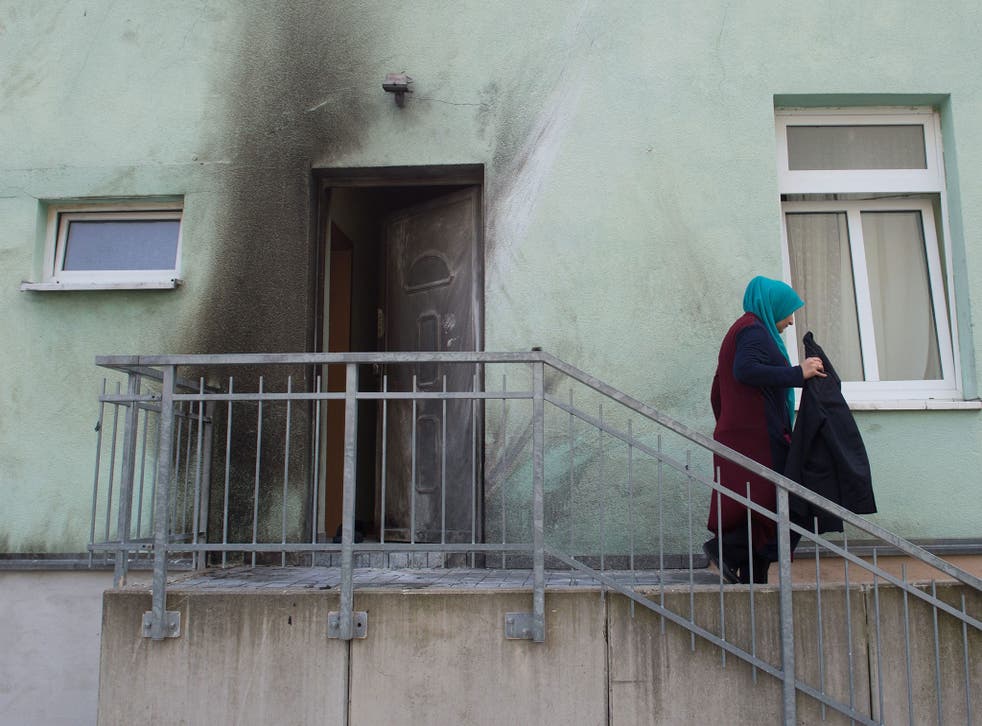 Far-right extremists are suspected of being behind attempted bombings targeting a mosque and conference centre in Germany, hours after a march by the anti-Islam Pegida movement.
The door of a mosque in Dresden was blown inside by the force of the blast at around 10pm local time (9pm BST) on Monday.
The family living inside, the mosque's imam, his wife and two sons, were unhurt but found six bottles filled with fuel outside their scorched and blackened door.
Ibrahim Ismail Turan, the imam's 10-year-old son, told the Sächsische Zeitung newspaper: "They attacked us because they hate us, because we're Muslims."
Around 25 minutes later, another explosion was reported to police outside the city's International Congress Centre, lying near the state parliament on the River Elbe.
The blast shattered glass on the building's terrace but injured no one, with investigators finding remnants of an improvised explosive device at the scene.
Police evacuated a nearby bar over fears of a further blast and told guests staying in the hotel above the terrace to stay away from windows.
Officers have been dispatched to guard two mosques in Dresden, as well as an Islamic centre, with further protections under consideration as the investigation continues.
Horst Kretzschmar, the chief of Dresden police, said the attempted attacks were believed to be connected.
"Although we have not yet seen any claim of responsibility, we must work on the basis of a xenophobic motive," he said. "At the same time, we see a connection to celebrations for the Day of German Unity this coming weekend."
The public holiday, which falls on 3 October, marks the reunification of Germany in 1990 and is marked with festivals officially hosted by a different city each year, with the task for 2016 falling to Dresden.
The city is home to the Pegida movement, which stands for "Patriotic Europeans against Islamisation of the West", and holds weekly marches sometimes drawing tens of thousands of supporters.
Described by one politician as "Nazis in pinstripes", the group is regularly met by counter-demonstrations accusing members of racism, fascism, xenophobia and inciting violence.
Germany reacts to Cologne New Year's Eve attacks

Show all 13
Photos from Monday's march, which started four hours before the explosions, showed huge crowds demonstrating with flags and banners reading "rapefugees not welcome" and "Germany is being destroyed".
Suspicion quickly turned to the group's supporters following the bombings, although police have not confirmed any link and no suspects have been arrested.
Pegida founder Lutz Bachmann suggested the attacks were a "false flag" operation to allow authorities to stop a protest against Angela Merkel planned for 3 October.
"Violence is not the right solution for anything in the world," he wrote in a Facebook post. "No matter who carries it out and when."
The arrival of more than a million asylum seekers in Germany and the New Year's Eve sex attacks in Cologne have sparked a rise in tensions, seeing vigilantes patrol the streets and refugee accommodation attacked.
Government statistics showed 2015 to be a record year for political violence, with the majority of 39,000 recorded offences committed by right-wing extremists.
"The sharp increase in politically motivated crime points to a dangerous development in society," the interior minister, Thomas de Maiziere, said earlier this year. "We are witnessing a growing and increasingly pronounced readiness to use violence, both by right and left-wing extremists."
Join our new commenting forum
Join thought-provoking conversations, follow other Independent readers and see their replies