Dresden cannibal: German police worker 'obsessed' with cannibalism charged with torturing, butchering and eating man he met on fetish website
Police says victim had been fantasising about being killed and eaten by someone else since his youth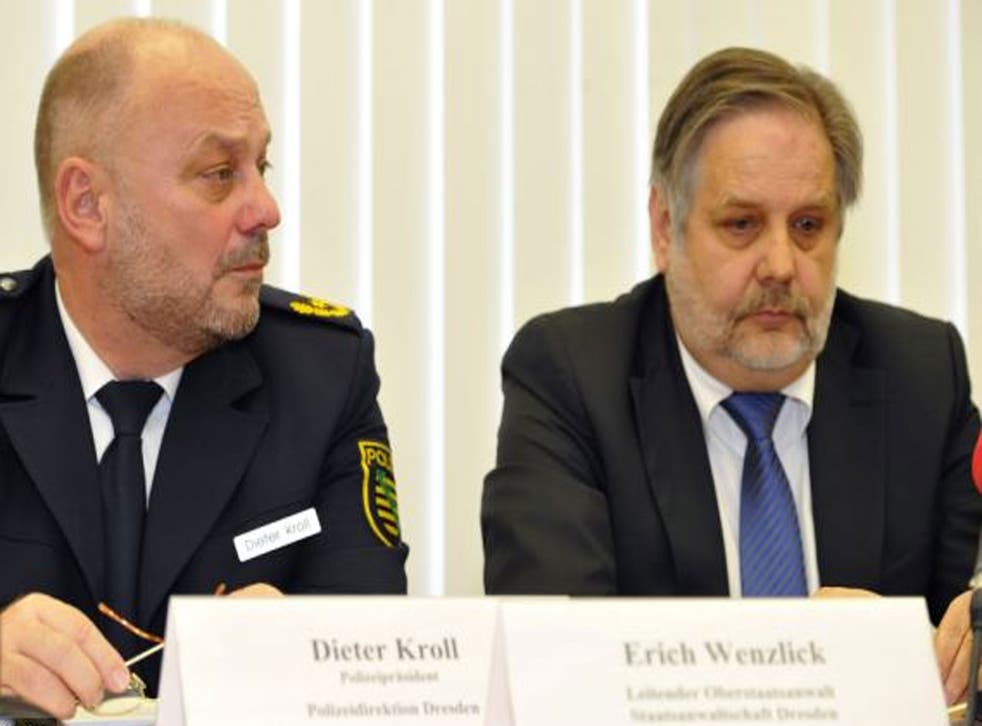 A German police worker 'obsessed' with cannibalism has been charged with torturing, murdering, butchering and eating a man he met on a fetish website.
The suspect, who is currently only identified as Detlev G, is accused of dismembering a 59-year-old man after body parts were found buried in his garden in the Ore Mountains near Dresden in eastern Germany.
According to investigators, the victim – who came from the north German city of Hanover – was obsessed with the idea of being cannibalised and had taken to the internet to make his fetish known.
Officers say the two men met online, chatted about their respective sexual obsessions and then agreed a date to meet up and carry them out. The victim was reported missing in November, leading officers to investigate his disappearance.
Speaking at a news conference, Dresden Police Chief Dieter Kroll said: "The victim had been fantasising about being killed and eaten by someone else since his youth".
Authorities are yet to work out whether the body parts, which were found at the property on Wednesday, can confirm their suspicions that the victim may have been cooked and eaten after being dismembered.
Officers revealed that "Detlev" is a 55-year-old handwriting expert who worked in the forensics department at Saxony's State Office of Criminal Investigations. He is said to have previously been married but recently left his wife for another man.
Police say "Detlev" admitted the crime when police arrived at his home to arrest him, immediately taking officers to where he had buried the victim's remains.
The case has numerous similarities with that of Bern Brandes – a Berlin-based computer programmer who was also obsessed with being eaten. Brandes met cannibal Amin Meiwes on an internet chat room named The Cannibal Café in 2001, and agreed to be butchered alive before being killed and eaten at his home in eastern Germany.
Meiwes was arrested a year later after a research student discovered him posting adverts for new victims online.
Investigators searching Meiwes' home found a two-hour video tape showing the pair cooking and attempting to eat Brandes' severed penis with salt, pepper, wine and garlic, before Brandes was taken to a purpose built "slaughter room", repeatedly stabbed in the throat and subsequently dismembered.
Meiwes has subsequently expressed regret over his actions, turning to vegetarianism while serving a life sentence in prison.
He has also spoken extensively about his fetish in an effort to deter other potential killers, and estimates there could be up 800 active cannibals living in Germany alone.
Register for free to continue reading
Registration is a free and easy way to support our truly independent journalism
By registering, you will also enjoy limited access to Premium articles, exclusive newsletters, commenting, and virtual events with our leading journalists
Already have an account? sign in
Register for free to continue reading
Registration is a free and easy way to support our truly independent journalism
By registering, you will also enjoy limited access to Premium articles, exclusive newsletters, commenting, and virtual events with our leading journalists
Already have an account? sign in
Join our new commenting forum
Join thought-provoking conversations, follow other Independent readers and see their replies