Secretive American conservatives are helping bankroll Geert Wilders' Dutch election campaign
Trump supporters from Republican right are trying to shake up European politics too
Kim Sengupta
Diplomatic Editor
Tuesday 14 March 2017 17:40 Comments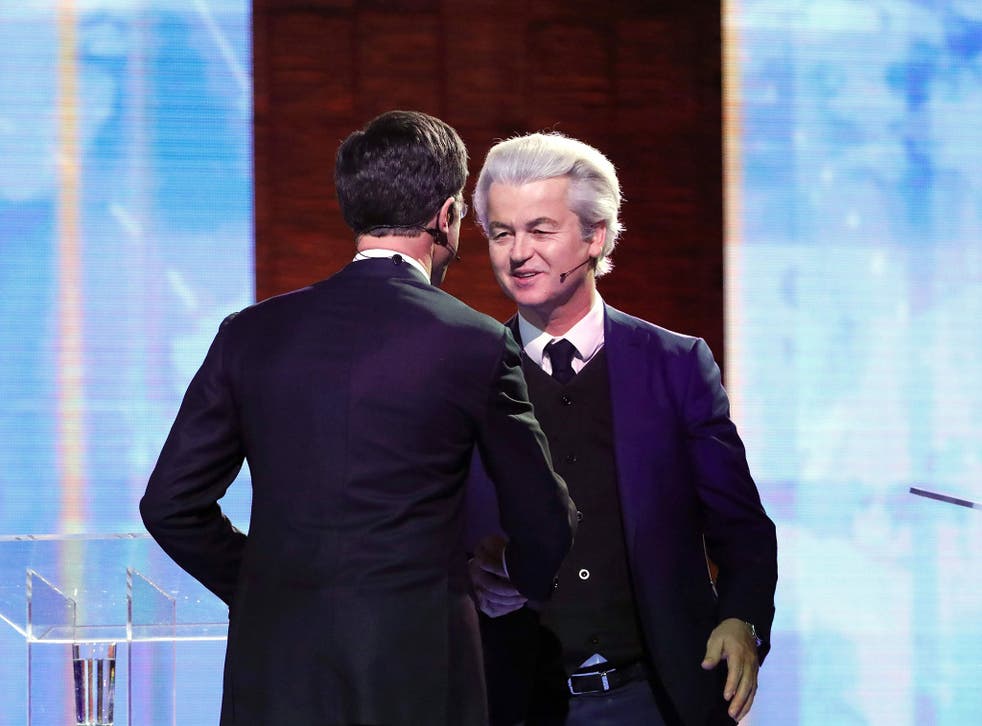 The Dutch elections on Wednesday are the first in a series in Europe, with more in France and Germany to follow, in which the political map of Europe is expected to change as the far-right makes significant gains.
In The Netherlands, Geert Wilders' campaign got an unexpected late boost with the country's current confrontation with Turkey, and the violent clashes between Turkish demonstrators and the police in Rotterdam. The peroxide-blonde leader of the Party For Freedom was swift to capitalise on the situation, using it to carry out a broad attack on Muslims.
But Mr Wilders is unlikely to be the next leader of The Netherlands, even if his group dramatically improves on the number of its national assembly seats. The mainstream parties would almost certainly refuse to be part of the coalition he would need to form a government. But what has been of importance in the election is a phenomenon which will also affect other polls to come on the Continent – foreign influence in the elections campaign, namely the American connection.
Republican congressman Steve King has tweeted his support for Mr Wilders, in particular his campaign to save the white race.
"Wilders understands that culture and demographics are our destiny," wrote Mr King, adding: "We can't restore our civilisation with somebody else's babies."
Mr King is only one of a number of admirers of Mr Wilders in the Republican right with links that go back a long time. The Dutch politician has paid half a dozen visits to the US in the last four years alone. It is not surprising that the leader of the Dutch far-right has friends across the Atlantic. What is an unpleasant surprise for liberals in Europe is that some of these friends are now in the White House.
In November 2015, Mr Wilders spoke at a "restoration weekend" in Florida organised by the conservative activist David Horowitz. Also present were Jeff Sessions, then the Alabama senator, who is now Donald Trump's Attorney General, and his aide Stephen Miller, now a White House senior policy adviser and lieutenant to the President's chief strategist, whose influence has led to him being described as the "shadow President".
The Conservative news site Mr Bannon used to run, Breitbart, has been lavish in its praise of Mr Wilders and has pressed for vocal support for him from Washington. Congressman King maintains: "I certainly expect the Trump administration to engage more with people like Mr Wilders."
American conservatives have not been just all mouth in their support of Mr Wilders, there is money for him as well. Among those who have made contributions is Mr Horowitz's organisation, Freedom Centre, which has paid out $150,000 (£125,000). Some $120,000 of that was given in 2015, making it the largest individual contribution to the political system in The Netherlands in a year.
The conservative think-tank Middle East Forum paid a substantial sum into a legal fund set up for Mr Wilders after he was accused of making racist statements. Two US right-wing foundations, the Gatestone Institute and the International Freedom Alliance Foundation, have sponsored his trips to America. A smaller contribution of around $8,000 was made by an American company, FOL, based in Buffalo, New York.
Mr Horowitz, a strong opponent of Muslim immigration, has described Mr Wilders as "a hero of the most important battle of our times, the battle to defend free speech". As early as 2009 Mr Wilders, while on a visit to America, was proposing a version of what became Mr Trump's travel ban. He also suggested enhanced security checks on Muslims in the US with deportation for those who fail the scrutiny.
Mr Wilders is not the only one standing in the coming elections in whom the American hardline conservatives find a kindred spirit. There is widespread praise for Marine Le Pen in France and the anti-refugee Alternative For Germany party. One can expect a ratcheting up of this support as these polls come closer.
There have been warnings from Western security services that Vladimir Putin's Russia may attempt to influence the European elections, as it allegedly tried to with the US presidential poll, through cyber attacks. There is also worry about the Kremlin's support for extremist nationalist groups. But that is not the only source of concern for mainstream European parties. Those in the US who helped Donald Trump to the presidency are also keen to see the political status quo in Europe change to fit in with their vision of a new order.
Register for free to continue reading
Registration is a free and easy way to support our truly independent journalism
By registering, you will also enjoy limited access to Premium articles, exclusive newsletters, commenting, and virtual events with our leading journalists
Already have an account? sign in
Register for free to continue reading
Registration is a free and easy way to support our truly independent journalism
By registering, you will also enjoy limited access to Premium articles, exclusive newsletters, commenting, and virtual events with our leading journalists
Already have an account? sign in
Join our new commenting forum
Join thought-provoking conversations, follow other Independent readers and see their replies