Dutch royal family pelted with tomatoes in Russian opposition protest
Two activists arrested for fruit-based attack on King Willem-Alexander and Queen Maxima - though none of the projectiles hit their targets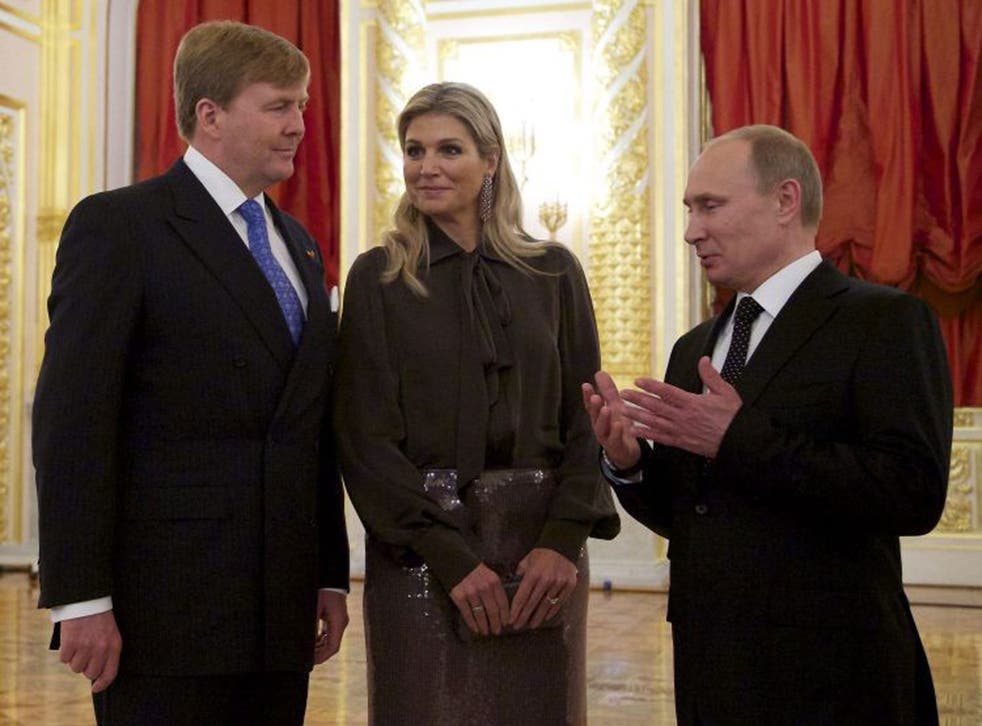 The Dutch royal family have been pelted with tomatoes while on a state visit to Russia.
King Willem-Alexander and his wife, Queen Maxima, were on their way to a concert in Moscow on Saturday when they became the target of a protest by Russian opposition activists.
None of the fruit hit the king or queen, according to reports from the state-run Ria Novosti news agency.
Eduard Limonov, the leader of the banned National Bolshevik party, said two of his group's members were responsible for the incident, and were subsequently arrested.
Mr Limonov said today that the protest was carried out to draw attention to the death of a fellow activist, Alexander Dolmatov, who committed suicide in a Dutch detention centre in January.
After taking part in a protest in May 2012 against President Vladimir Putin, Mr Dolmatov was arrested and then subsequently released. Fearing re-arrest based on charges faced by other activists, Mr Dolmatov fled.
Making his way to the Netherlands, the activist sought asylum from political persecution. His request was rejected, and he was placed in a holding centre where he then killed himself.
Yesterday's protest came after the Dutch king met Mr Putin in the Kremlin on Friday.
On the surface, the visit has celebrated the historical ties that exist between Russia and the Netherlands. But the pair are also believed to have discussed a number of issues which, in recent months, have seen the relationship between the two countries deteriorate.
Foremost among them is the still unresolved issue of Russia's seizure of a Dutch-registered Greenpeace ship which was protesting against Arctic drilling at a Gazprom oil rig.
Join our new commenting forum
Join thought-provoking conversations, follow other Independent readers and see their replies