E3 Harelbeke: 'Sexist' cycling poster withdrawn
'Who squeezes them in Harelbeke?'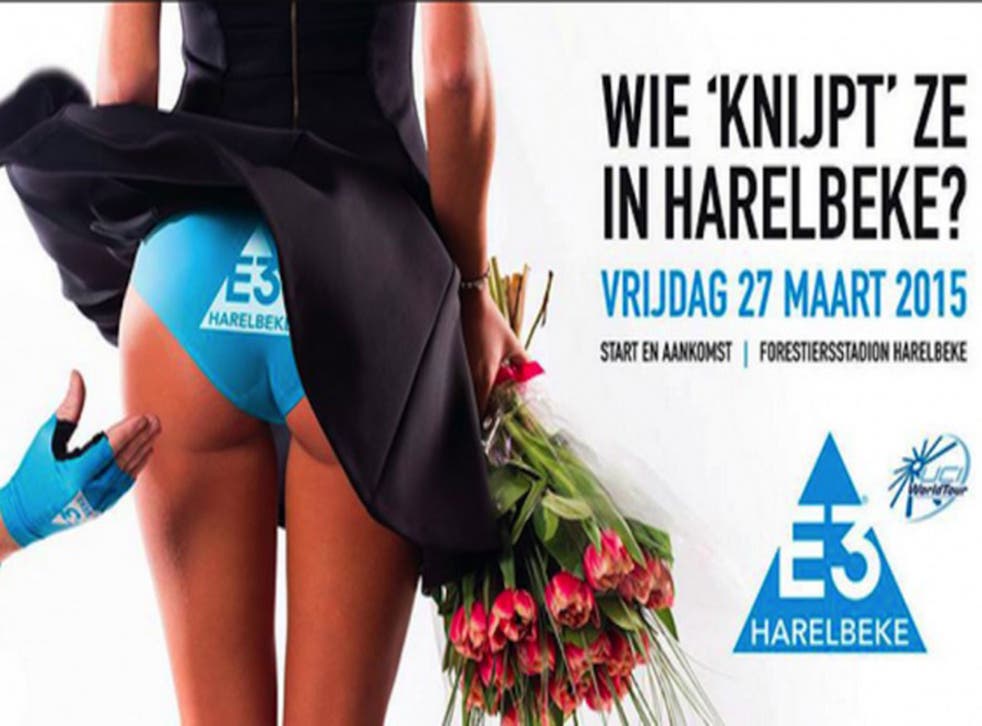 A controversial sports poster depicting a cyclist's gloved hand reaching out to grab a woman's bottom has been withdrawn following accusations of sexism.
Belgium's E3 Harelbeke cycling competition, which takes place on March 27, caused a stir with the ad, which was intended to poke fun at 2014 winner Peter Sagan - the Slovakian rider who pinched Maja Leye's bottom while on the podium at the 2013 Tour of Flanders.
The poster, which showed the woman wearing a pair of E3-branded knickers, was accompanied by the slogan: "Who'll squeeze them in Harelbeke?"
It was greeted with a storm of criticism when it was posted on social media on Monday morning, and was branded "misogynistic" and "demeaning".
The International Cycling Union (UCI), the sport's governing body, said it was "extremely unhappy" with the poster, which shows a hand moving towards a girl's backside.
"We have reminded the organiser of its responsibility," it said in a statement.
The Jury of Advertising Ethics (JDP) called for the poster, which the organisers have reportedly already begun to withdraw, to be removed.
They logged 17 complaints - including one which alleges that the campaign "normalises coarse sexism and gives a bad name to cycling".
According to Belgian wesbite DH, the JDP decried the portayal of male behaviour in the ad as "disparaging and disrespectful towards women" - and said that it "exploits the woman as object of desire".
Last month, race spokesman Jacques Cousens insisted they had received "only a few" negative responses.
"I've received a lot of responses, 99 per cent of which (are) positive," he told Dutch newspaper HLN. "Here and there, there is a negative reaction, but there are only a few."

Mr Cousens, who said that the ad was intended to be a "dual message" - on the one hand advertising the E3 Harelbeke on March 27, on the other hand referring to Peter Sagan - also said that the majority of negative responses had come from outside Belgium.

"Probably it is because they do not understand the message," he said. "We do not regret it, although I respect everyone's opinion."
The organisers have since withdrawn the advert from the E3 Harelbeke Facebook page.
It's not the first time the race organisers have fronted a provocative poster campaign. In 2011 they showed a naked woman lying in a field, while the silhouettes of small riders rode across her backside.
And last year's poster featured a woman straddling three others curled into the shape of a bike.
Register for free to continue reading
Registration is a free and easy way to support our truly independent journalism
By registering, you will also enjoy limited access to Premium articles, exclusive newsletters, commenting, and virtual events with our leading journalists
Already have an account? sign in
Register for free to continue reading
Registration is a free and easy way to support our truly independent journalism
By registering, you will also enjoy limited access to Premium articles, exclusive newsletters, commenting, and virtual events with our leading journalists
Already have an account? sign in
Join our new commenting forum
Join thought-provoking conversations, follow other Independent readers and see their replies