Why a minor troop pullback in eastern Ukraine marks the end of President Zelensky's honeymoon
Analysis: Between US politics, an impeachment scandal and achieving peace in the east, Zelensky's success is depending on ever narrower margins
Oliver Carroll
Moscow
Tuesday 29 October 2019 21:21 Comments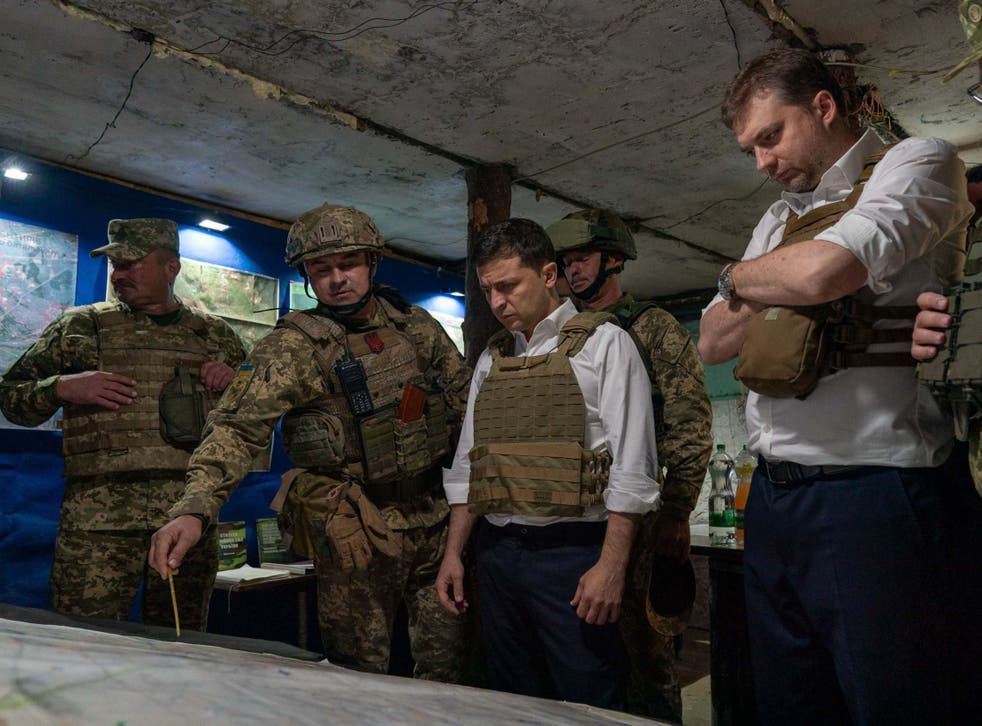 Vadym Prystaiko, Ukraine's foreign minister, announced on Tuesday that Kiev had finally begun the process of pulling back troops in the eastern town of Zolote.
The small operation had been marketed as a measure to reduce attrition in a war that has already cost 13,000 lives. But the withdrawal has been marred in controversy ever since it was agreed and delayed for several weeks after it was opposed by a group of armed veterans.
Its implementation became a major test of president Volodymyr Zelensky's authority.
Ending the war in eastern Ukraine was Mr Zelensky's key campaign promise. Since assuming office, he has embarked on a high-energy, but risky strategy to break the stalemate.
In the hope of finding a solution, the president agreed in late September to a simplified version of the 2015 Minsk peace accords. The so-called Steinmeier formula is controversial in certain sections of Ukrainian society, who say it goes too far in granting autonomy and amnesty to former Russian backed separatist fighters. Critics, like the former president Petro Poroshenko, described it as a "capitulation." His party was behind street protests that followed across the entire country, with thousands turning out in the capital.
The pullback in frontline Zolote and two other towns in Luhansk region were also agreed as part of the Steinmeier settlement on 1 October.
Almost immediately, several dozen soldiers from Ukraine's Azov battalion, an infamous far-right military structure, made their way down to Zolote to protest against Mr Zelensky's "confidence-boosting" measures on the front line. Setting up an impromptu "last checkpoint" in the town, they said they would do everything to stop the pullback.
On Friday, Mr Zelensky felt compelled to travel to Zolote to confront the soldiers in person.
Few pleasantries were exchanged. In one dramatic dialogue, recorded by local TV networks, the president said the soldiers were taking him for a fool.
"You can't issue me ultimatums," he said. "I'm the president of this country. I am 42 years old. I'm no sucker. I came here to tell you to move your weapons away from the front line."
By Monday, it was reported that units of Ukraine's national army had disarmed the Azov soldiers involved – a breakthrough that apparently opened the door to the start of the coordinated pullback.
But Denis Yantar, the Azov soldier who was on the receiving end of Mr Zelensky's angry words at the weekend, predicted the protest would go on.
Speaking to The Independent, he accused the president of "getting ahead of himself" and making decisions "too quickly".
"Zelensky says there will be peace, but we see no grounds for optimism," he said. "There is precedent here. We saw moves to pull back in 2014 and 2015 too. It always led to needless blood being spilled."
Ukraine's war began in early 2014, a few weeks after pro-Russian president Viktor Yanukovych fled the country. It reached a peak over 2014 and 2015, since which sporadic battles have focused on hotspots like the town of Zolote. Large swathes of the eastern districts of Donetsk and Luhansk are now under de-facto Russian control.
Maks Levin, a Ukrainian journalist reporting from Zolote at the time of Mr Zelensky's standoff, told The Independent that he saw many local residents pleading with the soldiers to stay.
The pullback would move front lines beyond sniper range, but it leave the town itself in no man's land.
"Many fear Russian-backed forces will take up new positions in town," the journalist said. "Those who have pro-Ukrainian views worry about revenge attacks."
Mr Levin cautioned the withdrawal might not yet go ahead as planned. Some other units in Ukraine's regular army positioned in Zolote did not agree with the president's position, he said; they "may offer resistance". Things would "certainly" take a turn for the worse if any of the now unarmed Azov fighters were injured.
At the weekend, Andriy Biletsky, Azov's first leader, threatened to send 10,000 fighters to Zolote to defend "positions won in blood".
Support free-thinking journalism and attend Independent events
A key player to watch in the forthcoming weeks is Arsen Avakov, Ukraine's interior minister.
The lone survivor from Mr Poroshenko's government – by most accounts considered too powerful to move – Mr Avakov dominates much of Ukraine's security bloc. Of particular interest to this story is the fact he has a controlling stake in both the Azov diehards and the national guard that came to town to disarm them.
In other words, said Andrei Dikhtaryenko, editor of the local Realnaya Gazeta newspaper, it was "as if Mr Avakov's right hand was disarming his left hand".
Some interpret Mr Avakov's manoeuvres as a sign of internal conflict in the new administration.
"Many of Zelensky's close advisers already suspect Avakov of playing a double game," said Volodymyr Fesenko, an independent political analyst based in Kiev. "Avakov showed him how indispensable he was in providing security in Zolote. But he risks undermining any trust Zelensky has in him."
What is clear is that half a year into his role, Mr Zelensky has moved beyond his electoral honeymoon.
Already that is being reflected in his polling figures, with approval ratings beginning to take a tumble. Still in the mid-sixties, they remain higher than any president in Ukraine's modern history. But the terrain ahead is rocky. Not only is Mr Zelensky invested in a high-risk, low-patience strategy to end the war, with potential rivals like Mr Avakov lining up alongside, he is also embroiled in the middle of a US election campaign and an impeachment process.
There is little room for error and much of Mr Zelensky's success now depends on the willingness of Vladimir Putin to play ball.
"Irrationally, emotionally, Zelensky believes he can solve everything in a face-to-face meeting with Putin," Mr Fesenko said. "He thinks he can get a compromise like he managed with the prisoner exchange."
A rush for a deal would certainly be welcomed in Moscow, the foreign policy expert Vladimir Frolov suggested.
"Impatience is always a virtue for Russia," he said. "They use it to force peace on their own terms."
Register for free to continue reading
Registration is a free and easy way to support our truly independent journalism
By registering, you will also enjoy limited access to Premium articles, exclusive newsletters, commenting, and virtual events with our leading journalists
Already have an account? sign in
Register for free to continue reading
Registration is a free and easy way to support our truly independent journalism
By registering, you will also enjoy limited access to Premium articles, exclusive newsletters, commenting, and virtual events with our leading journalists
Already have an account? sign in
Join our new commenting forum
Join thought-provoking conversations, follow other Independent readers and see their replies