German supermarket empties shelves of foreign-made goods to make a point about racism
All products made outside Germany removed by Edeka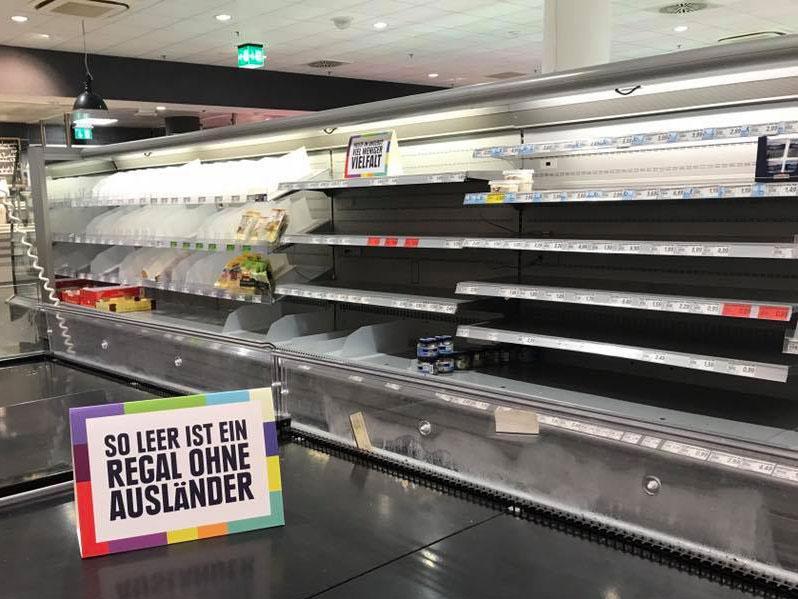 A German supermarket has emptied its shelves in an effort to make a point about racism and diversity.
The Edeka store in Hamburg removed foreign-made products from its stock, replacing them with sign bearing anti-xenophobia slogans.
It is believed the move will be followed be a larger campaign from Edeka, the largest supermarket chain in Germany.
Surprised shoppers entered the store to find that much of the normal selection was gone, demonstrating how reliant they are on other countries for everyday products.
Instead, they were greeted with signs saying: "This shelf is pretty boring without diversity."
Other signs said: "Our range now knows borders", "This is how empty a shelf is without foreigners" and "we will be poorer without diversity".
The campaign was met with mixed reactions among the German public, with some praising its boldness.
Sven Schmidt, who supplied photos of the stunt to The Independent, said he liked the campaign but had some negative reactions after posting the pictures to Twitter, which were widely shared.
He said: "Looking at all the mentions of hate and lack of understanding of other people I got, I'm happy that I posted it and showed my two cents against the racists, even though I know it was mainly about diversity."
Julia Klöckner, a vice Chairperson of the Christian Democratic Union party, praised it on social media, calling it a "wise action" that would give people pause to think.
But others derided it as a marketing campaign, taking advantage of the politically charged atmosphere ahead of the country's federal elections next month.
And some opposed the move politically. Marcus Pretzell, of the anti-immigrant Alternative for Germany (AfD) party responded to Ms Klöckner's remarks by saying: "Why exactly should it be wise? Is it not rather completely mad?"
Others said it was not the place of a supermarket to become involved in political discussions.
Such conversations have become more frequent in Germany in recent weeks, as the country prepares to go to the polls.
World news in pictures
Show all 50
Immigration has been a key theme in German politics since the 2015 decision of the Chancellor, Angela Merkel, to allow more than a million migrants into the country, many refugees from war-torn Syria.
A company spokeswoman said: "Edeka stands for variety and diversity. In our stores we sell numerous foods which are produced in the various regions of Germany.
"But only together with products from other countries it is possible to create the unique variety, that our consumers value. We are pleased that our campaign caused so many positive reactions."
Join our commenting forum
Join thought-provoking conversations, follow other Independent readers and see their replies