Far-right Breitbart 'deliberately twisted' German New Year's Eve mob story into 'fake news'
Church was not on fire, it was not a 1,000-strong mob and Allahu Akbar is a 'normal' phrase, says German journalist
Peter Walker
Friday 06 January 2017 12:40 Comments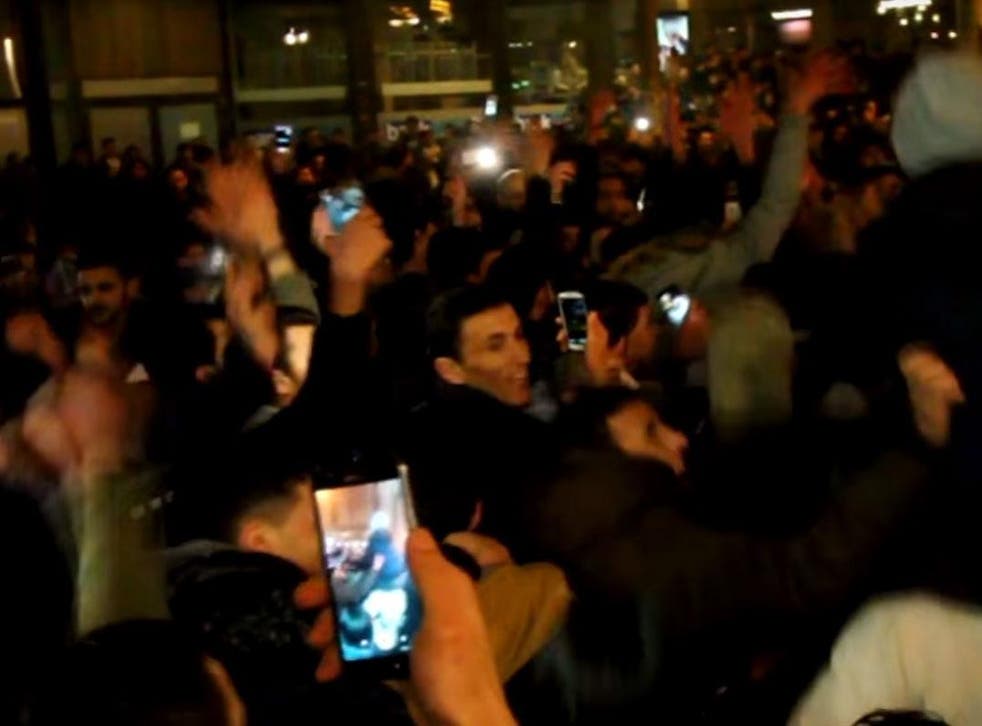 A local German newspaper has fired back at alt-right news website Breitbart for twisting its reports of minor New Year's Eve violence into "fake news".
The right-wing American website, which enjoyed a meteoric rise to prominence in 2016, claimed a 1,000-strong mob chanting "Allahu Akbar" set fire to the country's oldest church in Dortmund.
But a Dortmund paper, which carried the original report, suggests these facts, including a claim that an Isis-affiliated flag was being waved, are wildly inaccurate.
Police have since described the night as "average to quiet" and said Dortmund New Year's Eve incidents were down from 421 to 185 on last year.
"Foreign media and users of social networks on the internet used our online reports for fake news, hatred and propaganda," said Ruhr Nachrichten editor Peter Bandermann.
The Breitbart report, published on Tuesday, claimed "fireworks were launched" at St Reinolds church in Leeds Square which set the roof alight.
It also claimed that "fireworks were hurled at a group of homeless people" and that a Free Syrian Army flag was waved.
Mr Bandermann on the other hand, in a Q&A-style response published the following day, said that from between 6.45pm and 1.30am, groups of young foreign men formed a large group of 1,000 people.
He said the fire at the church only set light to netting surrounding the building and lasted just 12 minutes.
Only one person – singular – was accused of hitting a homeless man with a firework.
The flag, being waved by a group reportedly celebrating the war-torn country's ceasefire, is often adopted in general opposition to President Bashar al-Assad's regime.
Mr Bandermann, who was sent pictures of severed heads and a gallows in the aftermath of his paper's New Year's Eve coverage, also singled out Austrian news website Wochenblick as having distorted reporting.
He said that saying Allahu Akbar is as normal as saying 'Amen' in church, adding: "Fake news producers compare these people from Leeds Square to the assassins of Munich, Würzburg and the priest murderer in France.
"The fact is, there were no signs that terrorists were celebrating in Dortmund."
Journalist Alexander Becker, writing in an online media industry publication, said: "The report is a lesson on the deliberate twisting of facts."
German Chancellor Angela Merkel has previously said: "We must confront this phenomenon [of fake news] and if necessary, regulate it."
The disruption in Dortmund, which saw 43 people injured compared to 52 on the night last year, followed around 1,000 women claiming to have been sexually assaulted in Cologne and Hamburg on New Year's Eve 2015.
Breitbart has become the notorious platform for the so-called alt-right, an extreme right-wing movement that some claim promotes racist and white nationalist ideology.
Its headlines have included, "There's no hiring bias against women in tech, they just suck at interviews" and "Birth control makes women unattractive and crazy".
Formerly chaired by Donald Trump chief strategist Steve Bannon, and edited by Nigel Farage aide Raheem Kassam in London, it has been quick itself to accuse other outlets of promoting fake news.
Breitbart.com's unique visitors increased 124 per cent to 17m in December 2015, according to ComScore, and then up to 37m according to Breitbart themselves in October 2016.
The Independent has contacted Breitbart representatives for comment.
Register for free to continue reading
Registration is a free and easy way to support our truly independent journalism
By registering, you will also enjoy limited access to Premium articles, exclusive newsletters, commenting, and virtual events with our leading journalists
Already have an account? sign in
Join our new commenting forum
Join thought-provoking conversations, follow other Independent readers and see their replies