EgyptAir: Briton Ben Innes describes picture of him with hijacker as 'best selfie ever'
The 26-year-old from Leeds appeared to make light of the situation texting friends that he 'didn't f*** around'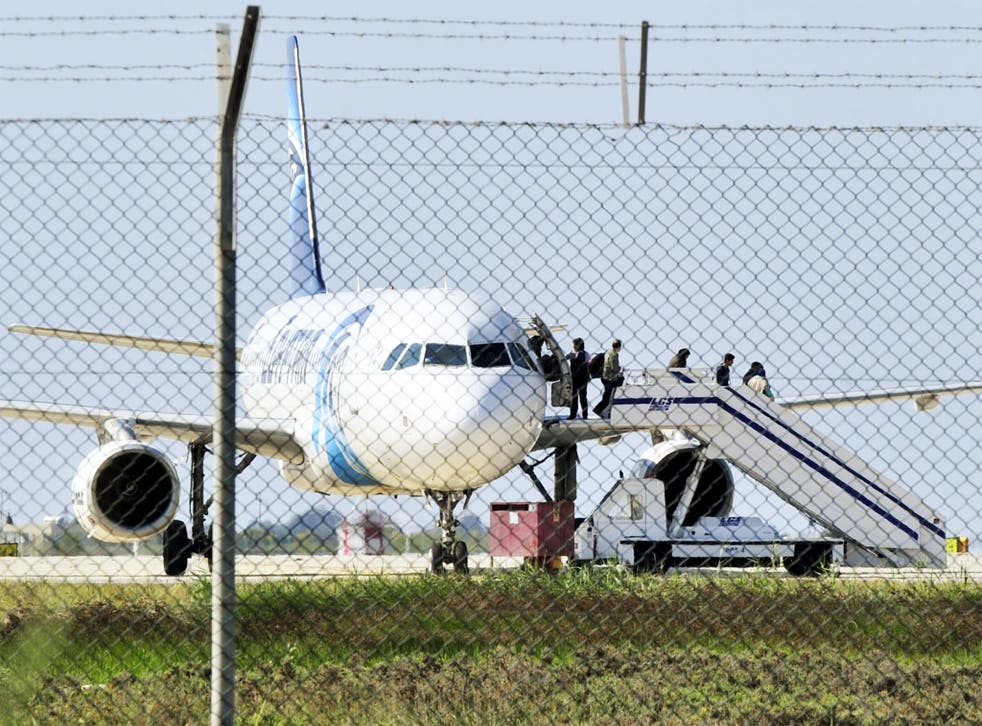 A British man who took a photo with a hijacker on board an EgyptAir flight has described it as "the best selfie ever".
Ben Innes posted an image of himself on social media with Seif Eldin Mustafa - who was strapped in a "suicide belt" later found to be fake - with the message "You know your boy doesn't f*** about. Turn on the news lad!!!"
He told the Sun: "I just threw caution to the wind while trying to stay cheerful in the face of adversity. I figured if his bomb was real I'd nothing to lose anyway, so took a chance to get a closer look at it.
"I got one of the cabin crew to translate for me and asked him if I could do a selfie with him. He just shrugged OK, so I stood by him and smiled for the camera while a stewardess did the snap. It has to be the best selfie ever."
Mustafa hijacked the plane - which was an internal flight originally scheduled to fly between Cairo and Alexandria on Tuesday morning - and forced it into a six-hour standoff at Cyprus' Larnaca airport.
While there he made a series of demands including, the release of political prisoners, to see his ex-wife, to see an EU official and to be taken to another airport.
Eventually he let most of the 62 people onboard leave with the exception of several crew members and four foreigners, including Mr Innes, before surrendering.
The health and safety auditor, who is originally from Leeds but lives in Aberdeen, appears to have approached Mustafa for a selfie during the incident.
A friend of Innes from university told the Telegraph that he was "very into his banter".
His flatmate Chris Tundogan, who received the message, told MailOnline: "I have no idea why he took the selfie but I imagine he probably volunteered to take it as he's not afraid to shy away from anything,
"I find it pretty mental but that's just Ben I guess!"
Mustafa surrendered and left the plane at around 2:20pm local time with his hands up and threw several items on the ground.
The hijacking has raised concerns over security at Egyptian airports just five months after a Russian aeroplane was downed after taking off from Sharm el-Sheikh killing all 224 people on board, and one aviation expert claimed the incident was a return to "the security stone age".
In pictures: EgyptAir hijacked plane

Show all 10
David Learmount said it appeared the captain of the flight "didn't have faith in the security systems" and felt he had to follow the hijacker's demands, resulting in the "first major successful hijack since 9/11".
He said the captain should have been confident that it was "impossible" for someone to have got through security with a suicide belt.
But footage has emerged of the alleged hijacker walking through a metal detector and being patted down by security before boarding the flight.
Additional reporting by AP
Register for free to continue reading
Registration is a free and easy way to support our truly independent journalism
By registering, you will also enjoy limited access to Premium articles, exclusive newsletters, commenting, and virtual events with our leading journalists
Already have an account? sign in
Register for free to continue reading
Registration is a free and easy way to support our truly independent journalism
By registering, you will also enjoy limited access to Premium articles, exclusive newsletters, commenting, and virtual events with our leading journalists
Already have an account? sign in
Join our new commenting forum
Join thought-provoking conversations, follow other Independent readers and see their replies