Eid al-Fitr 2015: Drone shows huge crowds celebrating the end of Ramadan in Moscow
Video: The Russian capital is home to roughly two million Muslims, with Islam the second most popular religion in Russia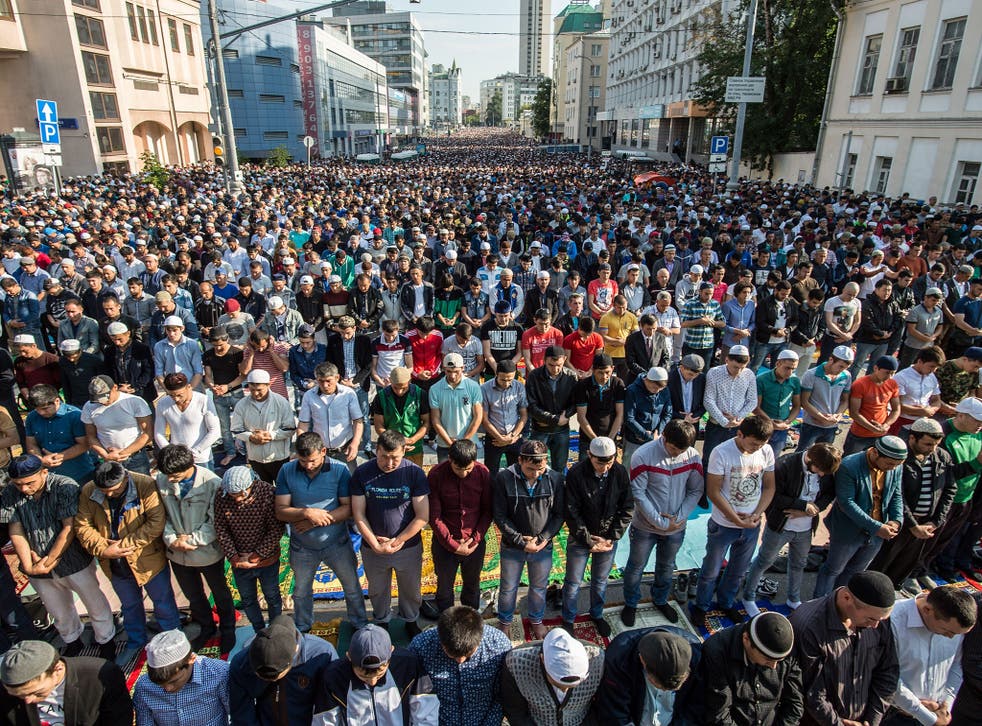 Footage shot from a drone shows large numbers of Moscow's two million Muslims praying outside the city's central mosque to celebrate Eid al-Fitr.
The video shows the drone on street level before it flies high above the mosque, which is currently under renovation, and reveals line after line of worshippers around the building. The city's Muslims were greeted to a prayer from the Grand Mufti of Russia, Ravil Gainutdin.
Islam is the second most widely followed religion in Russia and the capital city is home to roughly two million Muslims.
The city is currently building a new mosque to hold up to 60,000 worshippers. Because of the lack of space in the city's current mosques - of which there are only four - Moscow officials allow Muslims to pray in the streets during important holy days, such as Eid al-Fitr.
Millions of Muslims across the world will gather this weekend to mark the end of Ramadan - the holiest month in the Islamic calendar.
During this month, Muslims focus on personal reflection and prayer. They do this by observing three types of worship: charity, praying and fasting from dawn to sunset.
Ramadan ends when the new moon is spotted in the sky, which means it differs from location to location. This is when Eid is celebrated.
A misconception of Eid is that Muslims are celebrating the end of fasting. Instead, Muslims are grateful for having the strength to complete the month, and give thanks for the often sumptuous food they are able to mark the occasion with.
Following morning prayers and breakfast, those celebrating wear their best, often new, clothes, and gather with their friends and family for their first daylight meal in a month.
In pictures: Ramadan around the world

Show all 27
Join our new commenting forum
Join thought-provoking conversations, follow other Independent readers and see their replies