El Castillo de Matrera: Spanish castle restoration in Cadiz labelled 'disastrous' by locals amid widespread ridicule
Work prompts comparison to botched attempt to restore 19th century fresco of Jesus Christ
Elsa Vulliamy
Thursday 10 March 2016 12:42 Comments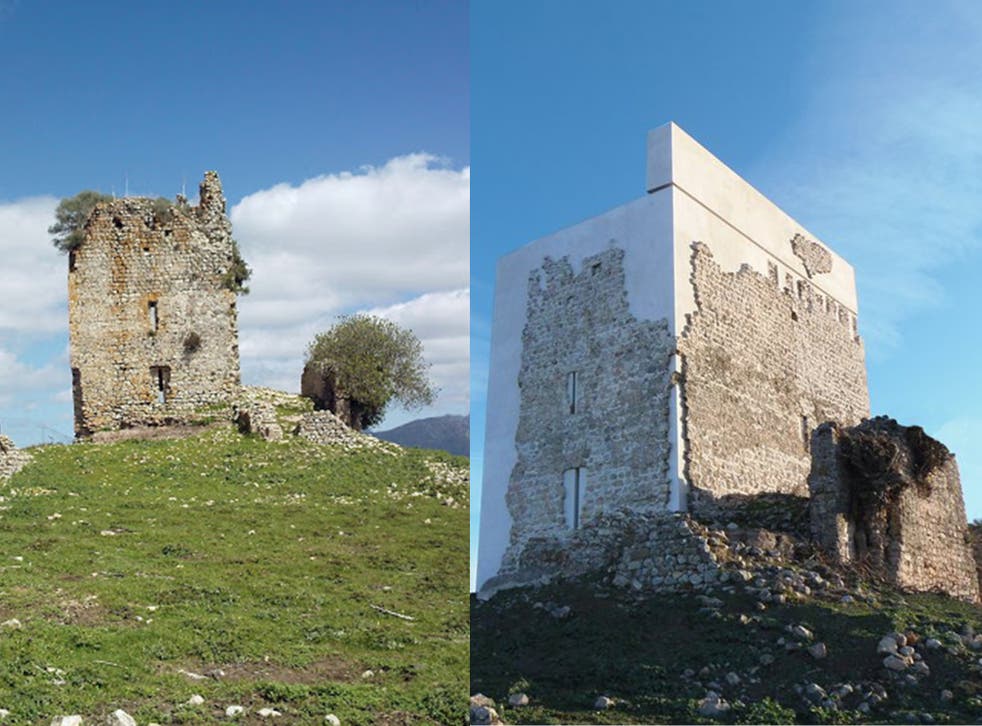 The restoration of an ancient Spanish castle has been mocked by locals - as conservationists declared the work a "heritage massacre".
El Castillo de Matrera was built in the ninth century on a hill top in Cadiz, and has been a National Monument since 1949.
After it was badly damaged by rainfall three years ago, architects set about the job of renovating the historic structure.
But Spaniards vented their frustration after photographs of the restored building were released, which showed new materials had been used to stabilise what remained of the original building.
One man told Spain's La Sexta news channel: "They've got builders in rather than restorers and, as we say round here, they've cocked it up."
The project has prompted comparisons with the attempt to restore a 19th century Ecce Homo fresco of Jesus Christ by an elderly Christian woman in 2012.
Hispania Nostra, a Spanish cultural heritage organisation, described the results of the work on the castle as "absolutely terrible".
A statement on the group's website said: "Foreigners have written to us saying they can't understand why these follies – better described as heritage massacres – still go on."
Architect Carlos Quevedo, who oversaw the restoration, defended his project - saying it met the goals that were set ahead of the project.
He also said it was against the law to "imitate" the castle, which explains the stark contrast between the original structure and the newly restored one.
"There were three basic aims," he told the Guardian.
"To structurally consolidate those elements that were at risk; to differentiate new additions from the original structure – thus avoiding imitative reconstructions that are prohibited by the law; and to recover the volume, texture and tonality that the tower would originally have had."
Register for free to continue reading
Registration is a free and easy way to support our truly independent journalism
By registering, you will also enjoy limited access to Premium articles, exclusive newsletters, commenting, and virtual events with our leading journalists
Already have an account? sign in
Join our new commenting forum
Join thought-provoking conversations, follow other Independent readers and see their replies