Emmanuel Macron calls for EU army and shared defence budget
French President also proposes EU-wide asylum agency to help tackle migration crisis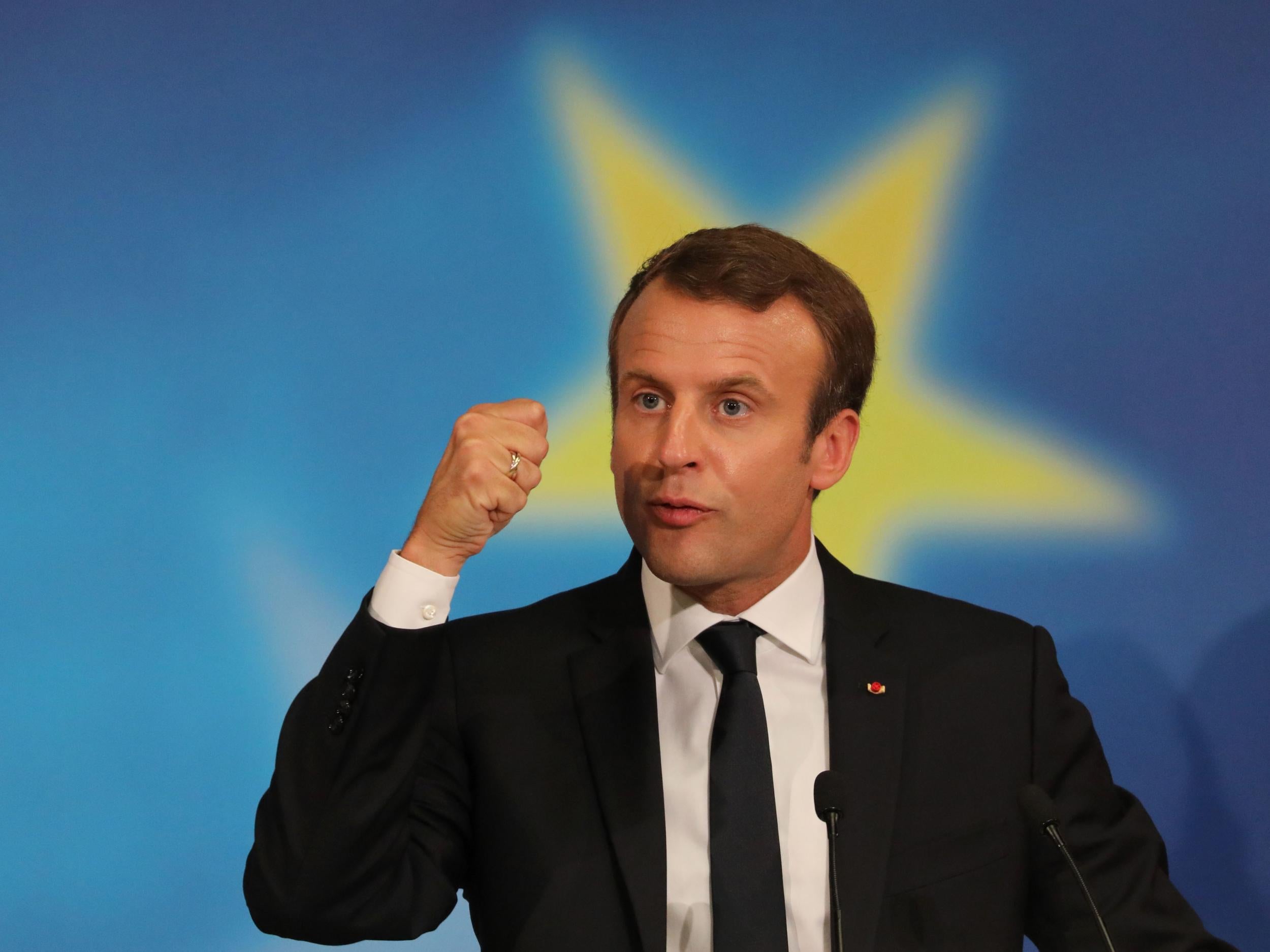 Emmanuel Macron suggested Britain could rejoin the EU at a later date as he set out an ambitious vision for a "profound transformation" that would boost integration between EU countries.
The French President called for the introduction of EU identity cards, a shared defence budget and a European military intervention force.
Speaking at Paris-Sorbonne University, he also proposed a shared budget for eurozone countries and an EU-wide asylum agency to help tackle the migration crisis.
In a move that raises the prospect of Britain returning to the EU at a later date, Mr Macron said he saw a place for the the UK in a "reformed, simplified" union.
He said: "In this union rebuilt on intransigent values and an efficient market, in a few years, if it so wishes, Britain could regain its place, which is why you haven't heard me talk about Brexit this afternoon."
The French President spoke for almost two hours as he laid out a vision for Europe that he hopes German Chancellor Angela Merkel will support.
World news in pictures
Show all 50
He said: "What Europe is missing today is a common strategic culture. Our incapacity to act together in a convincing way undermines our credibility as Europeans.
"Europe as we know it is too weak, too slow and too inefficient.
"But only Europe can give us the means to act on the world stage as we tackle the great challenges of the day."
Mr Macron called for the creation of an EU defence force by 2020 that would give the bloc "autonomous capacity for action" and proposed creating an European security training academy.
The centrist leader also proposed an EU tax on big technology companies and international action to regulate online activity.
"Discussions are under way which don't define the future of Europe. But in this reformed, simplified European Union I don't rule out that Britain could find its place."
Mr Macron was elected in May on a platform of strengthening the eurozone and promoting EU integration ahead of Brexit.
However, his plans were dealt a blow when the Eurosceptic Alternative for Germany (AfD) party emerged as the third biggest in last week's German elections. The result means Angela Merkel is likely to have to form a coalition with the Free Democrats, who are opposed to many elements of deeper EU integration.
Join our commenting forum
Join thought-provoking conversations, follow other Independent readers and see their replies