Emmanuel Macron says Donald Trump is like Putin and Erdogan
French president was commenting on a prolonged, seemingly aggressive handshake between the leaders at the Nato summit in Brussels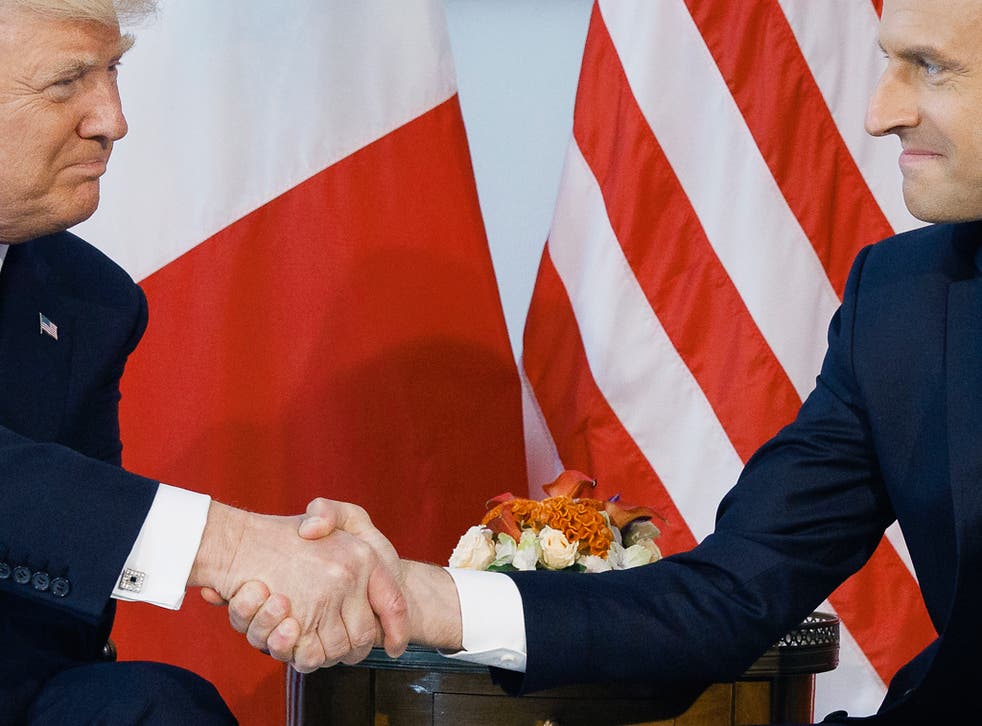 Emmanuel Macron has compared Donald Trump to Vladimir Putin and Recep Tayyip Erdogan, saying they all see international relationships as a balance of power.
The newly installed French president compared Mr Trump to the increasingly autocratic leaders when commenting on pictures of a tense handshake between them at the Nato summit in Brussels last week.
Mr Macron said the tense handshake, which last several seconds with both men's knuckles looking white before Mr Trump was forced to pull away first, was "not innocent" and was designed to show he was not a pushover.
He told French newspaper Le Journal du Dimanche: "Donald Trump, the Turkish president or the Russian president see relationships in terms of a balance of power.
"That doesn't bother me. I don't believe in diplomacy by public abuse, but in my bilateral dialogues I won't let anything pass."
He said that a leader must show that they will not "make small concessions, even symbolic ones" or over publicise their achievements.
Numerous reports have emerged of Mr Trump behaving like a "drunk tourist" during his first foreign trip abroad.
In pictures: President Donald Trump on tour

Show all 39
An anonymous US State Department official blasted the "arrogance" of Mr Trump during the trip, which included trips to Saudi Arabia, Israel, the Vatican and Brussels before he arrived in Sicily for the G7 summit, and his "loud and tacky" way of approaching diplomacy was "ineffectual".
On the first day of the Nato summit, Mr Trump was captured on film appearing to forcibly shove the Prime Minister of Montenegro, Dusko Markovic, out of his way so he can appear at the front of the group photo.
He later denounced his fellow Nato leaders for not spending more on defence to their faces in a speech where he said they were not being "fair" to the US.
The Republican also refused to commit to Article 5 of the Nato treaty – which means a member state will come to the aid of another if they are attacked.
Following the summit, German Chancellor Angela Merkel took the unusual step of saying publicly that after what she had "experienced in the last few days", she had concluded Europe could no longer rely on the US to help them.
Despite this Mr Trump himself insisted the trip was a success, tweeting: "Just returned from Europe. Trip was a great success for America. Hard work but big results!"
The distancing of Europe from the US will be interpreted as good news in Moscow as Russia has previously rallied against Nato which has restrained its attempts to make further inroads into Eastern Europe.
Join our new commenting forum
Join thought-provoking conversations, follow other Independent readers and see their replies