'A bomb placed at heart of a political family': Emmanuel Macron launches bid for French presidency
Campaign organisers for Mr Macron say they have amassed €2.7 million of funding from 6,400 donors
Andrew Callus
Paris
Wednesday 16 November 2016 18:25 Comments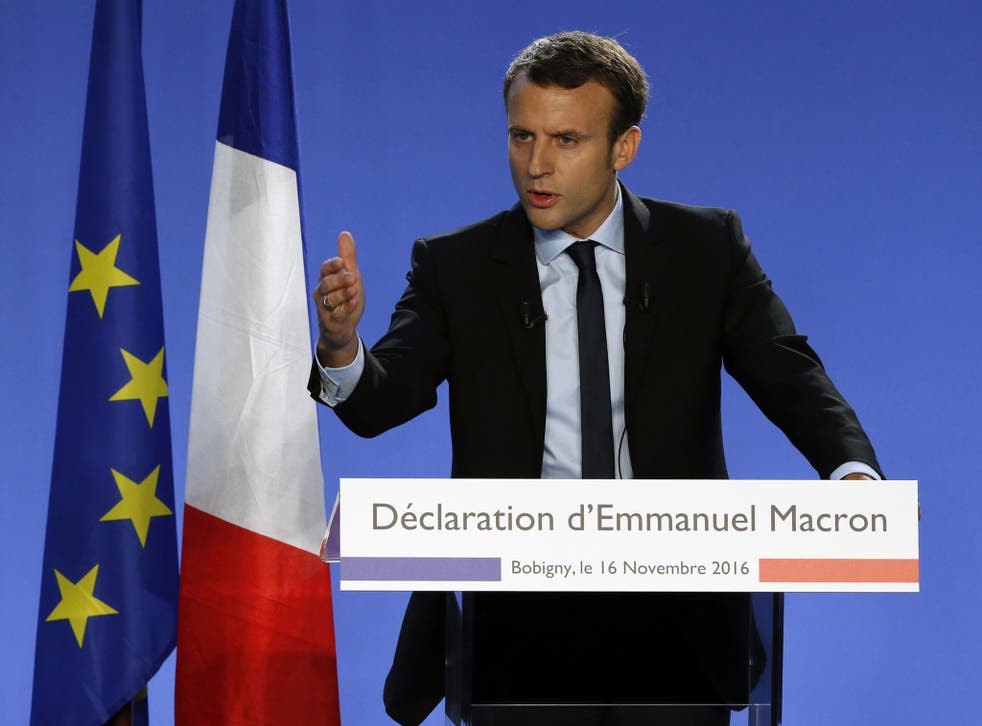 Former economy minister Emmanuel Macron has launched his bid for the French presidency, a move likely to take votes from mainstream candidates in a tight race that promises a strong turnout for far-right leader Marine Le Pen.
The 38-year-old quit the cabinet of Socialist President François Hollande in August to prepare a campaign and will stand as an independent in next year's election.
Opinion polls show Mr Hollande himself and the left in general face a rout because of a perceived poor record on unemployment, national security and immigration – issues that has lifted Ms Le Pen.
Mr Macron, an ex-investment banker who introduced labour reforms for Mr Hollande, has yet to set out his policies in any detail. Although one of France's most popular politicians he has never held elected office and has no party apparatus behind him. Some say his campaign may struggle.
However, Mr Macron is widely seen as likely to take votes from conservative Alain Juppé, the favourite to win the presidency. Mr Juppé is fighting a tightening race for the centre-right nomination in a presidential primary election of Les Républicains party and its centre-right allies, which starts on Sunday.
At his election bid announcement, Mr Macron said he wanted to move France away from "clan-based politics", adding: "I've witnessed the shallowness of our political system from the inside."
World news in pictures

Show all 50
The best way for France to deal with globalisation was closer ties with the rest of Europe, in contrast to the inward-looking policies of some other contenders, Mr Macron said in an apprenticeship centre northeast of Paris.
Mr Juppe is fighting on a similarly pro-European and centrist platform, positioning himself to the left of his main rival, Nicolas Sarkozy.
Mr Sarkozy, a former president, competes with the far-right Front National's appeal to populist voters with sharp criticism of EU policy and a hard line on security and immigration.
Polls had for months consistently been showing 71-year-old former Prime Minister Mr Juppé winning the primaries.
However, fresh poll readings in recent days ahead of a last television debate on Thursday point to a "third man", former Prime Minister François Fillon, potentially complicating the Sarkozy-Juppé contest.
In the background too is a feeling that more surprises might be on their way after the populist votes that swept Donald Trump to power in the United States last week and will likely take Britain out of the EU.
These events have raised the prospect that surveys might be wrong, even though French pollsters say they account for "hidden" far-right votes. France's two-round, majority-vote system makes Ms Le Pen's task hard because a winner has to secure the support of more than 50 per cent of those who vote.
Ms Le Pen was in a confident mood on Wednesday. "Macron is the banks' candidate," she said at the launch of her campaign headquarters.
"What is for sure is that he will not be stealing any of our voters. This is a candidate that smells of mothballs."
Mr Juppé went on the attack too, saying Mr Macron had stabbed Hollande in the back by quitting, but his more immediate problem is Fillon, Sarkozy's prime minister between 2007 and 2012.
An Opinionway poll on Tuesday showed Mr Fillon neck-and-neck with Mr Sarkozy in the first round of the primaries and then potentially beating Mr Juppé in the second round to take the nomination.
Mr Macron quit the French government at the end of August to set up his own political movement called En Marche, which translates as "Forward" or "Onwards" and his bid had been widely anticipated.
Campaign organisers for Mr Macron said they had amassed €2.7m (£2.31m) of funding from 6,400 donors to date. The official spending cap in the 2012 campaign was about €21m.
An October poll by Odoxa found Mr Macron the most popular of potential presidents from the left, with 49 per cent considering him a good head of state. Prime Minister Manuel Valls came second on 42 per cent. Mr Hollande trailed behind others on 13 per cent.
So Mr Macron's presence in the contest is also likely to further fragment the divided left-wing vote, as speculation grows that Mr Valls will stand instead of the deeply unpopular Mr Hollande against an array of others.
Mr Hollande's foreign trade minister Matthias Fekl described Macron's candidacy as "a time bomb placed at the heart of a political family."
"The bomb has exploded," he said on French radio.
Reuters
Register for free to continue reading
Registration is a free and easy way to support our truly independent journalism
By registering, you will also enjoy limited access to Premium articles, exclusive newsletters, commenting, and virtual events with our leading journalists
Already have an account? sign in
Join our new commenting forum
Join thought-provoking conversations, follow other Independent readers and see their replies