Marine Le Pen 'hates faces that don't look like hers'
'They betray equality by stating that some are more equal than others, they betray fraternity because they hate the faces that don't look like theirs,' says Mr Macron in veiled reference to Front National leader Ms Le Pen
May Bulman
Sunday 05 February 2017 11:05 Comments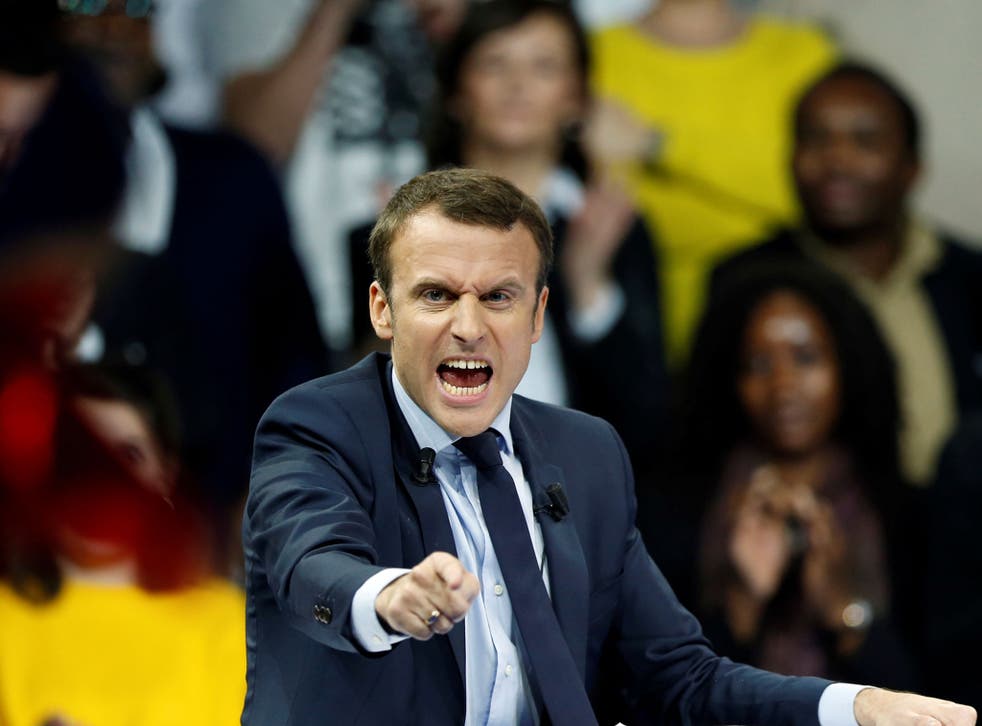 French presidential candidate Emmanuel Macron has publicly criticised far-right rival Marine Le Pen in a bitter attack, saying the Front National leader "betrays" France's historical values.
Speaking at a rally of round 8,000 people in Lyon on Saturday, the former economy minister appeared to mock Ms Le Pen's campaign slogan, "In the name of the people", claiming she and her far-right predecessors spoke "in the names of their bitterness".
Without actually mentioning the Front National leader by name, Mr Macron said: "Some today pretend to be talking in the name of the people, but they are just ventriloquists".
In a clear reference to Ms Le Pen's father Jean-Marie and niece Marion, he proceeded to say: "They don't speak in the name of the people, they speak in the name of their bitterness, they speak for themselves, from father to daughter and daughter to niece.
"They betray liberty by shrinking our horizons, they betray equality by stating that some are more equal than others, they betray fraternity because they hate the faces that don't look like theirs."
Mr Macron, 39, has gained a strong following after creating his own political party called "En Marche!" ("On the Move!"), and has recently surged in the polls after Conservative candidate ​François Fillon became embroiled in controversy over payments made to his wife, which could potentially see him eliminated from the race.
The independent candidate's remarks about Ms Le Pen came on the same day the Front National leader launched her presidential campaign in the same city, pledging to hold an EU referendum, ditch the euro, withhold free healthcare from "illegal migrants" and slash immigration.
Ms Le Pen is currently leading in the polls, with up to 27 per cent of voting intentions in the first round, but Mr Macron is close behind her with 23 per cent and is widely expected to win the presidential race in a head-to head with Ms Le Pen in a second round — although faith in pollsters has recently gone down with surprise outcomes across the Western world.
World news in pictures

Show all 50
Mr Macron, who was economy minister under current president François Hollande before he left to set up his own party last year, also pledged to "reconcile" divisions in France, and appeared to mock US President Donald Trump's plan to build a wall, comparing it to France's Maginot Line which in 1940 failed to keep Nazi invaders out of France.
"I want to reconcile the two Frances that have been growing apart for too long. I want a more European defence, partnerships between France and Germany," Mr Macron said, later announcing: "I don't want to build a wall. I can assure you there's no wall in my programme. Can you remember the Maginot Line?"
The first round of voting in France's presidential elections will be held on 23 April. If no candidate wins an outright majority, a run-off between the leading two will take place in May.
Register for free to continue reading
Registration is a free and easy way to support our truly independent journalism
By registering, you will also enjoy limited access to Premium articles, exclusive newsletters, commenting, and virtual events with our leading journalists
Already have an account? sign in
Join our new commenting forum
Join thought-provoking conversations, follow other Independent readers and see their replies