England vs Colombia: 'golden ticket' game keeps fans on edge until spot kicks seal gilt-edged tie
'We know England is the home of football, and we all adore the Premier League. It is no shame to lose to the English'
Oliver Carroll
Spartak Stadium, Moscow
Wednesday 04 July 2018 00:31 Comments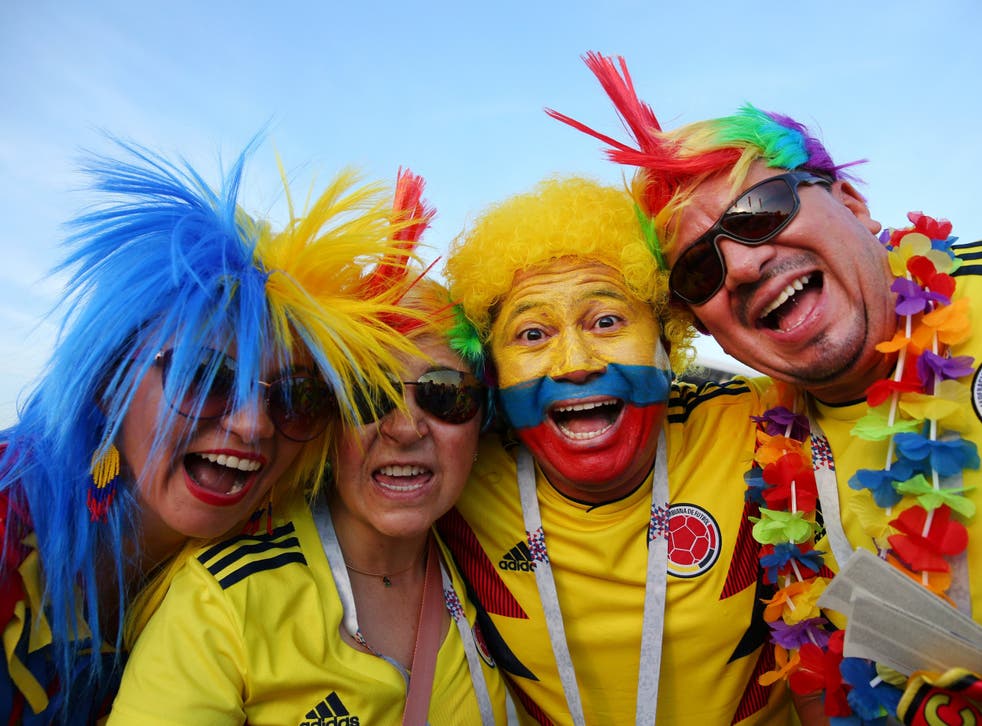 From above the din of drums and cymbals, a piercing yelp - "LO TENGO! YO LO TENGO!"
Fernando, a rotund, moustachioed man of 45, was one of the fortunate ones. He got his ticket. Many of the other hundreds of desperate fans waiting outside the ground had less luck. There were reports of tickets changing hands for $2,000 (£1,500) a piece. Fernando had paid $500 (£378), a mere four times the cover price.
"It's just money," he says, before kissing the ticket. "This is gold".
This game meant everything to the Colombians. They had arrived in Moscow in their thousands, turning the Russian capital into the suburbs of Bogota, Medellin and Cali combined. And they were unmistakable. With salsa, pantomime, music and fluorescent wigs, they charmed anyone who watched.
There were not many Englishmen in comparison. But several dozen of them had huddled around a bar on Nikolskaya Street, the unofficial fan HQ in central Moscow. There, they stuck to what they knew best: drinking and chanting through the basic repertoire. They were unmistakable in their own way - the scents of sweat and coagulated beer acting as a helpful signpost for anyone looking.
A cultural battle of sorts ensued. On one side of the street were the Colombians. They teased the English with drums, maracas, luz and alegria. On the other, the English riffed back about the Latinos' narcotic history in less than polite terms. They sang about their own history: RAF Second World War bombing missions and the Irish struggles. These provoked bafflement to the Russians who were trying earnestly to sing along.
Inside the compact Spartak stadium, the English were massively outnumbered, with Colombians making up the majority of the capacity 44,190 attendance. From the national anthem onwards, it was the Latin Americans who controlled the volume - every single breath, every bounce urging their players forward.
All of this made for a tempestuous game that England were never entirely in control of - despite Harry Kane's calmly executed penalty in the 54th minute. His strike was cancelled out in dramatic style with Yerry Mina's injury time goal.
The teams then tiptoed their way to penalties.
World Cup: England vs Colombia player ratings

Show all 24
It was only when England's fifth, decisive, penalty went that England's support was finally able to raise themselves above the Colombian following. Delirious, they stayed in the stadium for over forty minutes after the final whistle, with some of the players coming out to take selfies with them. They continued to party well into the Moscow night.
It was a brutal way to go for the Colombians. But Juan-Carlos Ramieres-Gomez, a lawyer from Armenia City, Colombia, said his country might, eventually, be able to accept losing to the English. They were not Donald Trump's Americans, after all.
"We know England is the home of football, and we all adore the Premier League. It is no shame to lose to the English," he told The Independent
Other Colombians said they were disappointed at the lost opportunity.
"Whoever won this had an easy route to the final," said Estefama Garcia, 28. "This really was the golden ticket."
Register for free to continue reading
Registration is a free and easy way to support our truly independent journalism
By registering, you will also enjoy limited access to Premium articles, exclusive newsletters, commenting, and virtual events with our leading journalists
Already have an account? sign in
Join our new commenting forum
Join thought-provoking conversations, follow other Independent readers and see their replies