Enter Jean-Luc Mélenchon: France's third man
The far-left firebrand has used opposition to 'les Anglo-Saxons' to challenge the presidential race favourites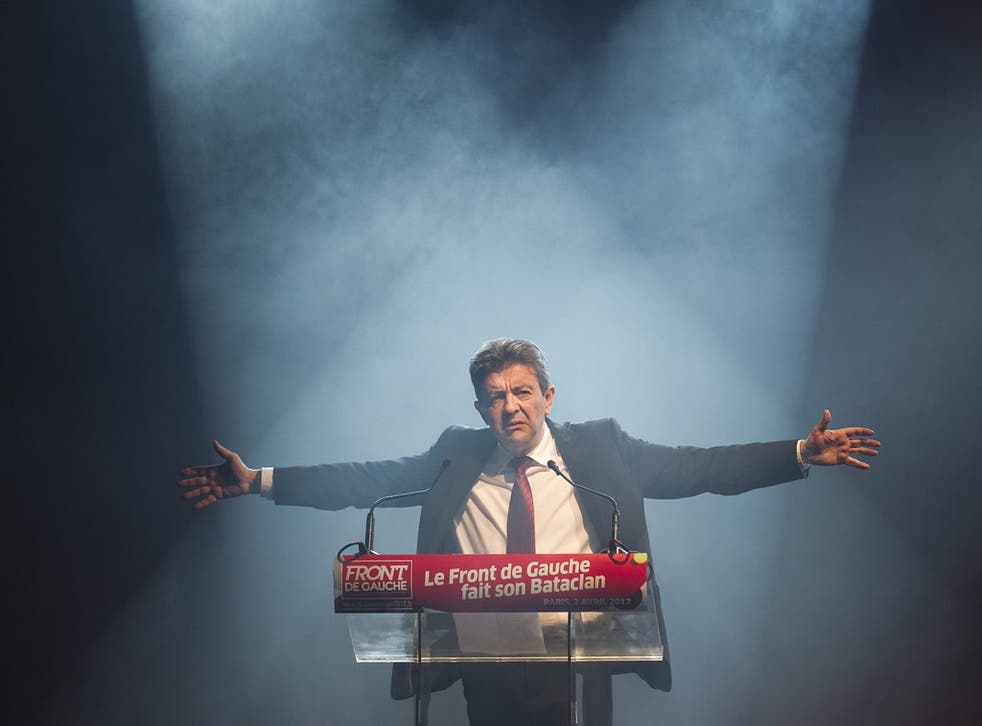 Jean-Luc Mélenchon has a message for "les Anglo-Saxons" and their "stinking" money and doomed free markets: the French are revolting. "Yes, there are thousands of red flags at the Bastille again... Yes, we are very dangerous," he booms, in English, to an adoring crowd at a rally in Limoges this week, composed of a dozen tribes of the French left and far-left.
When the crowd cheers his attempts at English, he says, in a chattier tone of sweet menace: "Yes, we can speak fluently the language of the occupier – the occupier of our minds."
Mr Mélenchon, the man who is messing up predictions for the upcoming presidential election, is an unlikely revolutionary. He is a short, youthful 60 year-old with a whiny voice and a lisp. But his support has doubled in less than two months to levels not achieved by any hard-left French politician for 30 years.
According to three polls for the first round of the election, which takes place a fortnight from Sunday, he is running third with 15 per cent of the vote. To his immense pleasure – and credit – he has pushed Marine Le Pen's far-right, xenophobic National Front party into fourth.
Mr Mélenchon detests all forms of xenophobia except, it seems, anti-"Anglo-Saxon" xenophobia. His speeches and pamphlets are studded with unpleasant remarks about the US and Britain. That is not his only contradiction. He rejects personality politics but clearly enjoys his own talents as a polemicist and rabble-rouser. He works a crowd brilliantly, switching smoothly from anger to humour, from firebrand to stand-up comedian. "They have called me the 'little Chavez'," he says. "But I don't see why they say little." Like the Venezuelan President, Mr Mélenchon claims to be leader of a global rebellion against the "occupier of our minds" – Anglo-Saxon free-market ideology.
France is not simply having an election, he said in his 90-minute oration in Limoges, citing, inter alia, Lenin, Robespierre, Victor Hugo and Charles de Gaulle. Another French Revolution is coming, he said, to rid the "old continent" and then the world, of the post-1980s Anglo-Saxon "curse" of "the finance economy" and free markets. Soon the "French values" of "love and humanity" will prevail worldwide over speculation, austerity and an obsession with "performance", he said.
"We are France. We are the second economic power of the continent," he said. "We can make our voices heard to the end of the Earth ... We can put our belief in love and humanity above the religion of competition."
Mr Mélenchon wants, in effect, to pull France out of the European Union and Nato and to scrap all free-trade agreements. His programme, estimated to add €120bn a year to the state budget, would restore generous pensions for those 60 and older, raise the minimum wage by 20 per cent and impose compulsory schooling from three to 18. Some banks and all energy companies would be nationalised. Incomes above €360,000 (£297,000) a year would be taxed at 100 per cent.
The sudden rise of an extremist candidate has provoked alarm and rapid recalculations in the camps of both front-runners. President Nicolas Sarkozy hopes Mr Mélenchon's popularity will deflate the first-round score of the moderate Socialist, François Hollande, and force him further to the left. This could, the Sarkozy camp hopes, change the dynamics of a ballot which the polls continue to insist the President will lose.
A wary Mr Hollande hopes Mr Mélenchon is simply building a huge overall vote for the left in the first round on 22 April. It is unthinkable – to everyone but Mr Mélenchon – that the hard-left candidate will overtake Mr Hollande and reach the second round. Mélenchon voters will therefore, in theory, have to transfer to Hollande or abstain in the two-candidate run-off on 6 May.
Mr Mélenchon's Front de Gauche has harnessed the post-crisis, anti-capitalist mood of the "indignant" protests in Europe and the Occupy Wall Street protesters in the US. His success reflects, in part, the dullness or uselessness of the other hard-left and green candidates. Significantly, however, he has also won back some of the old Communist, blue-collar voters of the 1960s and 1970s who emigrated to the National Front in the 1980s and 1990s. He has also taken – or perhaps just borrowed – a slice of the moderate left support which might have gone to Mr Hollande.
Marc, 61, a retired computer programmer in the crowd at Limoges, said: "Normally I vote green but I am going Mélenchon in the first round. He is the only candidate who puts into words how angry I feel about Sarkozy, the banks, the economic crisis, Europe."
And in the second round? He shrugged. "I will vote for Hollande."
A poll yesterday gave some comfort to the Hollande camp's view that Mr Mélenchon is a tactical nuisance but a strategic ally. The Socialist candidate was shown gaining ground in both the first and second rounds, despite the continuing rise of Mr Mélenchon. All the same, if elected President on 6 May, Mr Hollande will be triply squeezed from day one: by the markets, by wounded opponents on the right and by a newly powerful, demagogic movement to his left.
Register for free to continue reading
Registration is a free and easy way to support our truly independent journalism
By registering, you will also enjoy limited access to Premium articles, exclusive newsletters, commenting, and virtual events with our leading journalists
Already have an account? sign in
Register for free to continue reading
Registration is a free and easy way to support our truly independent journalism
By registering, you will also enjoy limited access to Premium articles, exclusive newsletters, commenting, and virtual events with our leading journalists
Already have an account? sign in
Join our new commenting forum
Join thought-provoking conversations, follow other Independent readers and see their replies