Erdogan: Turkey will not apologise for downing Russian warplane
Turkish president says 'those who violated Turkey's airspace should apologise
Adam Withnall
Thursday 26 November 2015 15:23 Comments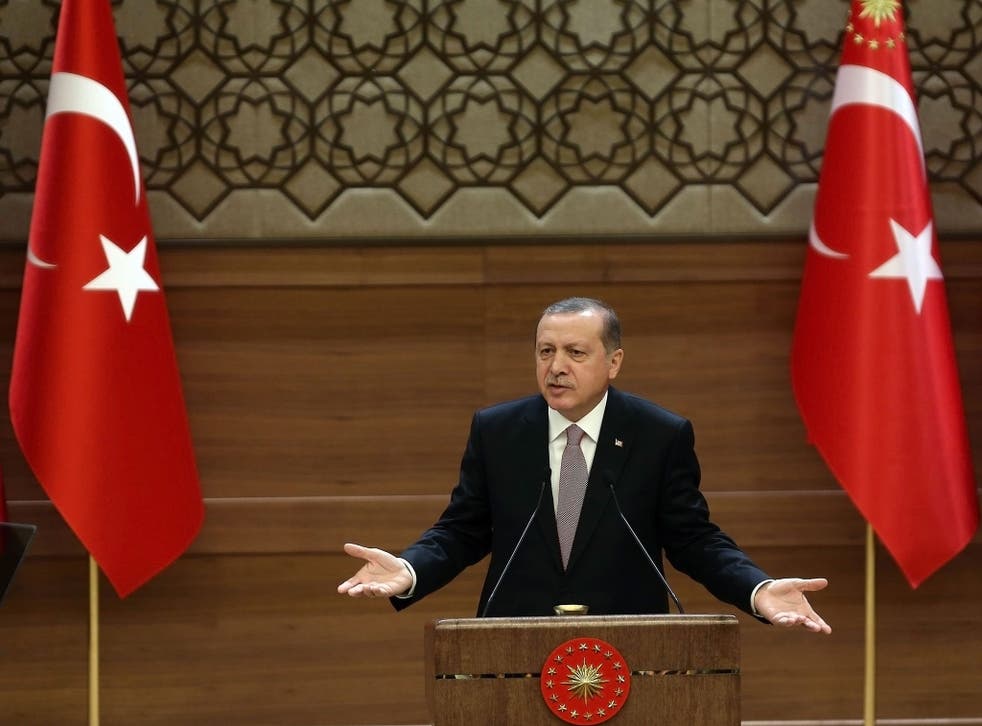 The Turkish President, Recep Tayyip Erdoğan, says his country will not apologise to Russia for downing one of its warplanes over the Syrian border.
Speaking in an interview with CNN, Mr Erdoğan said Turkish F16 fighter jets were "simply fulfilling their duties" when they shot down an Su-24 bomber which, Turkey claims, entered its airspace for 17 seconds.
Two Russian servicemen were killed in the incident - one pilot who was shot by members of the rebel Turkmen Brigade as he parachuted down in hostile Syrian territory, and a Russian marine sent as part of a search team to recover the lost pilots.
Vladimir Putin has described the incident as a "stab in the back" from Turkey, and Russia's foreign ministry repeated on Thursday that the country was "clearly an accomplice of terrorists".
But Mr Erdoğan told CNN: "Those who violated our airspace are the ones who need to apologise.
"Our pilots and our armed forces, they simply fulfilled their duties, which consisted of responding to ... violations of the rules of engagement. I think this is the essence."
Russian plane shot down by Turkish jets

Show all 5
One of the Russian pilots survived the incident and was rescued by a unit of Syrian army commandos. He has denied Turkey's account of events, insisting his plane stayed in Syrian airspace and denying that repeated warnings were issued.
On Wednesday, the Russian foreign minister Sergei Lavrov accused Mr Erdoğan of hypocrisy, after a similar incident involving a Turkish plane in 2012 saw the Turkish president declare that "a short-term border violation can never be a pretext for an attack".
More follows
Register for free to continue reading
Registration is a free and easy way to support our truly independent journalism
By registering, you will also enjoy limited access to Premium articles, exclusive newsletters, commenting, and virtual events with our leading journalists
Already have an account? sign in
Join our new commenting forum
Join thought-provoking conversations, follow other Independent readers and see their replies