Eric Eoin Marques: 28-year-old architect's son from Dublin accused of being world's biggest dealer in child abuse images
It's the internet's greatest scourge – and, according to the FBI, much of it found its way there via the computer wizardry of Eric Eoin Marques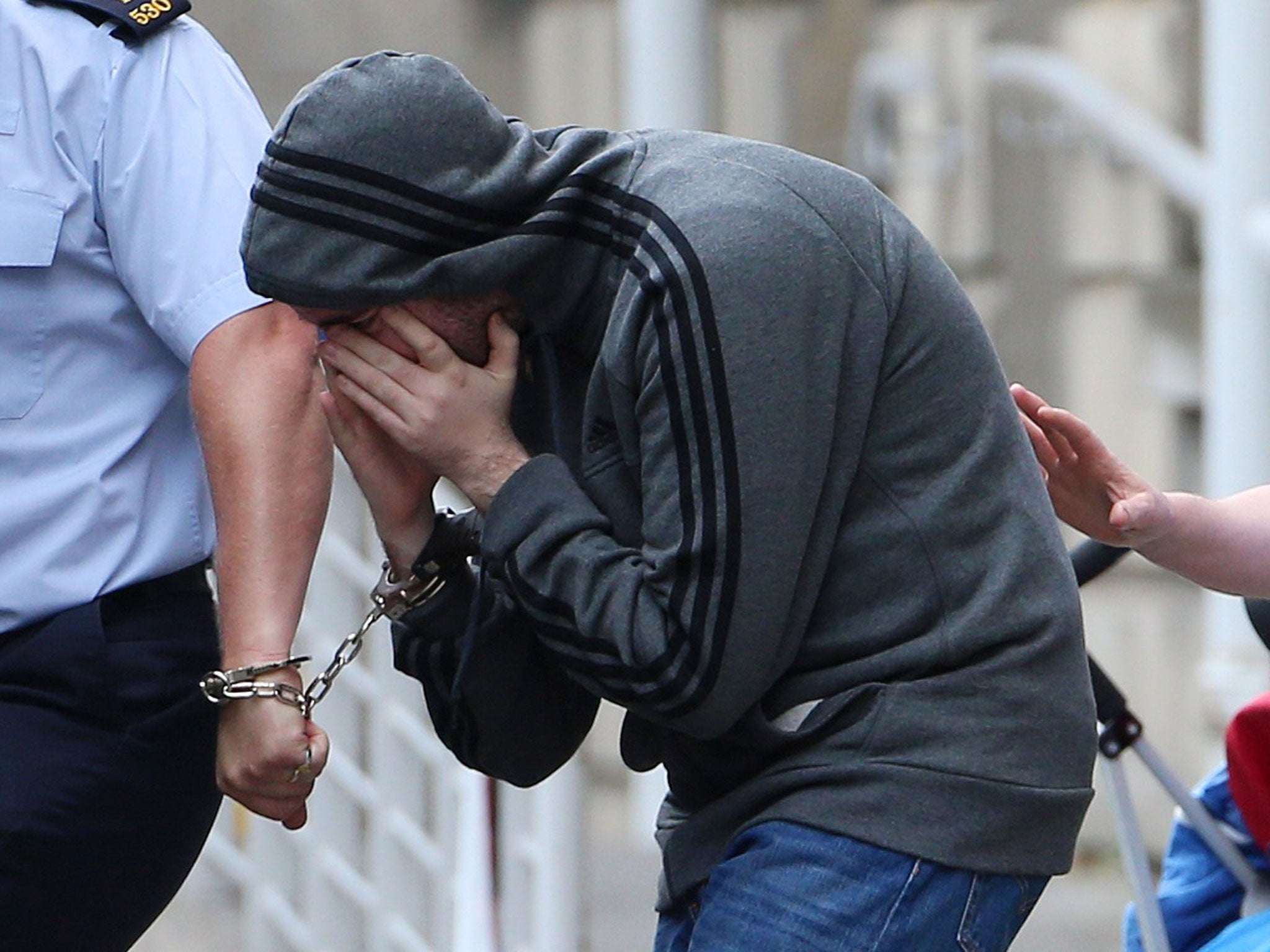 Behind the Georgian façades of the once-grand houses of Dublin's Mountjoy Square, outward respectable appearances count for nothing. During its glory years, this was home to prominent businessmen, writers and revolutionaries, and provided the haven for leaders of the 1916 Easter Rising to secretly plot an end to British rule. Today, the insides of the crumbling buildings have been ripped out and the once prestigious addresses have been turned into short-term lets, offices and student digs. But, according to the FBI, the conspiracies continue.
Shielded from public gaze by wooden shutters on the high windows, Eric Eoin Marques – a US-born Irishman – worked for years in isolation from his father's ground-floor, one-bedroom flat in the corner of the square to become the biggest dealer of child-abuse images in the world, according to US law enforcement.
On 1 August, the Gardai smashed in his door, seized his computer equipment and took away the man reputed to be one of the most important men on the so-called Darknet, a protected sub-layer of the internet inaccessible to normal search engines where national laws have previously held little sway.
The operation was low-key and the FBI is yet to detail the full extent of the evidence against the 28-year-old after an arrest warrant issued in the US state of Maryland. "I can't tell you anything," a policeman guarding the door told his curious neighbours, alerted by the sounds of the violent entry.
But a story is emerging of Mr Marques' possessing computer skills that led to him running a highly successful off-book business for a decade without displaying any signs of his apparent wealth. He is a loner who struggled to mix and complete his schooling. He was described as the perfect neighbour in his anonymous block of 16 flats – never causing problems, never playing loud music, and so quiet playing computer games in his flat that people never knew he was there.
The only time he engaged in any conversation with his neighbours was when water leaked into his flat from his neighbour's faulty tank. "There was something odd about him. I had friends who lived with me for a short period who also said that he was a bit strange," said one neighbour, who declined to be named. "Most of the people here you'd see going out shopping or getting their mail, but never Eric."
Even the FBI described him as "anonymous" and his only previous link with criminality was when he turned investigator himself after his father became the victim of a credit-card fraud, according to neighbours. Mr Marques believed that his father's mailbox in the hallway of his block was being tampered with and his letters stolen. Although there was already protection from a security camera on the outside of the building, Eric Marques set up a camera to overlook the boxes and caught someone in the act.
For the past three weeks, Mr Marques has remained in custody in the early stages of what could be a protracted extradition process to the United States, where prosecutors want him to stand trial on four charges linked to images of child abuse which, if he is found guilty, could see him jailed for up to 30 years.
The graphic images include the rape and torture of prepubescent children, Dublin's High Court has heard. His family claim that nothing was found on his own computers that suggested he was personally involved in collecting images.
"All I can say is that my son is completely innocent," his father told the Irish Independent. "All he was doing was renting web space… If I rent [out] an apartment and somebody does a crime in it, am I to be [prosecuted]?"
Mr Marques is said to have hosted 550 servers in Europe and allegedly ran Freedom Hosting, the infrastructure that allowed sites to operate anonymously – including child-abuse sites such as Lolita City, the Love Zone and PedoEmpire. Discussion boards wonder what is next: Freedom Hosting also provided services for money-laundering operations, encrypted mail systems and fraud forums.
For allegedly supplying the computer infrastructure to allow them to work, Mr Marques reputedly earned thousands of pounds a month. What he personally knew of porn, drugs and fraud remains open to question. Though in one post on a chatroom in response to a question about adult porn, he said: "We don't have any rules about… content or links as long as it's legal."
The arrest threw a light on those who allegedly operate illegal rackets on the Darknet. Mr Marques, who had no previous run-ins with the law, was born in New York where his father worked on high-end interior design. He moved to Ireland, his wife's homeland, where he worked for Irish Rail for 15 years.
Mr Marques is believed to have lived latterly in his father's redesigned and airy Mountjoy Square flat. "He was very bland," said one neighbour, who also declined to be named. "Everything about him was bland and quiet."
Despite his apparent wealth – his father, a successful architect, joked that his son earned more than he did – he displayed few signs of it other than ownership of a 4x4 car, which has since disappeared from the residents' car park behind electric gates.
He rarely socialised, according to neighbours, but joined his father, Brazilian-born Antonio, when he went for after-work drinks with his colleagues at Irish Rail before he retired in December 2010.
"He seemed like a nice guy. He was, as his father said, not keen on mixing with a lot of people," said Jasmin Prnjavorac, a former colleague of his father. "He was just a quiet kind of guy, doing his own thing. I wouldn't say he even had too many friends. Maybe he had a few, but that's what I got from his father.
"He [Antonio] was concerned about Eric because he didn't finish school, he was concerned about his future, he was saying he was in his own world and quiet; not talking about much even what he was doing at home."
Mr Marques, whose parents were divorced, lived with his Irish mother and sister, and visited his Portuguese father at weekends. The pair set up a business, Ultra Hosting, in 2005, with father and son – described as a student – as directors and with the business headquartered at the Mountjoy Square flat.
The areas of interest of the company included web hosting, domain registration, design, marketing and consultancy services. The last accounts were lodged in November 2011 and did not show signs of economic activity, though Mr Marques admitted in court that he was earning substantial sums.
Neighbours said that Eric Marques lived there alone after his father – bored with his life in retirement – moved to the United Arab Emirates in 2012 to work for Etihad Rail. "His father's an admirable, decent and respectable man," said Frank Balfe, who knew Antonio for a number of years, and said he would have been oblivious to any illegal activity.
Antonio, 60, was active in the residents' association and sought to improve the area, but Eric was different. "He never spoke, he just nodded," said Mr Balfe.
Antonio Marques told neighbours that his son was doing work for banks. The reality, according to US law enforcement, was that he was conspiring to distribute child abuse images over five years from 2008, according to the charges he faces.
Freedom Hosting's appeal for some of its clients was its promise not to look in on the websites it was hosting, though it stated that downloading illegal content was not allowed. However, it added: "If you choose to do so anyway, we are not responsible for your actions," according to the website The Daily Dot.
Freedom Hosting first came to public prominence in 2011 when the hacking group Anonymous attacked it because of its child-abuse sites, causing temporary disruption. Mr Marques has not admitted being the leader of the group, and his father told The Sunday Times that to say so was only "speculation".
Mr Marques has been refused bail as he represented a flight risk. The court heard he had travelled extensively and large sums had passed through his bank accounts. His previous trips included a flight to Brazil to visit his grandmother, said friends.
Mr Marques also told an Irish court that he visited Romania a few times, where he had friends and an ex-girlfriend whom he was helping out financially. Mr Marques said he was last there a few weeks ago when he withdrew €6,000 to help a friend start a business.
His claims of having a girlfriend were treated with scepticism by his neighbours, who never saw him with another person, though he sometimes left his flat late at night. The technical press said that his servers may have been held in countries such as Romania.
Mr Marques also admitted that he had used his computer to check about visas for Russia. His interest was aroused, he said, by what was happening with former National Security Agency worker Edward Snowden.
His lawyers – who declined to comment when approached by The Independent – have indicated that they will seek bail, but the possibility of a return to Mountjoy Square any time soon seems unlikely. He is next due in court on 11 September.
Dublin city councillor Christy Burke, whose constituency includes Mountjoy Square, has previously confronted drug dealers as part of a name-and-shame campaign in the 1980s and he threatened similar tactics against Mr Marques.
"I was absolutely appalled. If this guy gets bail and goes back, I will march on his house like we used to do with drug dealers and 'Out! Out! Out!' He's not welcome in my constituency," he said. "The FBI don't make those statements for nothing. The sooner he goes over there, the better."
DARK SIDE OF THE NET: THE FBI'S CRACKDOWN
The arrest of Eric Eoin Marques is being viewed with significance, as it could be the largest strike so far by global law enforcement against operators who have used the hidden recesses of the internet to expand their multi-billion-pound illegal industries in drugs, arms and porn.
His arrest sent shivers across the community of web users who initially feared that a year-long FBI inquiry had compromised the security of the Tor network, created by the US military and designed to hide the identity of those who took part.
Half of the sites on the Tor network went down with Mr Marques's arrest, leading analysts and security experts to try to discover if the identities of users, both legal and illicit, had been revealed. While journalists and human rights activists use the network, it has also been the tool of choice for online sellers of arms and drugs, such as the market leader The Silk Road which bans any use of child abuse images.
The arrest of Mr Marques represents an apparent uptick in the sophistication of such operations by the US. It emerged this year that agents ran a child abuse site for several weeks in 2012 to identify its 5,000 customers who shared thousands of images of children.
Join our commenting forum
Join thought-provoking conversations, follow other Independent readers and see their replies