EU holds crisis talks about migrant influx after Italy threatens to block rescue ships
 Italian Interior Minister Marco Minniti: 'We are under enormous pressure'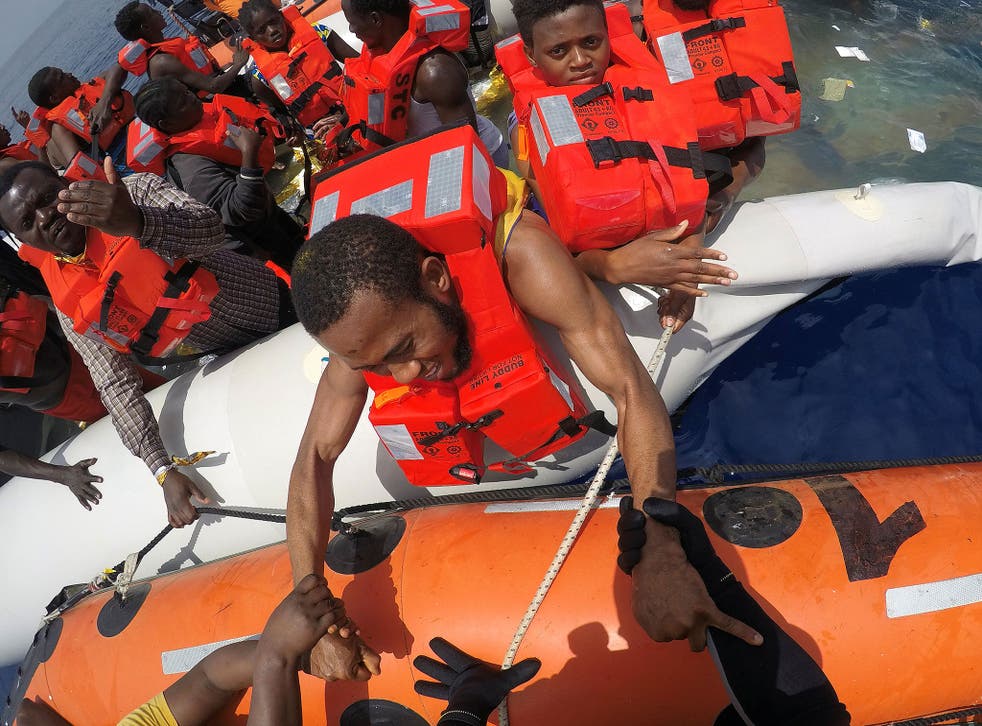 European ministers are holding emergency talks on the migrant crisis, after Italy threatened to block rescue ships due to the "unsustainable" flows of people.
Interior ministers from Germany, France, Spain and Italy will discuss the situation in Paris on Sunday, and consider the request from Rome for rescue ships with foreign flags to disembark in other countries.
Speaking on Sunday, Italian Interior Minister Marco Minniti told newspaper Il Messaggero: "If the only ports refugees are taken to are Italian, something is not working."
"We are under enormous pressure," he added.
Prime Minister Paolo Gentiloni also accused other European nations of "looking the other way".
More than 500,000 migrants have landed at Italian ports - most arriving in Sicily - since 2014 and the numbers are on the rise.
Since the start of this year, 83,650 people have reached Italy by sea, a 20 per cent increase compared to the same period in 2016.
Refugees and migrants arriving in Catania, Sicily

Show all 7
Many people have also died while crossing the Mediterranean in rickety boats. The UN estimates 2,030 people died in 2017 alone.
The situation in Italy was described as "an unfolding tragedy" by UN High Commissioner for Refugees Filippo Grandi.
"But this cannot be an Italian problem alone," he said. "It is, first and foremost, a matter of international concern, requiring a joined-up, comprehensive regional approach."
The Italian Government has already filled up its 200,000 beds for migrants, and a government source told Reuters last week that the country had reached "saturation point".
EU migration commissioner Dimitris Avramopoulos has already promised that the EU is ready to increase financial support for Italy to manage the flow of people.
Refugee crisis: More than 500 migrants rescued in single day in Mediterranean Sea
But as the will wanes in Europe to help migrants, Italy has toyed with the drastic idea of blocking ships, except those from its own coastguard and military.
Humanitarian groups have warned that any attempt to block rescue boats would violate international law.
Italy has already closed its borders to prevent migrants from travelling through Europe over land.
The International Convention for the Safety of Life at Sea stipulates that any ship learning of distress at sea must assist regardless of circumstances, and that the country responsible for operations in that area has primary responsibility for taking passengers off the ship.
If Italy did close its ports, boats from charities such as MSF, Frontex and Save the Children would be affected, as well as those vessels involved in the EU's Operation Sophia anti-smuggling mission.
Most of the migrant boats come from Libya following the UK-based removal of dictator Muammar Gaddafi. This allowed smugglers to set up lucrative trafficking routes from African nations, the Middle East and Bangladesh to Europe.
The UN has warned of people in Libya being bought and sold like slaves, and that a high rate of migrants to Europe have been tortured or suffered sexual assault.
EU countries were meant to relocate 160,000 asylum seekers between them, under a plan set out in 2015. So far only 20,900 people have been relocated.
The UK and Ireland were exempt from the plan, and several countries voted against the mandatory quotas.
The EU has begun legal action against the Czech Republic, Hungary and Poland for refusing to accept their share of asylum seekers.
In local elections last weekend, Italians opted for the centre-right, led by the anti-immigrant Northern League and former Prime Minister Silvio Berlusconi, who advocate a tougher stance on immigration.
Register for free to continue reading
Registration is a free and easy way to support our truly independent journalism
By registering, you will also enjoy limited access to Premium articles, exclusive newsletters, commenting, and virtual events with our leading journalists
Already have an account? sign in
Register for free to continue reading
Registration is a free and easy way to support our truly independent journalism
By registering, you will also enjoy limited access to Premium articles, exclusive newsletters, commenting, and virtual events with our leading journalists
Already have an account? sign in
Join our new commenting forum
Join thought-provoking conversations, follow other Independent readers and see their replies