EU leaders are planning a post-Brexit future without the UK
Concerns over 'contagion' of anti-EU sentiment is thought to be a key reason why Britain is unlikely to be offered a favourable trade deal in the event of Brexit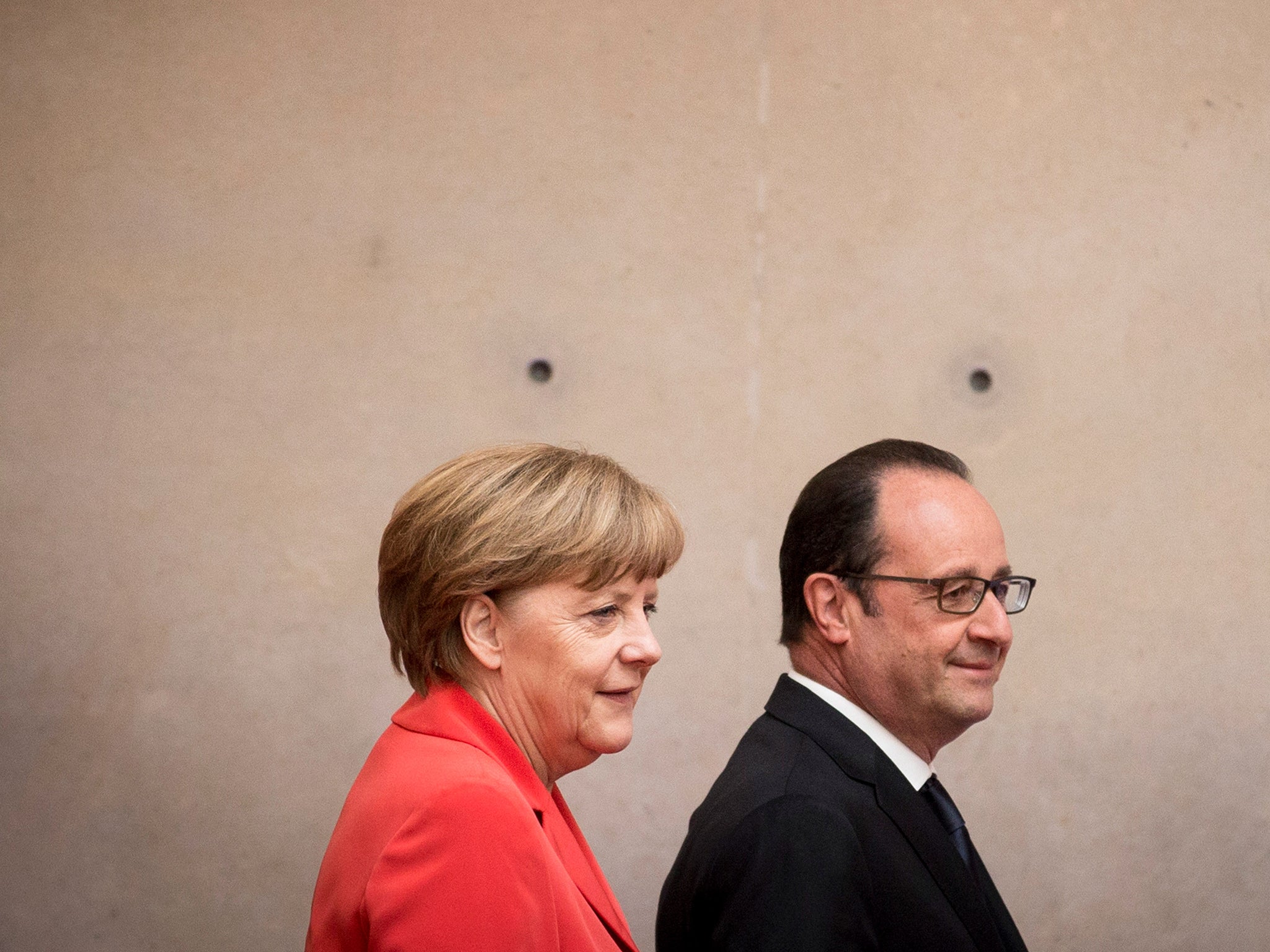 Senior EU leaders are preparing the ground for a possible Brexit vote with high-level meetings aimed at a "plan B" future of the bloc without the UK, including closer co-operation on security and defence matters.
The leaders of Germany, France, Italy, Belgium and other core members are likely to "double down" on closer union, the Financial Times reported, amid concern that Brexit could encourage separatist sentiments in other EU states.
Officials expect a punitive approach to Britain, with an official meeting of 27 leaders – excluding David Cameron – expected shortly after a potential Brexit vote.
Senior Whitehall figures have identified EU leaders' concerns over "contagion" of anti-EU sentiment as a key reason why, despite the reassurances of Leave campaigners, the bloc will be unlikely to offer Britain a favourable trade deal in the event of Brexit. One senior civil servant said Berlin, Paris and Brussels would see the post-Brexit landscape as an "existential battle" to save the European project.
Officials in Paris have taken a hard line, with one senior figure telling the FT: "Playing down or minimising the consequences of [of leaving the EU] would put Europe at risk…the principle of consequences is important."
What has the EU ever done for us?
Show all 7
German Chancellor Angela Merkel is said to favour a softer approach. German officials, however, told the FT, that they expected the market realities for the post-Brexit economy could prove punitive enough.
Speaking at the G7 summit in Japan, where leaders agreed a short statement warning of the "potential shock" of Brexit and its "serious risk for growth", David Cameron said it was right to listen to allies, but appeared to dial down his recent warnings of the consequences of a Leave vote. "Britain is an amazing country," he said. "We can find our way whatever the British people choose."
Closer integration in a post-Brexit EU is likely to take the form of tighter security and defence collaboration, against the backdrop of aggression from Russia in the East, and the threat of Islamist terrorism enhanced by the war in Syria and instability in neighbouring Turkey.
Economy and security to dominate G7 summit in Japan
Plans to enhance the military role of the European Union, potentially paving the way for a future EU army, are being held back until after the UK referendum, according to reports.
The plans, which have only been shown to EU diplomats, are understood to include proposals for new European military structures, including a headquarters.
According to The Times, which has seen extracts of the plans from diplomatic notes, the proposals will not be sent to national governments until after Britain's EU referendum on 23 June to avoid giving succour to the Leave campaign. Similar plans were vetoed by the UK in 2011, and the Government has repeatedly insisted that Britain will never be part of any EU army.
However, it is understood the plans, drawn over 18 months by EU foreign policy chief Federica Mogherini, are supported by other leading EU countries, and refer to powers set out in the 2009 Lisbon Treaty, which could allow nine or more member states to embark on their own plans for an EU military headquarters.
The draft paper states that "in turbulent times, we need a compass to navigate the waters of a faster-changing world" adding that the EU can "step up its contribution to Europe's security and defence", according to a diplomatic note seen by The Times.
However, Ms Mogherini's spokesman told the newspaper the defence plan "would in no way aim to set up the EU army".
A Ministry of Defence spokesman said: "We will never be part of an EU army. We retain a veto on all defence matters in the EU and we will oppose any measures which would undermine member states' military forces."
Join our commenting forum
Join thought-provoking conversations, follow other Independent readers and see their replies