EU membership support surges in Denmark after Brexit vote
Around 69 per cent of Danish people now endorse the country's membership of the union
Gabriel Samuels
Tuesday 05 July 2016 12:22 Comments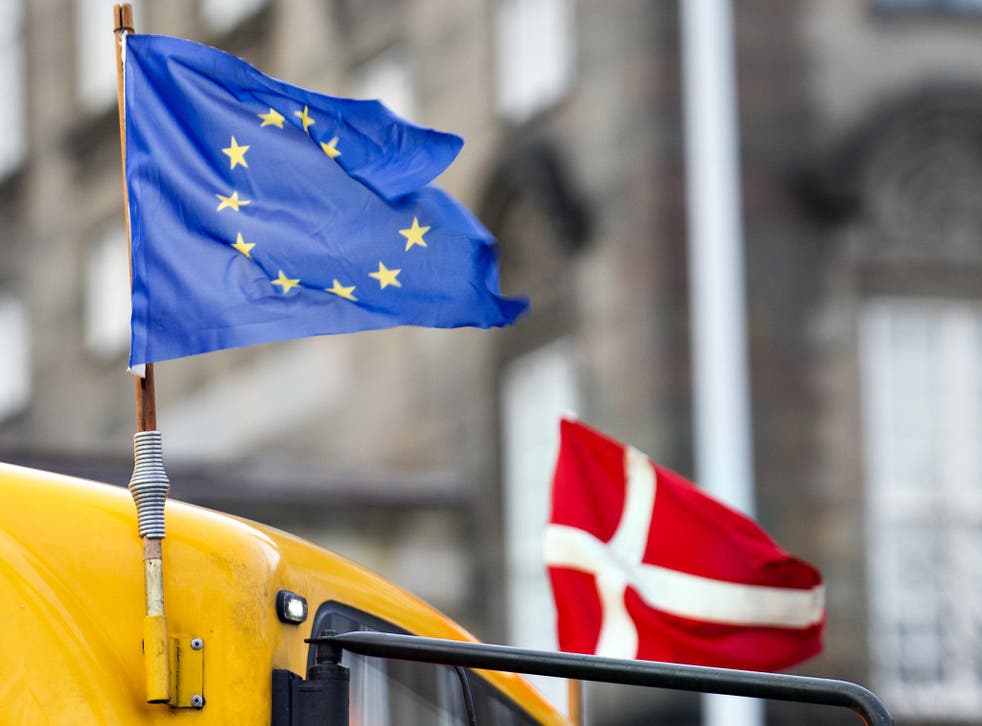 Denmark's support for remaining in the European Union has risen sharply since the UK voted to leave, countering fears the Scandinavian nation might be the next country to hold a referendum.
A total of 69 per cent of Danish people now endorse the country's membership of the union, according to a Voxmeter poll - up 10 per cent from the week leading up to the Brexit vote.
Meanwhile, the number of people demanding a similar referendum has dropped from 41 per cent to 32 per cent, as Europe began to feel the impact of Britain's decision.
The morning after Brexit was announced, Danish prime minister Lars Løkke Rasmussen ruled out the possibility of the country holding a vote on EU membership despite protests from Eurosceptic politicians.
He told a press conference in Copenhagen: "We belong to the EU and I am not operating on [the belief] that we should have a referendum on that basic question."
Professor Marlene Wind, from the University of Copenhagen, told Bloomberg: "This poll confirms that nobody wants to put themselves in the kind of mess the British have created for themselves.
"Prior to the Brexit vote there were lots of predictions that a British exit would trigger others to put their EU membership on the line.
"The Brexit vote has been a wake-up call across Europe, and people are now seeing it as a big gamble with plenty of uncertainty."
Brexit protest: Thousands march in London

Show all 12
Analysts warned of a possible domino-effect after Britain's decision to leave, believing other countries could follow its lead and choose to sever ties with the European Union.
Denmark has several major Eurosceptic parties, including the Red-Green Alliance and the Danish People's Party, and has negotiated several opt-outs from the EU over the past few decades.
Meanwhile, Sweden and Finland have also backed continued EU membership, with surges in support to 52 per cent in the former and 68 per cent in the latter since Brexit was announced.
The Swedish and Finnish prime ministers have both repeatedly ruled out the prospect of having referendums in their countries.
Register for free to continue reading
Registration is a free and easy way to support our truly independent journalism
By registering, you will also enjoy limited access to Premium articles, exclusive newsletters, commenting, and virtual events with our leading journalists
Already have an account? sign in
Join our new commenting forum
Join thought-provoking conversations, follow other Independent readers and see their replies