EU negotiations: How David Cameron's frantic day descended into farce
The PM's pledge to keep talking until Sunday if needed suggested he had over-estimated his powers of persuasion
Leo Cendrowicz
Brussels
Friday 19 February 2016 22:42 Comments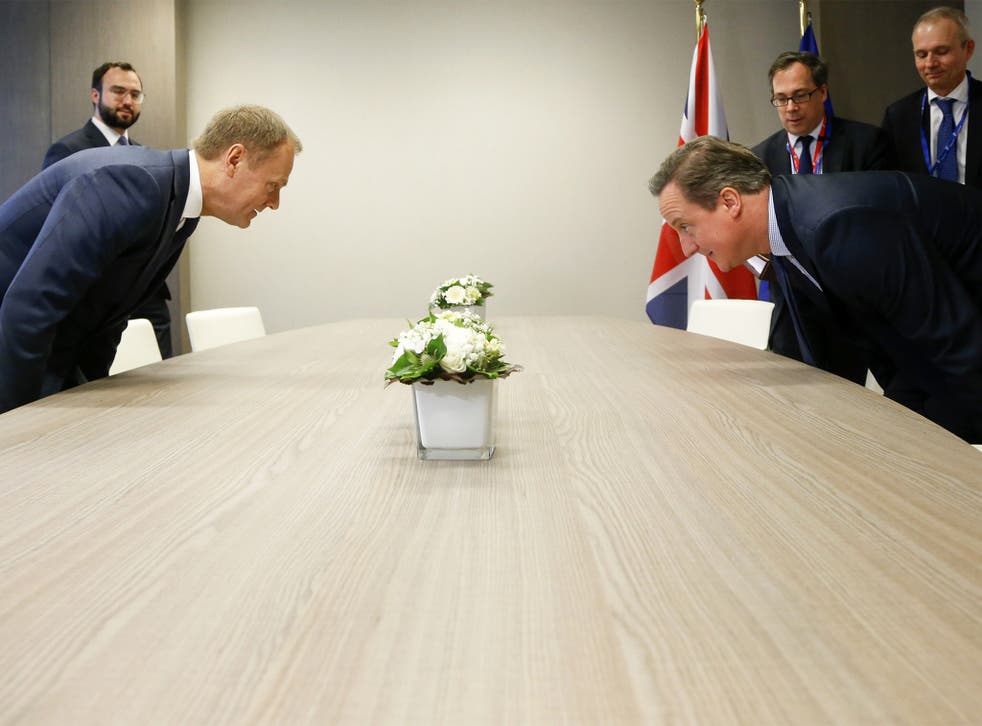 It was a frantic day, but ended up descending into farce.
While the Prime Minister impressed summiteers with his prodigious energy, his pledge to keep talking to his fellow leaders until Sunday if needed suggested he had over-estimated his powers of persuasion on the European stage. After spending much of Thursday night in back-to-back meetings with recalcitrant leaders, David Cameron returned to the fray, on three hours' sleep, in a relentless effort to secure his EU renegotiation before June's expected In/Out referendum.
The day consisted of the PM zipping from room to room in the EU's summit headquarters as he tried combinations of charm, cajoles and concessions to win approval for his planned deal. But with each passing hour, new hitches emerged: the moment Belgium's grievances appeared resolved, Denmark raised concerns, followed by Poland, and even Italy.
EU Council President Donald Tusk, who brokered the talks, had scheduled what he called an "English breakfast", but this slipped into a "British brunch" at 11am, an "English lunch" (scheduled at various points between 1.30pm and 4pm), and finally an "English dinner". He finally told leaders to book hotel rooms for another night, and visiting officials and journalists joined the scramble for accommodation. By early evening, German Chancellor Angela Merkel decided to eschew the promise of British cuisine, as she nipped out to savour a very Belgian cone of chips at a famed local fritkot kiosk, the Maison Antoine.
Although the summit began on Thursday evening with a tetchy tour de table – round-table – discussion, it was not until the end of dinner, at 2am, that the PM was able to start lobbying each delegation individually. He spent three hours in meetings before returning to the British ambassador's residence for a rest before talks resumed in the morning.
Cameron can 'stay til Sunday'
Mr Cameron worked in parallel with Mr Tusk and European Commission President Jean-Claude Juncker, who were jointly trying to tease out remaining problems and fill the parts of the draft deal that remained in brackets – meaning they had yet to secure consensus. Their task was complicated by the need to take regular breaks to consult with their "war-room" of lawyers.
Sticking points included potential treaty changes to exempt Britain from the EU treaty mantra of "ever-closer union"; the length of the so-called emergency brake to limit in-work benefits for EU migrants in the UK; protections for non-eurozone members; and curbs on child benefit for EU migrants whose children are not in the UK.
The "Visegrad Group" – Poland, Hungary, the Czech Republic and Slovakia – presented a co-ordinated front to ensure that a ban on in-work benefits for EU migrants would only apply to those who arrive after the law comes into effect. An exasperated Czech European Affairs Minister Tomas Prouza later tweeted, "I am more and more perplexed by the British approach of non-negotiation."
Then by lunchtime on Friday, an unexpected obstacle emerged as Greek Prime Minister Alexis Tsipras threatened to block the deal. He was reported to have demanded that no state close its borders for the next fortnight – or "the Greek government will not approve the conclusion text".
Meanwhile, Ukip leader Nigel Farage, in garish green tie, prowled the press room, seizing on the news vacuum to crow over Mr Cameron's predicament. "It is utter humiliation. To turn up like Oliver Twist and ask for more concessions, that's not how British Prime Ministers should behave," he said.
Lithuania President Dalia Grybauskaite was more sanguine. "I think everybody will have their own drama and then we'll agree," she said, later tweeting: "Whatever face saving and face lifting exercise we do – decision belongs to British people."
Register for free to continue reading
Registration is a free and easy way to support our truly independent journalism
By registering, you will also enjoy limited access to Premium articles, exclusive newsletters, commenting, and virtual events with our leading journalists
Already have an account? sign in
Join our new commenting forum
Join thought-provoking conversations, follow other Independent readers and see their replies