Europe 'doesn't give a damn' about immigration quotas, says head of Italy's Northern League party as 40,000 migrants await redistribution
French border police blocked the passage of hundreds of migrants from the Horn of Africa in Ventimiglia on Italy's north-west border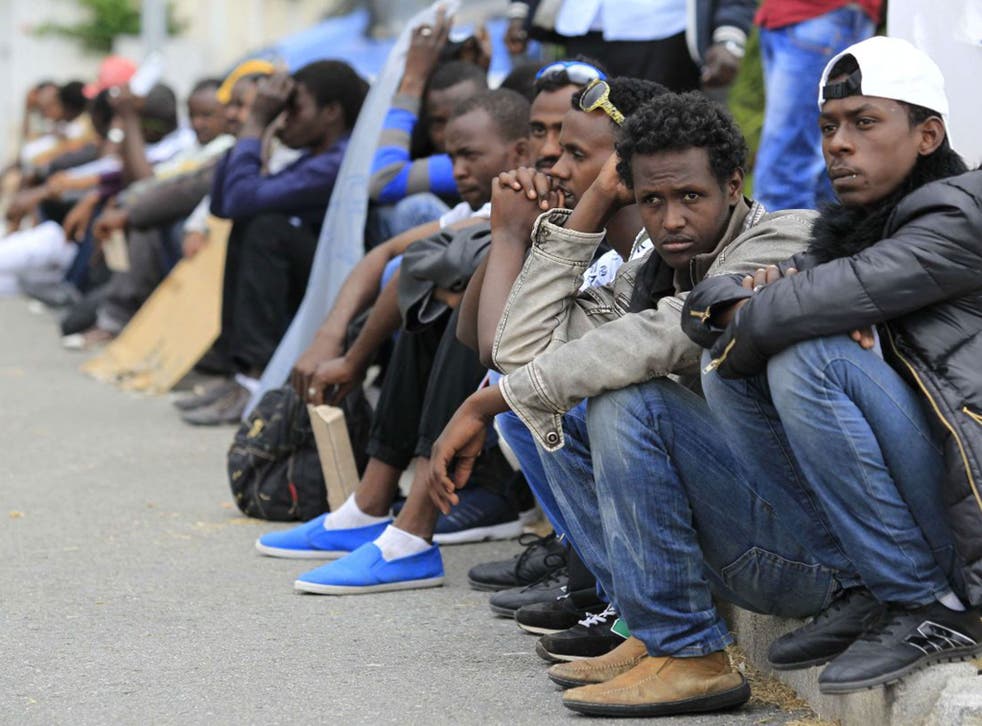 The EU's migrant distribution plan appears to be in tatters, with sources in Brussels admitting that the redistribution of 24,000 African and Middle Eastern refugees currently in Italy and 16,000 in Greece will seemingly occur only on a voluntary basis.
The news raised political tensions in Italy, where thousands of migrants are massing in major railway stations en route to northern Europe, with the head of Italy's anti-immigration Northern League party, Matteo Salvini, declaring: "Europe doesn't give a damn."
Some member states, including Poland and the UK, rejected migrant quotas from southern Europe at the outset. This prompted doubts from France and Spain. Following reports earlier this week that final EU policy was being delayed until later in the summer, officials told La Stampa newspaper that the collapse of the quota system was coming, with European Commission president Jean-Claude Juncker seemingly resigned to dropping the plans.
European Commission spokesman Margaritis Schinas said that the Commission is still committed to relocating 40,000 asylum seekers. But Italian Foreign Minister Paolo Gentiloni said Italy was aware that it would have to fight to get more help from the EU in managing the crisis.
Migrants mingle with holidaymakers in Kos

Show all 14
Underlining the tensions across the continent, French border police blocked the passage of hundreds of migrants from the Horn of Africa in Ventimiglia on Italy's north-west border and there were scuffles when police cleared more than 400 Eritreans, Somalis and Sudanese from a makeshift camp next to Rome's Tiburtina railway station. Senior Northern League figures made a number of inflammatory statements, with the party's governor of Veneto, Luca Zaia, claiming that he had written to police chiefs demanding that migrants be removed from tourist areas.
Italian Prime Minister Matteo Renzi dismissed commentators who were like people "baying at the moon and who exploit fear". However, he hit out at the EU earlier this week for not doing enough to help Italy deal with the huge influx of migrants from the Mediterranean.
Claims that this was a Europe-wide problem were underlined by statements from many of the migrants themselves that they were heading for Sweden and the UK. Many hundreds are thought to be waiting in Milan and other cities in Italy until Germany resumes open borders next week. Its border controls have been toughened for several days following the G7 meetings in Bavaria.
Register for free to continue reading
Registration is a free and easy way to support our truly independent journalism
By registering, you will also enjoy limited access to Premium articles, exclusive newsletters, commenting, and virtual events with our leading journalists
Already have an account? sign in
Register for free to continue reading
Registration is a free and easy way to support our truly independent journalism
By registering, you will also enjoy limited access to Premium articles, exclusive newsletters, commenting, and virtual events with our leading journalists
Already have an account? sign in
Join our new commenting forum
Join thought-provoking conversations, follow other Independent readers and see their replies