EU says member states can start deporting refugees and migrants back to Greece from March
Facilities on Greek islands already operating at double capacity, say refugee agencies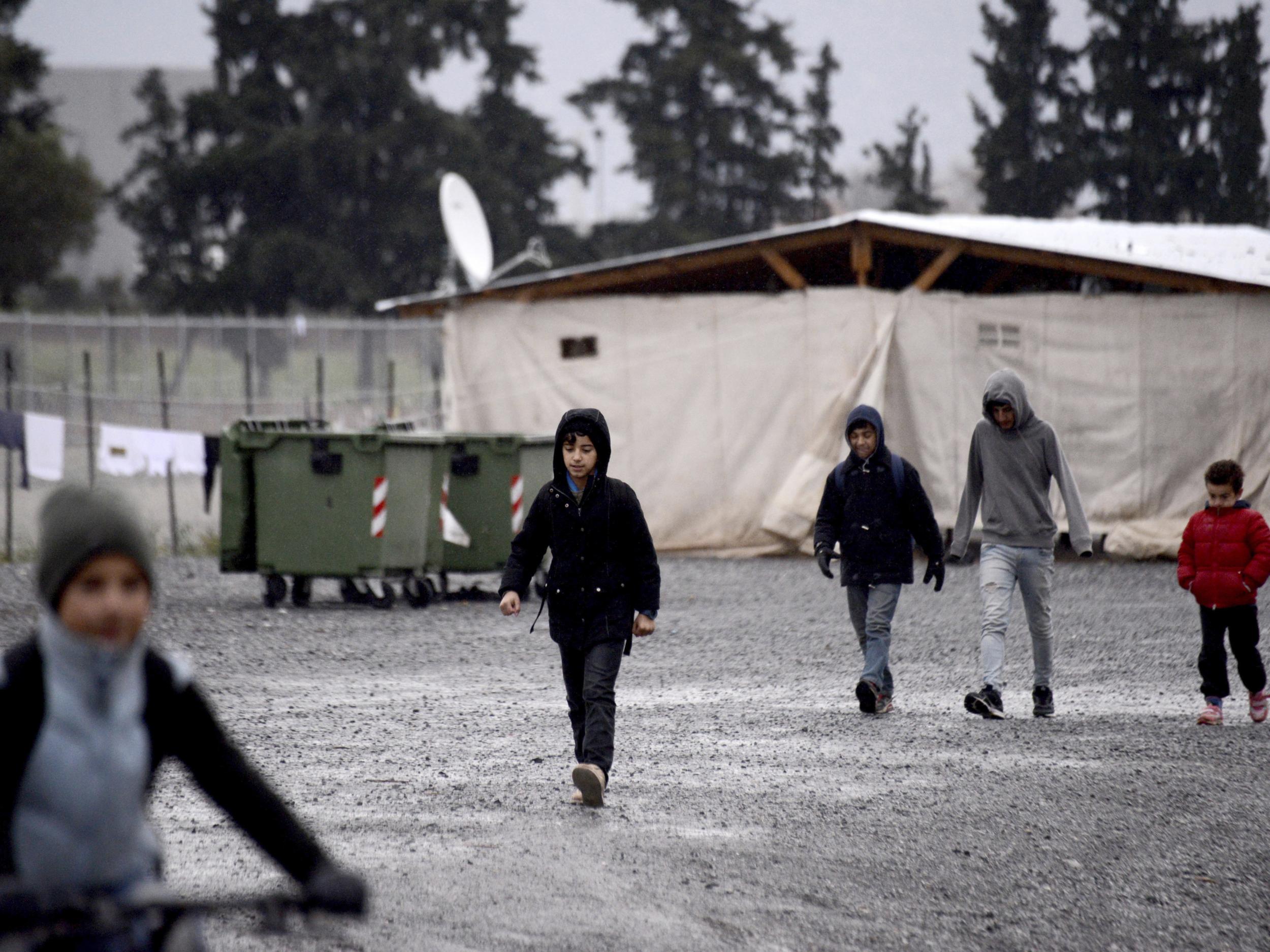 Countries in the EU will be able to return migrants to Greece from mid-March, the European Commission has announced.
Brussels hopes the move will help to restore the bloc's migration policies, which collapsed under a mass influx in 2015.
But human rights and refugee agencies have said Greek facilities remain so overcrowded they will simply be unable to cope with the extra migrants.
Under EU rules, the first country of entry is responsible for handling an asylum claim, but that system broke down last year in Greece, the main gateway to Europe for more than a million refugees and migrants.
Unable to cope, Greece let many of them pass through on their own to Germany and other wealthy EU states in defiance of the bloc's rules. That led countries along the route gradually to close their borders, stranding many asylum seekers in Greece, which struggled to offer them proper shelter.
The European Commission on Thursday said Greece has improved in hosting and registering arriving asylum-seekers.
It recommended that EU states be allowed to send back to Greece asylum-seekers who enter the bloc that way and make it deeper into Europe from mid-March onwards. The recommendation does not apply to those who have already made that journey.
As many as 13,000 people who registered in Greece's refugee camps have now gone missing and many are thought to have made the journey into Europe.
"This will provide further disincentives against irregular entry and secondary movements, and is an important step for the return to a normally functioning... system," said Frans Timmermans, the commission's deputy head.
The bloc's asylum policy and its zone of internal free travel both collapsed last year as an uncontrolled flow of migrants and refugees triggered bitter disputes between EU states on how to handle them.
These disputes remain unresolved and more than 62,000 people are still in Greece, even though an EU agreement with Turkey in March reduced the arrivals to a trickle.
The failure is largely due to reluctance by EU states to take in people from Greece and Italy to help process their asylum requests and ease the burden on the two frontline states.
So far, fewer than 8,200 people have been moved from these two Mediterranean countries to other EU states under a plan that was supposed to cover 160,000 people and which expires next September. The commission called on EU states to step up.
"Our aim is to relocate all those in Italy and Greece who are eligible for relocation within the next year," said the bloc's migration chief, Dimitris Avramopoulos.
He also said: "Asylum seekers need to know they can't relocate themselves and that if they do so they will be sent back."
World news in pictures
Show all 50
Brussels put additional conditions on returning people beyond March, saying Greece should give individual assurances of fair treatment for any returnees and that unaccompanied children not be sent back at all.
Obligatory quotas on refugees are now the focus of a tug of war between EU states seeking to reform their troubled common asylum rules.
The commission said arrivals from Turkey to Greece stood at an average of 92 people a day since March, compared with thousands that were at times making it in a single day before the deal with Ankara. It said 1,187 people have been deported from Greece to Turkey since March this year.
Under the deal with Turkey, which looks fragile now due to a breakdown in ties following Ankara's crackdown in the wake of a botched military coup in July, Brussels also said it had spent €677m (£570m) of the €3bn promised to help Syrian refugees living on Turkish soil.
Eva Cosse, Human Rights Watch's Athens-based Western Europe researcher, said the facilities in place in Greece were not robust enough to process any more refugees.
"Despite some positive reforms to its asylum and reception system, in a time of deep economic crisis the exceptional number of arrivals by sea, border closures along the Balkans route, a flawed EU-Turkey deal, and a lack of EU solidarity are putting a strain on Greece's ability to effectively deal with the mass arrival of migrants, asylum seekers, and refugees," she said
"The dire situation leaves over 62,500 refugees, migrants, and asylum seekers – including women, children, and people with disabilities – effectively stranded in Greece.
"Thousands of asylum seekers have been kept on islands and forbidden from moving on, often living for months in overcrowded and abysmal conditions in EU-sponsored facilities while their claims are processed.
"There are now more than 16,295 asylum seekers on the five main Greek islands that are hosting asylum seekers and migrants – double the capacity of the facilities on those islands.
"Due to lack of space in dedicated shelters, unaccompanied children are often detained, sometimes with adults, for lack of a better alternative.
"Reinstating Dublin returns to Greece would not only be unfair for Greece, but above all it would be catastrophic for the rights of asylum seekers fleeing war and persecution and seeking refuge in Europe."
Teddy bear that makes refugees feel welcome by teaching them english
Sacha Myers, who is based in Greece with Save the Children, said the charity was concerned with the commission's announcement.
"The closed facilities on the islands, where returning asylum seekers would register and live, have been well over capacity for months now – some are hosting more than double their capacity.
"And asylum seekers continue to arrive in Greece as the main drivers forcing families to leave their homes – such as war, persecution and extreme poverty – remain unresolved.
"Due to the overcrowded conditions, families and children are living in tents and getting drenched with every rainstorm.
"In some camps the toilets and showers are dirty and there's a lack of proper drainage systems. This means that when it rains, the tents are flooding and there's no way for families to get warm and dry again.
In pictures: A day of refugee rescues in the Mediterranean Sea
Show all 7
"The processing of asylum claims in Greece is also moving at a snail's pace and some families have been languishing in camps for nine months now waiting for their application to be processed.
"It's inconceivable how the EU can propose sending more people to live in these conditions.
"But it's also unsurprising, considering Brussels' track record on migration policies so far.
"Member states continue to wash their hands of a challenge that needs to be tackled by all European countries working together, not just leaving Greece and Italy to shoulder all the responsibility.
"EU Member states are dragging their feet on relocating migrants from Greece and Italy, and choosing instead to invest resources to keep out – and now deport – as many vulnerable people as possible – all while living in denial of any wrongdoing.
"If nothing else, this is setting a dangerous precedent in today's troubled context where migrant and refugee rights are being challenged worldwide."
Additional reporting by Reuters
Join our commenting forum
Join thought-provoking conversations, follow other Independent readers and see their replies