Freezing weather and snow kills more than 60 people across Europe as icy conditions continue
Homeless, vulnerable and elderly people among those killed as travel disruption continues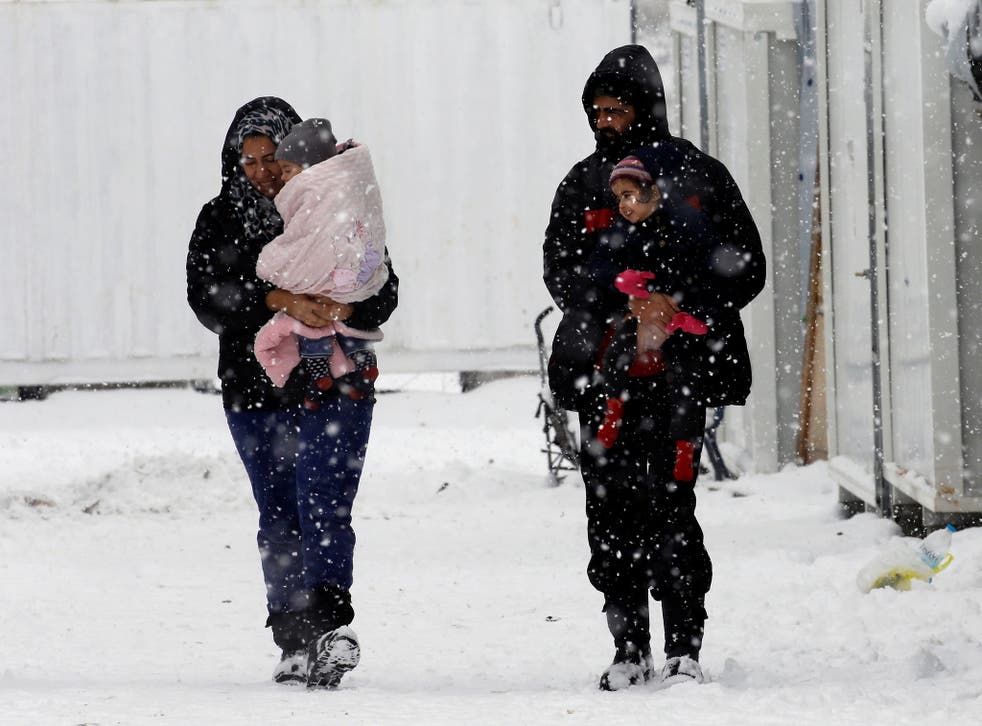 More than 60 people have been killed by freezing temperatures gripping much of Europe as the UK braces for snow.
Homeless people, the vulnerable and elderly have been among those dying in the extreme conditions, of hypothermia, illness or in accidents.
Romanian authorities had to stop shipping along a 565 mile stretch of the Danube River on Tuesday because of the ice, which also prevented traffic along the River Sava in Serbia.
In Poland at least 20 people have died since the start of the cold snap last week, with conditions worsened by alarming smog levels causing the closure of schools and nurseries in Rybnik, while free public transport has been offered in Warsaw in an attempt to reduce pollution.
It has been caused in part by the burning of substandard fuels, such as coal mud, waste and plastic, used in poor quality heaters in private homes by people desperate to keep warm.
Three people have been found dead in recent days in Macedonia as temperatures plunged to -20C. A 68-year old homeless man was found frozen to death in the capital, Skopje, while a 60-year-old man died in front of his home in the southern town in Strumica. An 80-year-old woman was discovered in her home in eastern Macedonia.
In pictures: Deep freeze hits Europe

Show all 13
Authorities were urging homeless people to go to shelters and local schools, which are offering shelter during the cold spell.
In Serbia, authorities said an 88-year-old man and his son, 64, died from freezing temperatures in the village of Duga Poljana, in a region that has been hardest-hit by the recent cold spell.
The national broadcaster reported that the two victims, discovered by a man delivering bread from a neighbouring village, were extremely poor.
At least five people have died in Albania, where it snowed in the southern city of Saranda for the first time in 32 years.
A homeless man was found dead in the city of Korca, while temperatures plummeted to -22C in Bulqize, with most rural areas cut off by snow. There were temporary power and water outages and army helicopters were distributing aid in remote mountain areas.
UK braced for thundersnow and blizzards as mild weather breaks
Following strong criticism from aid agencies, authorities on the Greek island of Lesbos said they would move 250 refugees from tents at detention camps into vacant hotel rooms as heavy snow continued unabated around the country.
"We denounce the inhuman living conditions refugees on Lesbos are facing," an association of public hospital doctors said. "They are living in mud and snow, cramped together in unsuitable tents...and lighting fires inside them to stay warm."
The Greek government said it was sending a naval ship to Lesbos, to serve as a floating shelter for residents of a snow-bound camp used as part of the controversial EU-Turkey deal struck last year to reduce migrant crossings to Europe.
Elsewhere, snow cancelled several flights in Greece's second-largest city, Thessaloniki, while a state of emergency was declared in several parts of the country.
Snow dusted the ancient Acropolis in Athens and closed most schools in the capital, while more than 10 heated shelters were opened for homeless people.
A municipal employee was placed under disciplinary review in the capital for allegedly telling occupants to leave a shelter because his shift had ended and nobody was available to take his place.
One person has also died in Istanbul after a mosque canopy collapsed because of high winds and snowfall.
It happened during a funeral service near Istanbul's main airport, including 10 other people.
In Romania, the mayor of Bucharest ordered schools in the capital to remain closed for the rest of the week as the country battled the bitter cold which has led to travel delays, power outages and a surge in demand for natural gas and power.
The Met Office has issued weather warnings for wind and snow across much of Scotland and the north of England as colder weather is expected to hit the UK on Wednesday.
Plummeting temperatures and wintry showers are forecast to spread south through the week, accompanied by gale-force winds in parts, prompting warnings for dangerous driving conditions.
Additional reporting by AP
Join our new commenting forum
Join thought-provoking conversations, follow other Independent readers and see their replies