Far-right politicians across Europe join forces to fight for more power in elections
Anti-immigrant leader Matteo Salvini confident alliance will win record number of EU parliament seats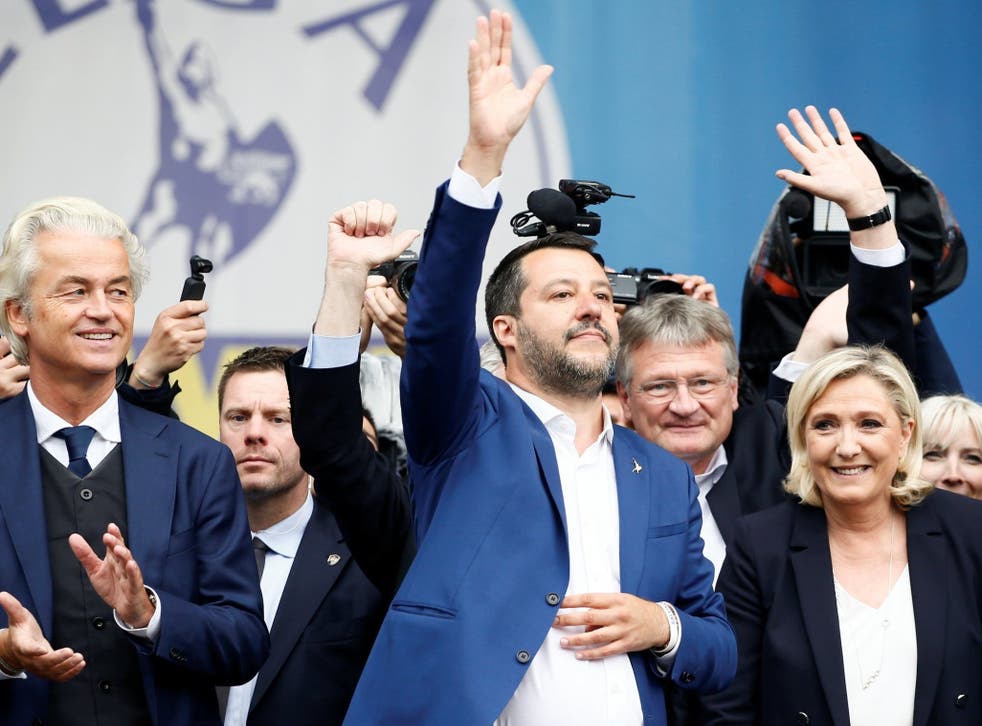 Nationalist and far-right parties from across Europe have staged a show of solidarity in a drive to win more seats at next week's European parliamentary elections.
Populists from 11 European countries, including France's Marine Le Pen and Holland's Geert Wilders, staged a joint rally in Italy, setting their sights on gaining more power.
Italian deputy prime minister Matteo Salvini, leading the event, promised the elections would help reshape the continent by boosting the far right.
Mr Salvini, leader of Italy's anti-immigrant League party, is confident his newly forged alliance will win a record number of seats at the vote on Thursday to Sunday, giving it a powerful voice in how the 28-nation European Union is run.
He pledged to close Europe's borders to migrants if the League wins not just the most votes of any party in Italy, but also of Europe.
Far-right Vox party celebrate gains in Spain election: in pictures

Show all 9
He and Ms Le Pen hope their Europe of Nations and Freedom group, currently only small in the European Parliament, to become the third-largest.
"I think lots of things will change in Europe," Mr Salvini said.
However, the gathering in Milan was dampened by a scandal engulfing one of his most prominent allies, Austria's Freedom Party, whose leader quit as government vice-chancellor after he was videoed offering state contracts in exchange for political support.
The beleaguered Freedom Party had to skip the event, but Germany's Alternative for Germany (AfD) joined it.
"This is a historic moment," Ms Le Pen said. "Five years ago we were isolated, but today, with our allies, we will finally be in a position to change this Europe."
Recent polls suggest the alliance will come fourth, but Le Pen said other parties might still join it, including Hungarian prime minister Viktor Orban's Fidesz party.
A number of top EU jobs will become vacant after the elections, including president of the European Central Bank, and Mr Salvini hopes a strong showing by nationalists will give them more leverage when the posts are filled.
The far-right Italian deputy prime minister was elected into government last summer on a wave of popular anger in Italy towards Brussels and the Italian political establishment.
Support free-thinking journalism and attend Independent events
The parties in the group share the broad goals of returning power to EU member states, curbing immigration and preventing the spread of Islam in Europe.
But they often have different social and economic policies.
Agencies contributed to this report.
Register for free to continue reading
Registration is a free and easy way to support our truly independent journalism
By registering, you will also enjoy limited access to Premium articles, exclusive newsletters, commenting, and virtual events with our leading journalists
Already have an account? sign in
Register for free to continue reading
Registration is a free and easy way to support our truly independent journalism
By registering, you will also enjoy limited access to Premium articles, exclusive newsletters, commenting, and virtual events with our leading journalists
Already have an account? sign in
Join our new commenting forum
Join thought-provoking conversations, follow other Independent readers and see their replies