European elections: Salvini becomes prime minister in all but name after Italian far-right party wins big
Analysis: Increased leverage for de facto leader might jeopardise coalition alliance with Five Star, writes Hannah Roberts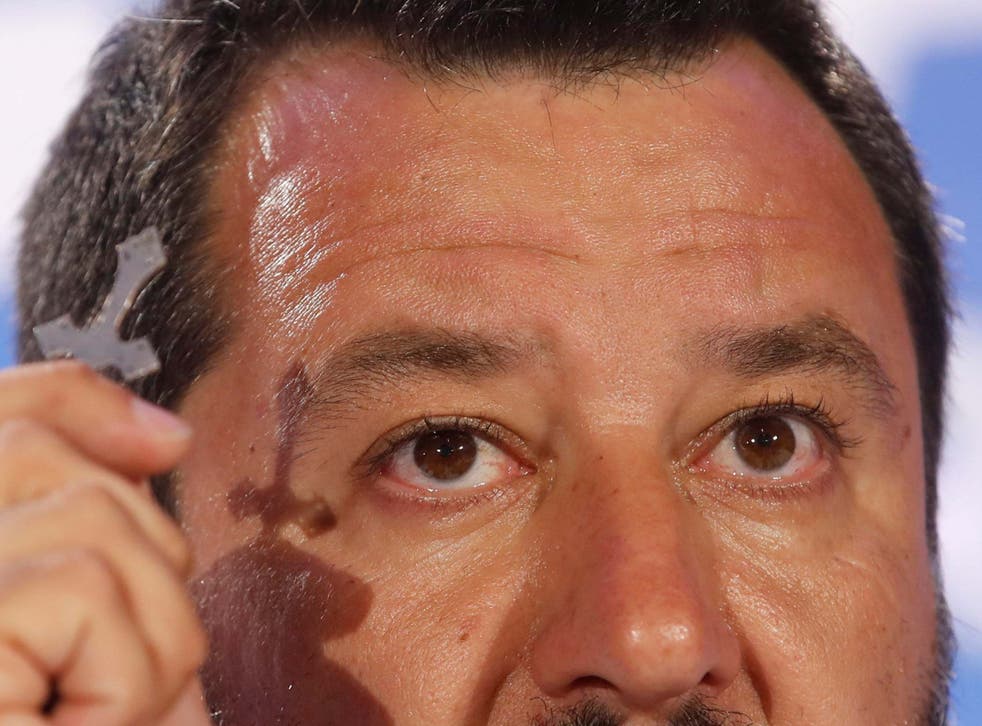 In the early hours of this morning, as the European election results came in, Matteo Salvini clutched a rosary. Kissing the crucifix attached to the beads, he hailed what he claimed was a divine intervention. "I thank those above, not for helping Matteo Salvini and the League but for helping Italy and Europe to rediscover hope, pride, roots, work and security," he said.
To the irritation of the church hierarchy, the interior minister and deputy prime minister has frequently invoked Catholic symbols at rallies, casting himself as a defender of Europe's Judeo-Christian roots against mass Islamic immigration, and the champion of conservative family pro-life values.
This core message seems to have paid off with voters, with his right-wing Lega Nord (Northern League) party bagging 34 per cent of the vote – double their haul at national elections a little over a year ago. In contrast, the League's partners in the coalition government, the anti-establishment Five Star, received only 17 per cent, an almost exact reversal of fortunes for the two parties.
While the election outcome doesn't change the make-up of the Italian parliament, it marks a seismic shift in power between the coalition partners, and underscores Salvini's position as Italy's most influential politician.
EU elections 2019 Europewide results

Show all 9
"Until now he has governed inside the coalition with a lot of autonomy. From today he will be even stronger, a prime minister in all but name," says Pierluigi Testa, director of the Trinita dei Monti think tank in Rome.
Salvini's success is in part down to widespread approval of the tough stance taken by his ministry on immigration, closing Italian ports to migrant rescue vessels and passing restrictive asylum legislation. The policy changes have been accompanied by fiery and unapologetic rhetoric from Salvini, who has cultivated his strongman persona effectively via social media.
The League's dominance in the European elections is all the more remarkable given their origins as a regional movement campaigning for the secession of the north of Italy from the south, which its leaders (Salvini included) characterised as lazy and venal, sponging off the industrious north.
Votes for the League increased threefold in the south, twice in the centre and 1.5 times in the north, according to calculations of official data by Lorenzo De Sio, professor of political science at Luiss University in Rome. "The League has gained consensus in the south where he has managed to appear plausible and acceptable," says De Sio.
Salvini also benefited from Five Star Movement's failure to deliver the revolution they had promised their voters. Both regarded as "insurrectionist", the parties have made for uneasy bedfellows. But in terms of perception, Five Star have come off worst, having reneged on key environmental pledges one after another – such as the cancellation of the high speed railway line between France and Italy, and the closure of a toxic steel plant in Taranto. They also failed to do away with making vaccines obligatory.
There had been speculation in the run-up to the vote that a decisive League win could shift the balance of power and undermine the year-old coalition. The election campaign became acrimonious, with the League and Five Star fiercely attacking each other. But Salvini on Monday appeared keen to stress that the government would remain unchanged for now. "For me our government allies are friends, and from tomorrow we will get back to work with serenity and softer tones."
It is unclear how he will capitalise on his new momentum: he could demand a reshuffle of the cabinet. His hand has been decisively strengthened in negotiations over government policies, giving him more leverage to fulfil his ambitions to curb illegal immigration and introduce a flat tax in Italy.
In fact, Salvini has wasted no time flexing these muscles. The League's success will ensure their flagship policies – tax cuts, financial autonomy and the fight against immigration – will all be carried out, said on Monday morning. The Italians have given us "a strong mandate to go and get things done".
Marine Le Pen reacts to her party's victory in the European Elections
The risk for Five Star is that concessions wanted by their League partners, such as tax reductions for the wealthy, will be difficult for activists to digest, further eroding grassroot support and fuelling internal dissent. But as intolerable as Salvini's posturing might become, Five Star's internal rules mean politicians are allowed a maximum of two electoral mandates, giving their MPs a powerful reason to make their term in office last as long as possible.
Salvini could be tempted to force new elections, with the aim of forming a centre-right coalition with Giorgia Meloni's far-right Brothers of Italy and Silvio Berlusconi's Forza Italia. But Berlusconi would find it hard to accept Salvini's leadership.
"His presence would also dilute the League's anti-establishment message of renewal," says De Sio. "In the short term, it's not in either side's interests to break up the government, and they will try to find stability," says Alessandra Lanza of the Bologna-based economic consultancy Prometeia.
A moment of reckoning is likely to come in the autumn when, with the economy almost stagnant, the government must put together the 2020 budget, which keeps the League's promises of tax cuts while keeping public accounts within European constraints. When the time comes, Five Star could be useful scapegoats for Salvini for failing to resolve Italy's economic problems; the question remains whether the coalition can last that long.
Join our new commenting forum
Join thought-provoking conversations, follow other Independent readers and see their replies