Exiled Catalan government minister moves to Scotland after fleeing rebellion and sedition charges in Spain
Clara Ponsati faces arrest if she returns to Spain following last year's illegal independence referendum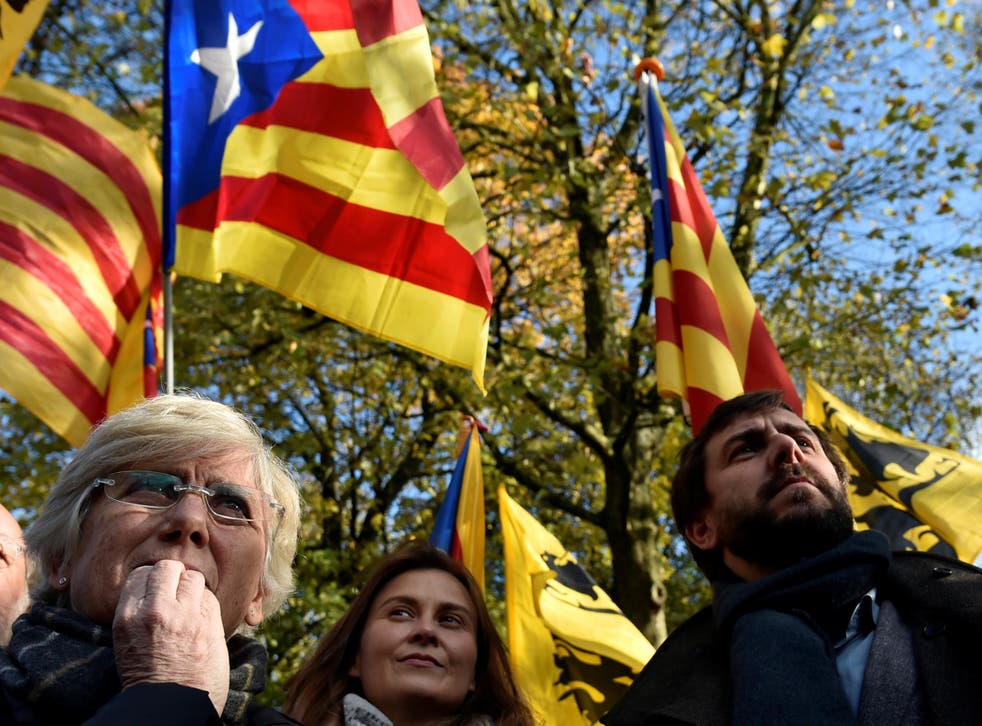 A former Catalan regional government minister wanted in connection with last autumn's independence referendum has headed to Scotland from her previous self-imposed exile in Belgium.
Clara Ponsati, who fled with former regional premier Carles Puigdemont to Brussels in late October, has returned to work as an economics lecturer at the University of St Andrews.
Ms Ponsati took a sabbatical from the university last summer to take up a post as education minister in the now-deposed Catalan government.
Although there is a Spanish warrant for her arrest, the European arrest warrant issued in November for Ms Ponsatí was withdrawn by Spain's Supreme Court early last December.
In Spain, she and four other former ministers including Mr Puigdemont face charges of rebellion, sedition and misuse of public funds. The former charge alone carries a sentence of up to 30 years.
The Spanish judicial authorities argued at the time of withdrawing the European warrant that maintaining its validity could create subsequent legal complications because evidence had shown the allegations were for a wider group.
It first emerged Ms Ponsatí may have left Belgium on Thursday when she apparently did not form part of a group of former councillors interviewed by a Catalan newspaper.
She confirmed her move to the UK on her Twitter account on Saturday morning, posting: "Catalan exile reaches the United Kingdom. Enjoying my freedom of movement as a European citizen, this week I am now back at the University of St Andrews."
Her tweet included what appeared to be a picture of the Scottish coastline.
Catalan parliament votes on independence: in pictures

Show all 15
In a video interview with Catalan news website Vilaweb, Ms Ponsatí said she decided to return to Scotland for "practical and personal reasons". She has apparently agreed with former President Mr Puigdemont to give up her position as education minister.
Ms Ponsatí also reportedly pledged to continue fighting for Catalan independence while in the UK.
Her return to Britain means former members of the Catalan government or top politicians wanted for questioning over their role in the independence movement are now in exile in three European countries: Belgium, Switzerland and the UK.
While Ms Ponsati remains wanted in Madrid, she does not face arrest in Britain due to the revocation of the European arrest warrant.
Although Spain could choose to reissue the warrant should her move to the UK be confirmed, this did not happen when Mr Puigdemont briefly visited Denmark from Brussels nor when Anna Gabriel, a former far-left MP, left Catalonia for Switzerland.
The Swiss justice department had indicated it would would not grant extradition for any political offences if sought by Spain.
The UK's National Crime Agency, which processes extradition requests from European countries, said it did not comment on individual cases. It added any arrest under European warrants would be carried out by the relevant British police force.
The Independent has contacted Ms Ponsati for a comment.
A spokesman for the University of St Andrews said: "Professor Clara Ponsati was granted a sabbatical from her post as a senior academic in the School of Economics and Finance to serve as a minister in the Generalitat de Catalunya.
"We are delighted that she has recently returned to her research work at St Andrews."
Register for free to continue reading
Registration is a free and easy way to support our truly independent journalism
By registering, you will also enjoy limited access to Premium articles, exclusive newsletters, commenting, and virtual events with our leading journalists
Already have an account? sign in
Register for free to continue reading
Registration is a free and easy way to support our truly independent journalism
By registering, you will also enjoy limited access to Premium articles, exclusive newsletters, commenting, and virtual events with our leading journalists
Already have an account? sign in
Join our new commenting forum
Join thought-provoking conversations, follow other Independent readers and see their replies