Facebook forced to apologise for censoring burn victim's birthday photo
Former fireman lost his ears, hair, and eyebrows in an explosion in the Swedish city of Gothenburg 35 years ago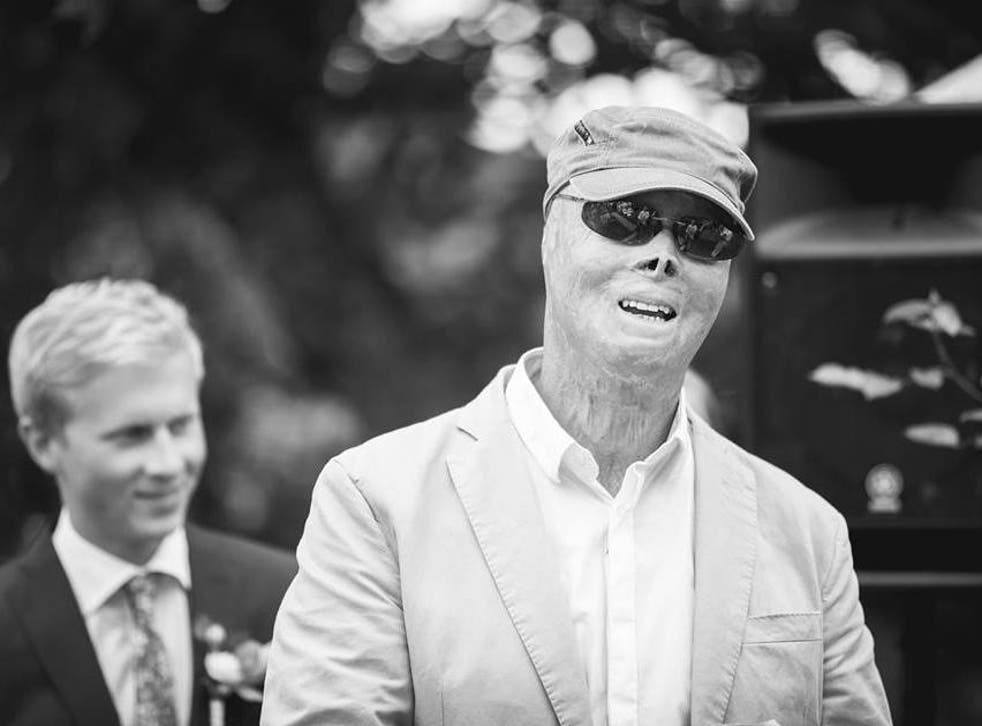 Facebook has had to apologise for removing a photograph of a former firefighter with severe burn scars.
The social media site twice took down a picture of Lasse Gustavson after his friend Bjorn Lindeblad posted the photograph on Sunday to celebrate his 60th birthday.
The company only restored the image when more than 10,000 people shared a third post by Mr Lindeblad, criticising their "disgusting policy".
The post now has more than 30,000 shares.
"It's an offensive system Facebook has with this kind of censorship. You could call it a kind of racism," said Mr Gustavson, who has no ears, hair or eyebrows, in an interview with Sweden's Aftonbladet newspaper.
Mr Gustavson was injured in an explosion at an oil depot in Gothenburg in 1981, when he was a 24-year-old firefighter. He spent two months in a coma in hospital and woke up permanently disfigured.
Since then, he has become a successful motivational speaker in Sweden.
He said that although the removal of his photograph did not negatively impact his birthday, if the site had done the same to someone else it could be extremely damaging.
"When I was 24, I probably would have felt offended and upset that pictures of me were considered wrong and unpleasant," he said.
"It is a very volatile and sensitive time... but now I have lived so long with my burns."
Mr Lindeblad, a meditation teacher, said he did not understand why his post was removed on Sunday. He only came to suspect it had been deliberately censored when he heard the same thing had hapened to other burn victims.
He added in a Facebook post: "At first, I was flabbergasted. Then several burn victims contacted me and explained that photos of burn victims are often classified in the same category as sexist and racist photos on Facebook. Oh dear."
Mr Gustavson said he also knew of other people with scars who had their photographs taken down.
When Mr Lindeblad posted the birthday message a third time, he encouraged others to share it.
"Do you want to help me to speak out against a disgusting Facebook policy? Share or spread this photo of one of the most beautiful souls I know," he wrote.
After his post went viral, he received a message of apology from Facebook on Tuesday informing him that his original photographs had been reinstated.
"A member of our team accidentally removed something you posted on Facebook. This was a mistake, and we sincerely apologise for this error. We've reinstated the content, and you should now be able to see it."
Instagram censorship controversies

Show all 11
A Facebook spokesperson also told journalists the post had been removed in error.
Mr Lindeblad's original message to Mr Gustavson said:
"Today is your 60th birthday, my friend. You´re enjoying yourselves royally in Southern Sweden, while I´m working hard on the West coast. And that's completely OK. Because thanks to people like you, I can now do my work joyfully. You brought me light, when almost everything inside felt dark. You opened doors, that I assumed would remain closed forever. You call me, eerily often, just when I need to hear your voice and your wisdom. You tease the excessive seriousness out of me, when that's whats needed. You're living proof that wisdom and playfulness walk hand in hand. And you remind me, again and again, of so much of what's beautiful about true manliness."
Join our new commenting forum
Join thought-provoking conversations, follow other Independent readers and see their replies