Fall of the Dutch far-right: How a racist speech too far cost the flamboyant Geert Wilders his chance at the EU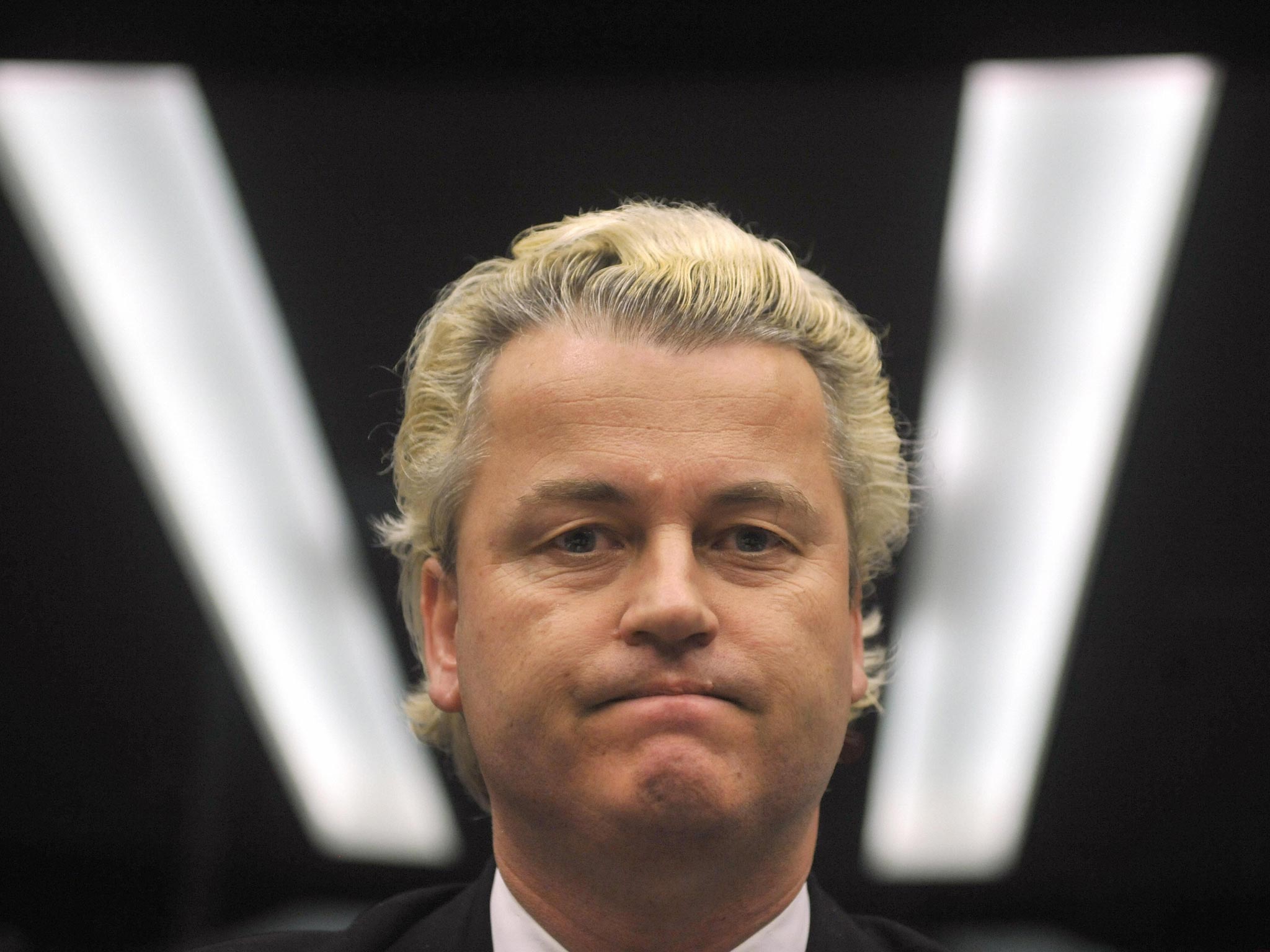 Posters from the Dutch local election campaign a few weeks ago are already starting to peel away from the windows near the main station in The Hague. Battling for space at this particular spot near a handful of Halal butchers and a Moroccan bakery are the faces of hopeful candidates from two parties representing the city's Muslim community.
The Islam Democrats and Party of Unity both advocate tolerance across The Netherlands' different communities, and their message won them three local council seats on 19 March. But it was a very different message ringing out from a bar as the results came in, the repercussions of which could reach beyond Dutch borders as new posters go up for May's European Parliament elections.
Geert Wilders, the bottle-blonde politician with a line in anti-immigrant rhetoric as familiar as his hairstyle, took to the stage after his populist Party for Freedom (PVV) boosted its showing and won seven seats in The Hague. Buoyed by the cheers, Mr Wilders asked his supporters: "Do you want more or fewer Moroccans in this city and in the Netherlands?" The response came loud and clear: "Fewer! Fewer! Fewer!". "We'll take care of that," their leader replied.
Immediate shock among the country's Moroccan community swiftly turned into national outrage. Criminal complaints calling on Mr Wilders to face trial for discrimination have been piling up at police stations, with the prosecutor's office yesterday announcing that they were working their way through at least 5,000 forms. A number of prominent PVV members quit and support for the party plummeted. At a time when populist parties like the National Front in France and Britain's UKIP are riding high in the polls, Mr Wilders' disastrous few weeks serves as a timely reminder of how easily the tenuous alliances which bind anti-establishment parities can unravel.
"They have no sustainable agenda, their analysis is one of fear and threats coming our way, and they need to reiterate that again and again and again," says Wim Voermans, a professor of constitutional law at Leiden University. Mr Wilders had managed to win over many crisis-weary voters with promises of a pan-European alliance of right-wing MEPs who would bring down the European Union from the inside. But his ill-judged victory speech reminded voters of the darker undercurrents of the nationalist parties enjoying surging support in Europe today.
Salah Hadji, whose parents emigrated from Morocco in the 1990s, is glad the country finally saw Mr Wilders' true colours: "I was quite happy and surprised that the whole community – not only the Moroccan community but the whole Dutch community – was very strong in their opinion that what he said was not good: actually it was racism," the 29-year-old tells The Independent.
Mr Hadji works as a buyer for a Moroccan grocery store in The Hague, where both ethnic Dutch and members of other communities drop by to pick up tubs of shawarma meat and stuffed olives. It is this mix of cultures that Mr Hadji says truly reflects The Netherlands, not the PVV's vision of a broken multicultural society.
But many of Europe's voters – worn down by six years of austerity, recession and unemployment – are looking for someone or something to blame. The EU and migrant communities have proved two easy targets, and parties like the PVV are happy to stoke that narrative. A poll last year predicted that between 20 and 30 percent of the vote at the European Parliament elections on 22-25 May could go to protest parties.
These parties cover the entire political spectrum. Far-left groups are thriving in Southern Europe, as are parties like Italy's anti-establishment Five Star Movement. On the extreme right are the neo-Nazi Golden Dawn in Greece, and Jobbik in Hungary. Slightly closer to the centre and pitching themselves to varying degrees as eurosceptic, libertarian and nationalist are UKIP, the PVV, Vlaams Belang in Belgium, and Marine Le Pen's National Front in France. The latter three have teamed up to form a pan-EU alliance, with similar parties in Italy, Austria and Sweden potentially joining them.
But their ideologies are far less unified than the Socialist or Conservative blocs in the European Parliament. Mr Wilders and Ms Le Pen want nothing to do with Golden Dawn. Nigel Farage of UKIP, however, finds the positions of the PVV and National Front toxic enough for his domestic image, and has declined to join their alliance. Even the French and Dutch party leaders have differing concerns. Mr Wilders openly insults Islam, and is an avid supporter of Israel. The National Front skirts around references to religion as it struggles to shrug off accusations of anti-Semitism levelled at the party founder, Jean-Marie Le Pen.
Within the parties themselves there are wide gulfs between the modernisers and the old guard who can't keep their unpalatable views to themselves, even if they don't chime with the re-branding.
Andrea Mammone, a historian of Modern Europe at Royal Holloway, University of London, says the parties also shift and realign their messages depending on domestic concerns. "There is an attempt to cover their far-right nature with a moderate image," he says. "The discourse, at times, is about tradition, culture,and values."
This is where Mr Wilders came unstuck. He has not hidden his views about Islam in the past, calling it "a totalitarian ideology rather than a religion". But an open call for the expulsion of an ethnic group was a step too far.
"Everybody had this feeling they could let him speak, not give him the attention he wants, and everything will be OK," says Amine el Morabit, a student of European Studies at the The Hague University for Applied Sciences. "But this time he addressed a specific group and because the audience started to scream with him, there was an outcry."
Mr El Morabit is a moderator of a Facebook page called "I'm Filing a Complaint Against Wilders", which now has more than 99,000 Likes. Mainstream politicians have condemned Mr Wilders' comments, and a least eight PVV members have withdrawn from the party.
The resignation of Laurence Stassen – an MEP who was going to lead the PVV candidates in May – dealt a particularly heavy blow to Mr Wilders' hopes of becoming the largest Dutch party in the European Parliament.
The most recent poll showed that if general elections were held now, the PVV – which did not respond to a request from The Independent for comment – would come third. Before his xenophobic outburst, Mr Wilders topped the polls.
His setback does not appear to have dented the credibility of his allies in France and Belgium, with support for the National Front surging in local elections last month.
It could however affect their attempts to build a bloc in the European Parliament after the elections. Twenty-five MEPs from at least seven EU countries are needed to form a political grouping, which gives them access to greater funding. This means Mr Wilders may need Ms Le Pen more than ever to achieve his goal of slaying "the monster in Brussels" – although Prof Voermans thinks their presence in the EU capital would have the opposite effect.
"It is very good that these voices that were always lingering in the member states are represented," he says. "The controversy will be bigger and the debates will be harder, but that's a good thing, that is where the legitimacy will come from... This is a very hopeful sign for the European Union."
Join our commenting forum
Join thought-provoking conversations, follow other Independent readers and see their replies