Far-right leaders Marine Le Pen and Geert Wilders in talks to form anti-Europe alliance
French and Dutch  populist party chiefs could threaten Ukip's influence in the EU
John Lichfield
Wednesday 16 October 2013 01:00 Comments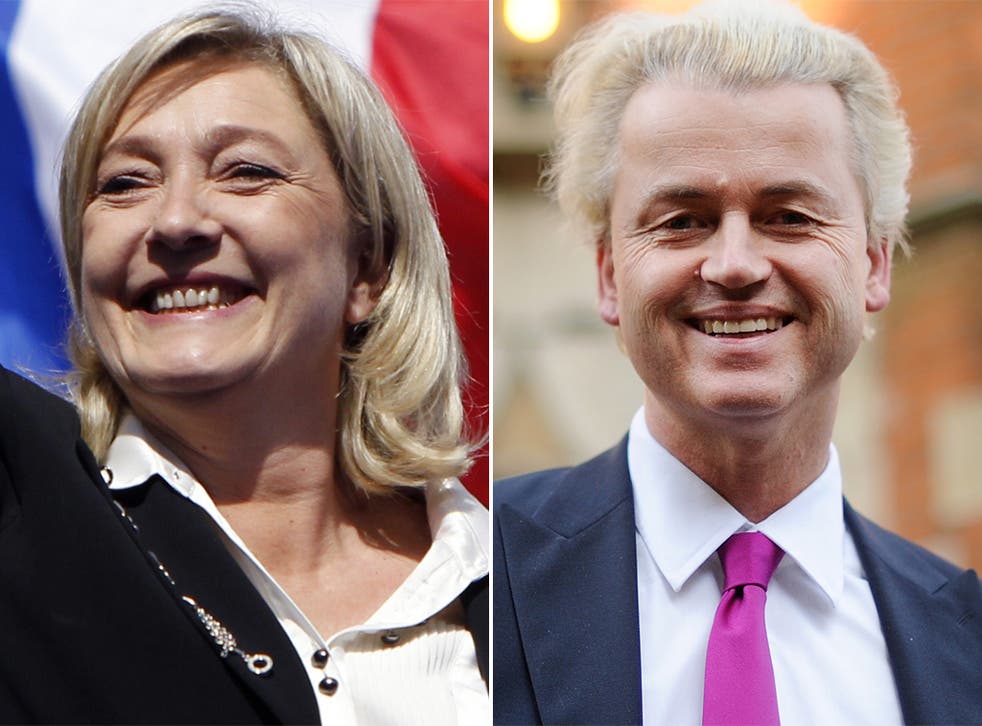 Both are blonde. Both are charismatic. Both are anti-immigrant and anti-European. Both have successfully brought their political movement towards – although not yet into – the national mainstream.
Marine Le Pen, leader of the National Front in France, and Geert Wilders of the Freedom Party (PVV) in the Netherlands, will attempt next month to launch the seemingly impossible – a pan-European Eurosceptic movement. With far-right or populist parties across Europe threatening to create upsets in next May's European elections, Mr Wilders and Ms Le Pen believe that the time is right to form an anti-European alliance. Ms Le Pen will travel to the Netherlands next month to discuss a joint campaign in the European elections with Mr Wilders' PVV.
Mr Wilders has already been on a European tour this summer to try to persuade like-minded parties in other countries to endorse a common Euro-sceptic and anti-immigrant platform next May, with limited success.
The Northern League in Italy, Vlaams Belang in Belgium and the Democratic Party in Sweden have reacted coolly to the idea. The United Kingdom Independence Party rejected the alliance outright.
Ukip leader Nigel Farage said this year: "Ukip is not right wing but a libertarian party which believes in small government, low taxes, personal freedom and responsibility under a democratic national government, not under Brussels rule. Ukip are not involved in this initiative by Geert Wilders."
Part of the problem is that the various populist or far-right parties in Europe are nervous of being associated with one another.
"Our party has not joined the alliance," said Martin Kinnunen, the spokesman for Sweden's Eurosceptic Democratic Party: "It is hard to say anything at this stage as we don't know which parties will participate."
The Swedish Democrats are said to be reluctant, for domestic political reasons, to join any club which includes Ms Le Pen's National Front or Jörg Haider's Austrian Freedom Party. No one, not even Mr Wilders, wants anything to do with overtly racist parties such as Jobbik in Hungary or the British National Party (BNP). It is doubtful whether a pan-European platform would bring many extra votes to the anti-European parties who are already predicted to score heavily in Britain, France, the Netherlands, Austria and, perhaps, Germany.
Opinion polls suggest that, with the help of low turnout, Ms Le Pen and Mr Farage could top their respective European campaigns and greatly enlarge their pool of MEPs.
A united European movement against the EU would, however, presage the creation of a strong, National Front-dominated anti-European group in the next European Parliament. This, paradoxically, might cause problems for Ukip and Mr Farage.
The existing Eurosceptic group in Strasbourg, Europe of Freedom and Democracy (EFD), which is much riven by splits and resignations, is dominated by Ukip. Neither the French National Front nor Mr Wilders' PVV – who have a handful of members in Strasbourg – belongs to the EFD.
If both Ms Le Pen and Mr Farage do as well as expected in May, they could each have 20 seats or more. To form an official group in Strasbourg – giving advantages of money and speaking time – 25 members are needed from seven countries.
If Mr Wilders and Ms Le Pen form, as expected, a strong new anti-European group in the European Parliament next summer, Ukip would face a dilemma. Should Mr Farage join that new group, or continue with his own? Other nationalist and populist members from other countries would be much courted by the Le Pen-Wilders group, potentially depriving Ukip of the allies it needs.
Ms Le Pen will travel to The Hague at Mr Wilders' invitation next month. Mr Wilders told Dutch TV on Monday night that "the National Front and the PVV could make the Europhile elite sing a different tune".
In September, Ms Le Pen told the Dutch newspaper NRC Handelsblad that an alliance with the PVV would be useful electorally. "It is important to show the voters that we are not isolated," she said. "That there are similar, patriotic movements active in every European country."
In the past Mr Wilders refused to associate with the National Front because he disapproved of the anti-Semitic remarks of Ms Le Pen's father, Jean-Marie Le Pen. Since she replaced her father in January 2011, Ms Le Pen has tried to clean up and "de-demonise" the NF and move it into left-wing territory on social policy and economic protectionism.
In her interview last month, she suggested that Mr Wilders was, in some respects, more right wing than she was. He has attacked Islam and compared the Koran to Adolf Hitler's Mein Kampf. She said that she had "nothing against Islam itself" but opposed a "flood of Muslim immigrants and the intrusion of Islam in society".
Marine Le Pen CV
* Born on 5 August 1968 in Neuilly sur Seine, daughter of Jean-Marie Le Pen, former president of France's National Front.
* Graduated with a master's degree in law in 1990; lawyer 1992 to 1998.
* Became director of the National Front's legal service in 1998.
* Elected a member of Nord-Pasde-Calais Regional Council in 1998 and of the Île-de-France Regional Council in 2004.
* Elected to the European Parliament in 2004.
* Named as 71st most influential person in the world by Time in 2011.
* Stands for president in 2012 election, winning 17.9 per cent of the vote in first round, behind Nicolas Sarkozy and Francois Hollande.
Ian Johnston
Geert Wilders CV
* Born 1963 in Venlo.
* Elected city councillor for Utrecht in 1997 after joining Liberal Party. Elected MP for Utrecht in 1998.
* Left the party in 2002 after disagreeing with its support for Turkey's wish to join EU.
* Establishes the Party for Freedom (PVV) in 2006.
* After 2010 election PVV is third largest party.
* Cleared of inciting hatred against Islam in 2011.
Michael Drummond
Register for free to continue reading
Registration is a free and easy way to support our truly independent journalism
By registering, you will also enjoy limited access to Premium articles, exclusive newsletters, commenting, and virtual events with our leading journalists
Already have an account? sign in
Join our new commenting forum
Join thought-provoking conversations, follow other Independent readers and see their replies