Federica Gagliardi: Berlusconi's 'White Lady' jailed for 3 years for cocaine smuggling
A video has emerged showing how Gagliardi, 34, feigned surprise as Italian police officers extracted brick after brick of solid cocaine from her wheeled suitcase and backpack
Michael Day
Rome
Monday 30 November 2015 19:45 Comments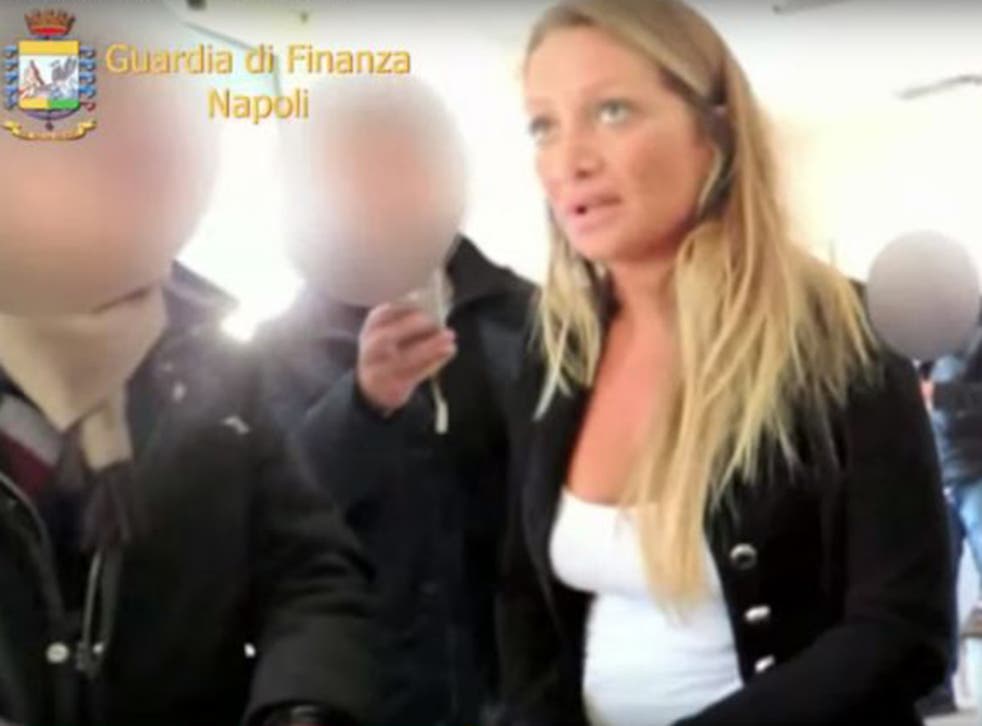 Sometimes just one piece of hand luggage isn't enough. Ask Silvio Berlusconi's "White Lady", Federica Gagliardi, the glamorous blond who set tongues wagging when she accompanied the then Italian Prime Minister to the 2010 G8 meeting in Toronto.
After officials clocked that Gagliardi had two bulging items of in-flight baggage when she stepped off a plane in Rome in 2014, it wasn't the quantity of her possessions, however, with which they took umbrage, but the 24 kilos of cocaine they found stuffed inside.
The White Lady – so named on account of the dazzling white outfit she wore in Mr Berlusconi's company rather than her smuggling of industrial quantities of the class A drug – has now been sentenced to three-and-a-half years in an Italian jail. She joins her former tycoon patron, convicted of tax fraud in 2013, in the exclusive club of former G8 attendees who have since acquired a criminal record.
A video has emerged showing how Gagliardi, 34, feigned surprise as Italian police officers extracted brick after brick of solid cocaine from her wheeled suitcase and backpack. As the blackly comic size of the drug haul and the gravity of her predicament become apparent, she can be heard telling the officers: "I didn't know. It was full of stuff. They've thrown out clothes. I've been framed."
The judges in a Naples court didn't think so and today found her guilty, along with 25 others, for her part in a trafficking ring with links to Spain, Holland and South America. The base of operations was in Naples, and investigators say the 24 kilos of cocaine that Gagliardi had carried on the Alitalia flight to Fiumicino from the Venezuelan capital Caracas had been destined for Camorra drug dealers.
Most commentators believe that the White Lady has got off lightly. The prosecution had demanded sentences of 10 years or more for Gagliardi and others convicted for their roles in the drug-smuggling operation. The judges ruled, however, that Gagliardi, while guilty of smuggling the drugs into the country, had not been a member of an international drug cartel. Her fast-track trial may also have reduced her jail term. Investigators said Gagliardi had been convinced the reputation of the high-powered company she kept meant it unlikely that customs officials would search her luggage.
If she had thought a little harder, the flaws in this strategy might have been apparent. Another Berlusconi associate, the Bari-based business and pimp Giampaolo Tarantini, who supplied call girls for many of the three-time prime minister's notorious parties, was given two years in prison in July 2011 for supplying cocaine.
At the time of the 2010 meeting in Toronto, Gagliardi, who has a law degree and is said to speak three languages, ran the office of the governor of the Lazio region, Renata Polverini, a member of Mr Berlusconi's Forza Italia party. The governor agreed to Gagliardi's request to participate in an overseas political visit. She subsequently acted as Mr Berlusconi's secretary on trips to Brazil and Panama.
Her high profile in the Berlusconi entourage prompted rumours that she was vying for the role of "first lady" alongside his current partner, Francesca Pascale.
Register for free to continue reading
Registration is a free and easy way to support our truly independent journalism
By registering, you will also enjoy limited access to Premium articles, exclusive newsletters, commenting, and virtual events with our leading journalists
Already have an account? sign in
Join our new commenting forum
Join thought-provoking conversations, follow other Independent readers and see their replies