Fifa corruption scandal: Morocco won 2010 World Cup before votes were 'rigged' - reports
New allegations suggest Blatter knew about 'rigged ballot' five years ago
Adam Withnall
Sunday 07 June 2015 14:08 Comments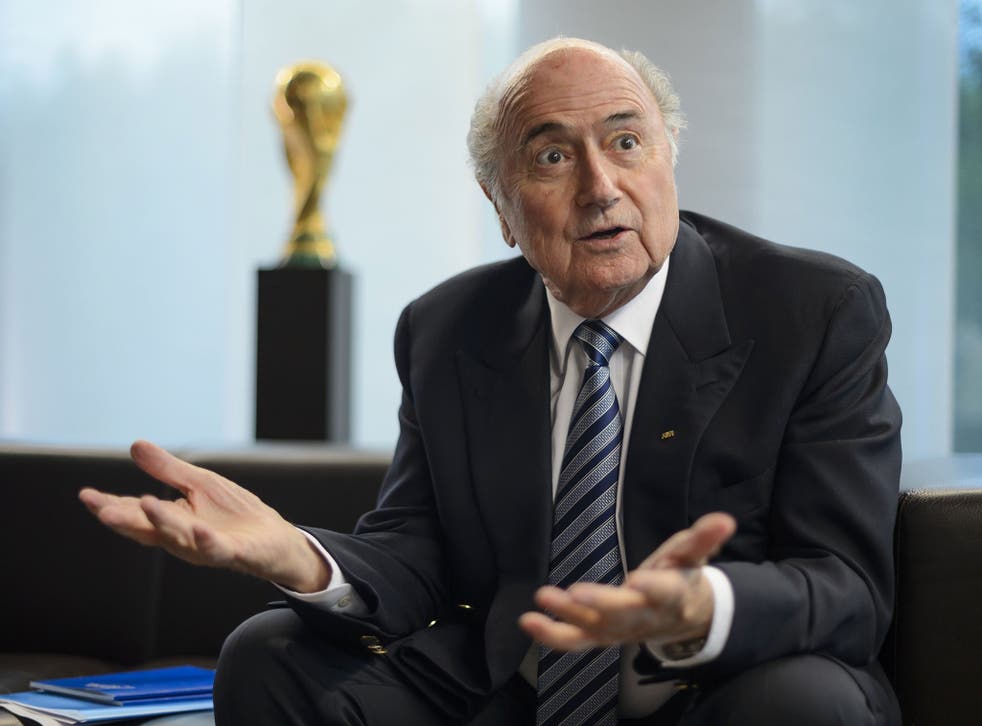 Morocco actually won the ballot to host the 2010 World Cup before votes were "deliberately miscounted" and it was awarded to South Africa, according to extraordinary new claims of corruption at Fifa.
Secret video tapes, allegedly first shown to the governing body five years ago and published this weekend by the Sunday Times, reportedly show the then-Fifa executive committee member Ismail Bhamjee making the claims to an undercover reporter.
Bhamjee alleges that he discussed the ballot with colleagues and realised that, based on whom they all voted for, "we found out that actually Morocco won by two votes". He tells the reporter that officials, who tallied the votes in secret, could have "deliberately miscounted" before adding "Please, this is very secret."
South Africa denied the claims. The country's sports ministry has in the past week also denied allegations from US investigators that it paid $10 million to the former Fifa executive Jack Warner to secure votes from Caribbean delegates.
The Sunday Times reported that it had handed the tapes to Fifa executives including its president, Sepp Blatter, five years ago, alleging that the organisation's highest-ranking officials were made aware of the claims.
In a statement to the newspaper, Fifa said: "It cannot have escaped even the Sunday Times' attention that these matters are being investigated by the proper authorities, i.e. government agencies not newspapers. And Fifa is fully cooperating with these investigations."
The undercover tapes also appear to show Bhamjee claiming that Morocco paid a bribe of more than $1 million to Warner, then the president of Concacaf. He alleges Warner changed his vote at the last minute to South Africa "because they offered him more money".
Contenders to replace Sepp Blatter as Fifa president

Show all 6
Describing how the ballot for the 2010 World Cup worked, he claims he and some other executive committee members "go in there, without our cellphones, and vote".
"We put it in, where the attorney general or somebody and an accountant and the secretary general they go and they say they found a winner and announce it there," he said.
"Morocco actually won the vote to host the World Cup... but Blatter [inaudible] the whole thing."
The Sunday Times said it had filmed the four former Fifa officials in 2010, speaking openly about the vote which apparently saw South Africa win comfortably by 14 votes to 10 in May 2004.
The FBI is investigating Blatter as part of its probe into alleged widespread corruption which has resulted in the arrest of 18 current or former Fifa officials. Blatter himself, who has said he will stand down as president, has not been charged with any wrongdoing and maintains that he is working "to root out any wrongdoing in football".
Former Concacaf president Warner has been indicted by the US and is currently released on bail after handing himself in to the police in Trinidad and Tobago. He denies the allegations, but warned in a TV address that he has documents proving an "avalanche" of secrets which he will reveal.
Register for free to continue reading
Registration is a free and easy way to support our truly independent journalism
By registering, you will also enjoy limited access to Premium articles, exclusive newsletters, commenting, and virtual events with our leading journalists
Already have an account? sign in
Join our new commenting forum
Join thought-provoking conversations, follow other Independent readers and see their replies