Firefighters use angle-grinder to rescue man with penis caught in gym weight
Crew employs circular saw and hydraulic tool in three-hour rescue operation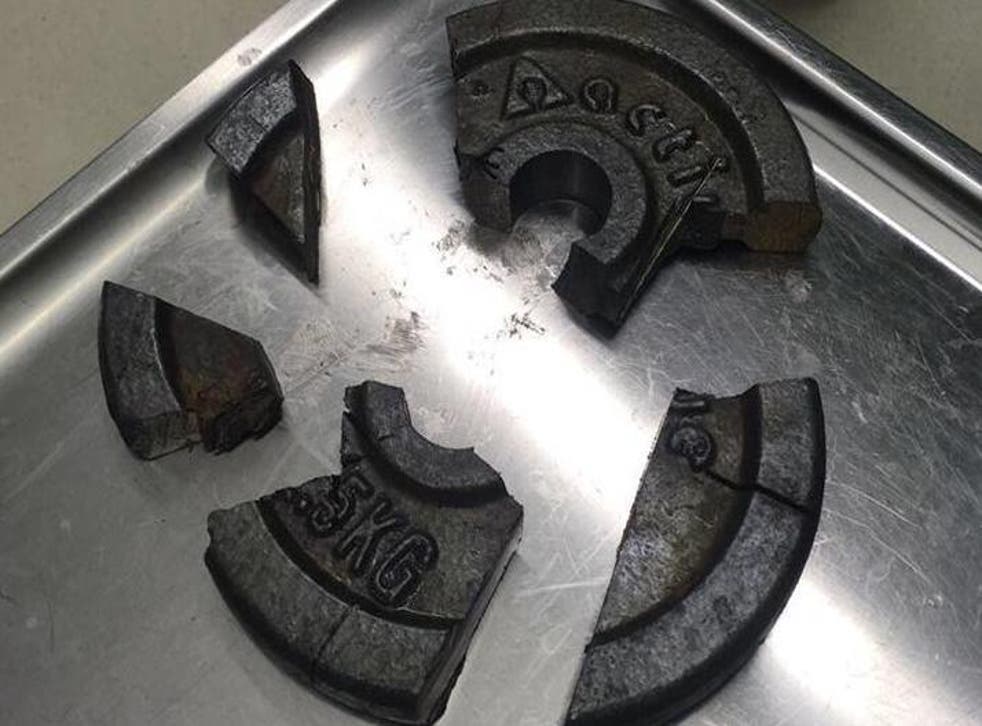 Firefighters spent three hours using power tools to free a man with his penis trapped in a gym weight.
The crew used an angle-grinder and a circular saw to prise the 2.5kg dumbbell disc off the unfortunate weight-lifter at a hospital in Worms, Germany.
They also employed a hydraulic emergency tool more often used to free trapped car crash victims.
The man reportedly had to be sedated as firefighters cut through and smashed the weight.
Worms fire department posted a picture of the shattered disc on social media following the rescue operation on Friday.
"One person had a very sensitive part of the body trapped in the hole of a 2.5 kg dumbbell disc," it said on Facebook, describing the call-out as "somewhat different".
Perhaps wisely, the department offered no details on how the man became trapped. But it cautioned: "Please do not imitate such actions."
In May, firefighters in north London used hydraulic tools to rescue a man who had his genitals stuck in a penis ring for two days.
Register for free to continue reading
Registration is a free and easy way to support our truly independent journalism
By registering, you will also enjoy limited access to Premium articles, exclusive newsletters, commenting, and virtual events with our leading journalists
Already have an account? sign in
Register for free to continue reading
Registration is a free and easy way to support our truly independent journalism
By registering, you will also enjoy limited access to Premium articles, exclusive newsletters, commenting, and virtual events with our leading journalists
Already have an account? sign in
Join our new commenting forum
Join thought-provoking conversations, follow other Independent readers and see their replies