Flotilla of Spanish fishermen stages protest over Gibraltar's artificial reef
Some forty Spanish boats invade Gibraltarian waters while police and Navy try to contain them
Martin Roberts
Sunday 18 August 2013 09:27 Comments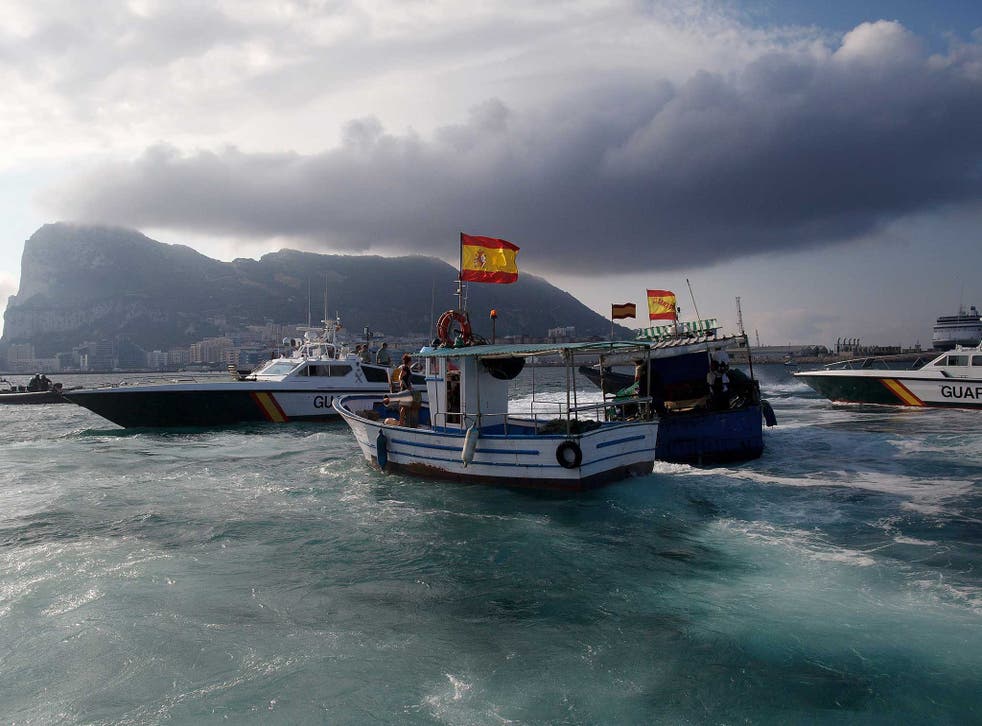 Spanish fisherman shouting "Gibraltar is Spanish" confronted patrol boats from the Rock today in protest at 70 concrete blocks recently dumped in the bay, which they say endanger their livelihood and which have also ignited a diplomatic tussle over the territory.
Irate fishermen from neighbouring towns of Algeciras and La Linea say they have fished in waters adjacent to Gibraltar for years, and have lost earnings of €1.5m since 24 July, when the blocks were put in place.
They put to sea escorted by Spanish coastguard boats, as Gibraltarian patrol boats waited for them. After a couple of hours of hurling insults, the 40 or so fishing smacks eventually headed for port.
Chief Inspector Castle Yates, of the Royal Gibraltar Police, said the boats met in Spanish waters and, despite efforts by British boats to stop them, crossed into Gibraltarian waters before being "pushed" out again. "About 38 Spanish fishing boats and seven or eight pleasure craft converged in the area of the western anchorage," he said. "We had our own police cordon along with Royal Navy and we corralled them in the area of the south mole. They tried to breach the cordon several times but they were not successful."
Meanwhile the Royal Navy aircraft carrier HMS Illustrious had docked in nearby Rota, a US Navy base in Spain, on its way to exercises. Illustrious cannot tie up in Gibraltar's shallow waters, but three accompanying frigates were due at the Rock later in the day.
Although the naval visit has come under criticism from some parts of the Spanish media, who felt the timing was not coincidental, the defence ministry in Madrid played down its significance, saying it was routine and they had known about it since 4 June.
The stand-off between Madrid and London has escalated over the past three weeks despite a telephone call between David Cameron and his Spanish opposite number Mariano Rajoy, which followed threats by Spain's Foreign Minister to levy a €50 tax on people entering and leaving Gibraltar. That in turn drew protests from many of the 7,000 Spaniards who commute to work in the territory.
Both Britain and Spain have mooted taking the dispute to international arbitration, while Madrid hinted it may take advantage of Argentina's presidency of the United Nations Security Council to link the two countries' respective claims to Gibraltar and the Falkland Islands.
On Friday, Mr Cameron telephoned the President of the European Commission Jose Manuel Barroso to ask him to send a team to monitor border delays, which the Prime Minister said had gone on despite efforts at dialogue.
"We're aware the controls hinder citizens and we regret that very much," the Spanish Interior Minister Jorge Fernandez Diaz said. "But they must understand that delays and controls at the border are entirely down to the disloyalty with which the Gibraltarian authorities have acted."
The minister estimated that Gibraltar imported 140 million packets of cigarettes last year, and added, "The colony's population, or visitors and tourists, don't smoke that much."
Gibraltarian authorities have said the concrete blocks are to build an artificial reef designed to protect fishing stocks, but Madrid said the action was unilateral, and has long maintained that the 1713 Treaty of Utrecht which ceded Gibraltar to Britain did not include coastal waters. Spanish media, however, have claimed to have found an investors' prospectus which apparently suggests the building work is actually intended to lay the foundations for a marina and tourist complex to be known as Cape Vantage.
In an interview with the BBC, Gibraltar's Chief Minister Fabian Picardo said he was in no mood for compromise over the blocks. He also claimed Madrid had "manufactured" the dispute to divert attention from corruption allegations against Mariano Rajoy, which have been made by his party's jailed former treasurer.
"There was no dispute to speak of a few weeks ago," Mr Picardo said.
The reef: Bone of contention
Tugboats chartered by the government of Gibraltar dumped 70 concrete blocks into nearby waters on 24 July. The territory says the blocks are part of an artificial reef which will regenerate fish stocks.
Spanish fishermen, who live in a province where unemployment runs at 40 per cent, say they have since had to try and fish elsewhere. They add they were allowed to fish freely in waters adjacent to the Rock for 13 years until March last year.
Spain says that it alone has jurisdiction on environmental matters in coastal waters, and those near Gibraltar are covered by a designated Special Area of Conservation.
Register for free to continue reading
Registration is a free and easy way to support our truly independent journalism
By registering, you will also enjoy limited access to Premium articles, exclusive newsletters, commenting, and virtual events with our leading journalists
Already have an account? sign in
Join our new commenting forum
Join thought-provoking conversations, follow other Independent readers and see their replies