Foreigners are cool: Iceland's lesson for Britain as isolated island is voted the friendliest place on earth
The country that topped a hospitality poll could teach the UK (placed 55th) a thing or two, Jenna Gottlieb discovers
Jenna Gottlieb
Friday 05 April 2013 21:21 Comments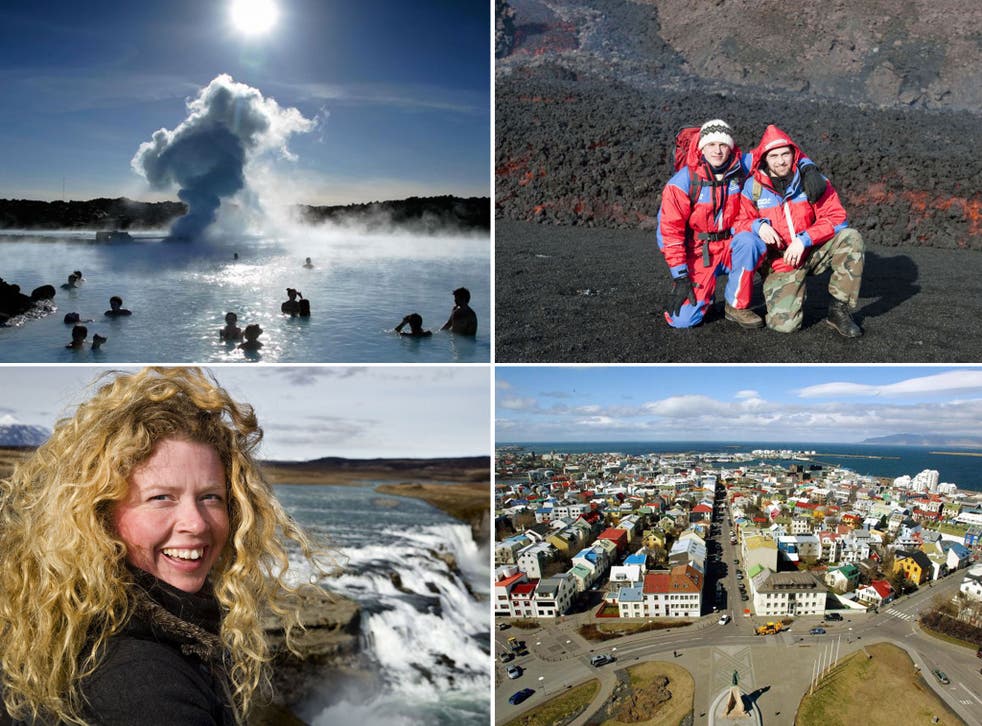 It has had its fair share of international criticism. But the island once famed for financial ruin is fighting back with love: Iceland is, officially, the most welcoming nation on earth.
Still reeling from its economic collapse five years ago, Iceland has been voted the most welcoming to foreigners of 140 countries polled by the World Economic Forum. The public attitudes survey found Icelandic society most open and welcoming to foreigners, followed by New Zealand and Morocco. Britain, it should be said, came 55th.
So what makes Icelanders so cheerful? "It has to do with our history," says Gudrun Magnusdottir, a student at Haskoli Islands University in Reykjavik. "In the old days farmers were required to greet guests with the best they had. This has since been etched in our culture, and today, the goal is to get tourists to come back again."
After the country's economic collapse in 2008, Iceland's outlook has improved. Indeed, while the eurozone is expected to shrink by 0.3 per cent this year, Iceland's economy will grow by 2.7 per cent. Unemployment too has fallen to 4.5%, half the amount it was at its peak, and the budget deficit that reached 13.5% of GDP in 2009 fell to 2.3% last year. Meanwhile, as Europe feels the pain, Iceland's loans have been paid back ahead of schedule.
For one of the world's most marooned countries, sitting squarely on the mid-Atlantic rift, immigration is hardly the issue it is in others parts of Europe.
Given that many Icelanders can trace their lineage back to the first settlers, most are delighted to encounter diversity, says Bjorn Ludviksson, who operates a lighthouse in the western town of Akranes. "It is great people choose to come to our little country. When I talk to tourists, I like to point things out to them, make sure they enjoy their time and find out where they live, where they're from and why they decided to come here."
Tourism is on an upward cycle. According to officials, international visitors to Iceland have doubled since 2000. Roughly 300,000 people visited Iceland in 2000, and nearly 600,000 tourists came in 2012. Should the trend continue, tourist officials expect a million visitors to Iceland by 2020.
So what can frosty Britons learn from it all? Well, to charmingly flaunt your assets, one Scot living there suggests. "Iceland is proud of its heritage and enjoys showing that off to tourists," David Mitchell says. "Brits are known for being extremely friendly to visitors. But as a region, it is absolutely awful at selling itself, or courting people.
"We rely on tradition, Hollywood and Americans pursuing their lineage to fill our coffers."
Iceland, he says, is the opposite. Culinary offerings including boiled puffin and putrid shark; unrivalled nature from lava fields, hot springs, geysers and glaciers. The country sells itself on a sensory assault and nothing delights its people more than sharing that with the rest of the world.
"We are very proud of our nature and how beautiful Iceland is," said Finnur Andresson, a Reykjavik photographer. "We love that visitors get to see that. There are so many things unique to Iceland."
Marketing trickery also helps. While the tiny North Atlantic nation is isolated, tourism officials try to make Iceland seem closer than it is.
The country's national aircraft carrier has a policy of allowing tourists flying between the US and EU countries to stop over for a while in Iceland at no extra cost. Feel welcome enough and, the hope is, you'll stay.
Best and worst: Friendly countries
Five most friendly
1. Iceland
2. New Zealand
3. Morocco
4. Macedonia, FYR
5. Austria
Five most unfriendly
1. Bolivia
2. Venezuela
3. Russian Federation
4. Kuwait
5. Latvia
Register for free to continue reading
Registration is a free and easy way to support our truly independent journalism
By registering, you will also enjoy limited access to Premium articles, exclusive newsletters, commenting, and virtual events with our leading journalists
Already have an account? sign in
Join our new commenting forum
Join thought-provoking conversations, follow other Independent readers and see their replies