Former concentration camp being turned into luxury resort with 'party ambience' in Montenegro
Mamula fort was used by Mussolini's fascist forces in the Second World War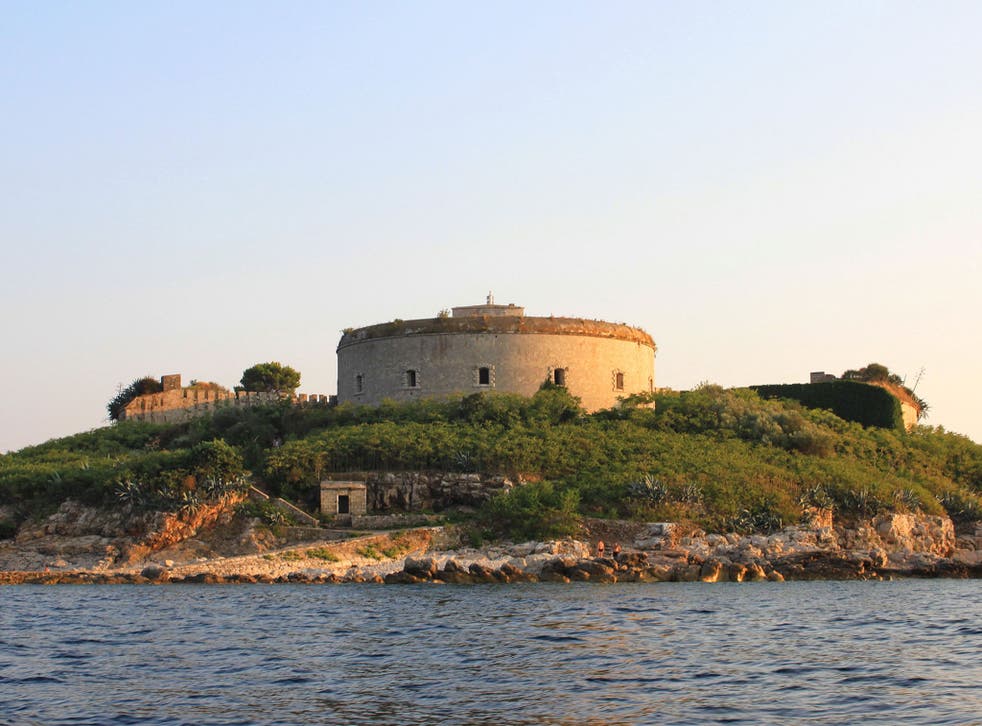 A former concentration camp where political prisoners were held during the Second World War is being turned into a luxury tourist resort.
Politicians in Montenegro have approved controversial proposals that had been delayed for years because of the strength of opposition, Forbes reported.
Orascom, the company developing the new "Lustica Bay Resort" after paying, makes no mention of Mamula Fort's dark history in a statement on its website.
"The project will be sympathetic to the local architecture and will completely preserve the historical value of the island," it says. "The project will also be completely eco friendly by using renewable energy sources, and energy efficient materials."
Orascom said it offered €1.5 per square metre of the island for the 49 year lease, on top of a separate agreement for the waterfront, and was planning to invest €15 million (£12 million) developing the "high end resort and spa".
A sleek website dedicated to the project contains visualisations of a palm-fringed swimming pool, restaurant, open-air dance floor, beach club, water sports centre and boasts of a "party ambience".
Salt & Water, the architecture firm behind the designs, said the fortress' exterior would be preserved as one of the "most impressive landmarks of Montenegro".
Mamula, built by the Austro-Hungarian Empire in the 19th Century, sits on a tiny island guarding Boka Bay.
But it was never used to defend against enemy ships and instead went through various uses as a prison and, during the First and Second World War, a concentration camp.
Benito Mussolini's fascist forces used Mamula during the Italian occupation to house Serbs from Croatia, Montenegro and Bosnia and Herzegovina.
More than 2,000 prisoners were reportedly kept there, with many killed or starved to death, and the torture and cruelty they experienced became the subject of a Yugoslavian film called Mamula Camp.
The island is currently uninhabited but is visited by tourists who can reach the empty fortress on boat and swimming excursions.
Balkan Insight reported that Montenegro's ruling coalition stipulated that the development must include a museum or memorial and emphasised that the conversion will preserve the fortress and boost the local economy.
Olivera Doklestic, whose father, uncle and grandfather were imprisoned at Mamula, is among those prisoners' descendants campaigning against the development.
"The history of the island and its fortress must be at the centre of its adaptation," she told the website. "A luxury resort is not an adequate solution."
Even a former UN Secretary-General, Boutros Boutros-Ghali, got involved in the debate with an open letter calling on the Montenegrin President to refuse the resort plans signed by the ex-Director General of Unecso among others.
"We fell called upon to propose that Fort Mamula, originally built for war purposes and mostly used as a prison for internment, torture and executions during the two World Wars, be transformed into a facility and institution of peace and international cooperation," it read.
"Fort Mamula should become an international landmark that Montenegro and its people would be proud of, one that would be an appropriate monument."
Register for free to continue reading
Registration is a free and easy way to support our truly independent journalism
By registering, you will also enjoy limited access to Premium articles, exclusive newsletters, commenting, and virtual events with our leading journalists
Already have an account? sign in
Register for free to continue reading
Registration is a free and easy way to support our truly independent journalism
By registering, you will also enjoy limited access to Premium articles, exclusive newsletters, commenting, and virtual events with our leading journalists
Already have an account? sign in
Join our new commenting forum
Join thought-provoking conversations, follow other Independent readers and see their replies