French banks refuse loan to far-right leader Marine Le Pen to fund presidential campaign
'This poses a real problem of discrimination founded on political opinion'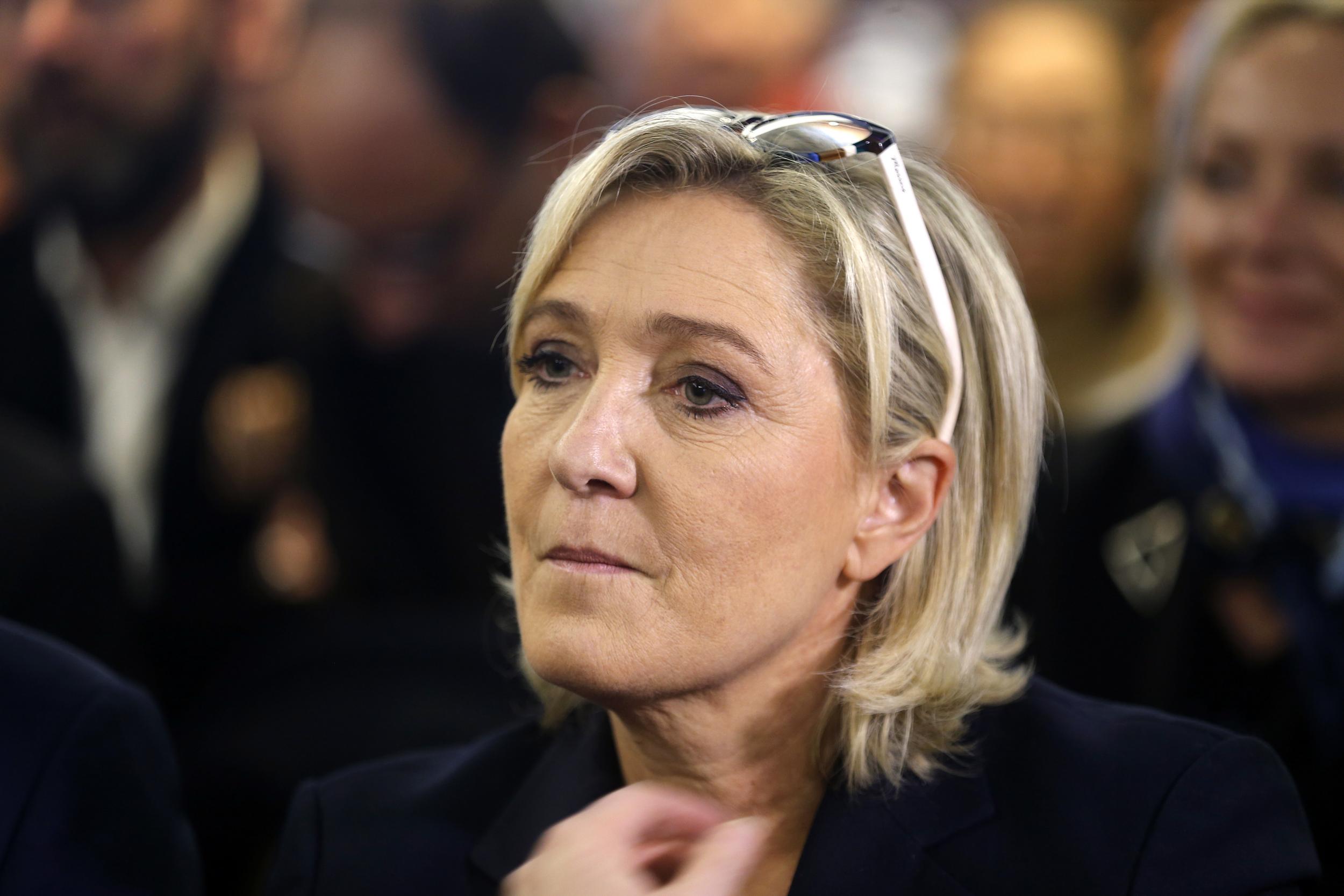 French banks are refusing to give far-right leader Marine Le Pen a loan to help fund her presidential campaign.
The leader of the French nationalist party National Front is struggling to obtain bank loans to finance her campaign, set to start in February, due to what a senior party official has described as "discrimination based on political opinion".
National Front Secretary General Nicolas Bay told Europe 1 radio on Thursday the party required a loan of around €27 million (£23 million), but that French banks were refusing to "play the game of democracy".
Mr Bay said: "For months we've been looking for a loan from a French banks or European banks. At this stage we still haven't found a sufficient loan for the presidential and legislative campaigns.
"It is a real scandal that the French banks aren't playing the game of democracy.
"There are certain candidates who have a lower guarantee than Marine le Pen, but have obtained bank loans — this poses a real problem of discrimination founded on political opinion."
French banks Credit Agricole, BPCE and Credit Mutuel did not immediately respond to The Independent's request for comment, while BNP Paribas declined to comment on the matter.
A spokesman from French multinational bank Societe Generale said the organisation systematically refuses requests for loans from political parties, citing good business and political neutrality as the two reasons, according to Reuters.
The French media have in the past published letters from French banks refusing loans to National Front.
The party came under scrutiny in 2014 when it emerged it had received a €9 million (£6.9 million) loan from the First Czech Russian Bank, believed to have ties to the Kremlin.
When asked whether National Front would ask Russian establishments for money, during the Europe 1 interview, Mr Bay said: "We're not ruling anything out at this stage. If we are obliged to go abroad to seek loans it's because the French banks aren't playing the game, and that's a serious problem."
Reports also suggest the party is considering obtaining a loan from Cotelec, the finance association created by Ms Le Pen's father and former Front National leader, Jean-Marie Le Pen, which would likely spark controversy.
World news in pictures
Show all 50
Opinion polls have suggested Ms Le Pen has the support of around a quarter of French voters, but she faces stiff opposition against Francois Fillon in the race for the French presidency.
At the beginning of December a poll indicated that the conservative presidential election candidate would beat far-right leader Marine Le Pen in the second round of the presidential election with 65 per cent of the vote.
The party's popularity has nonetheless grown rapidly since Mr Le Pen was expelled from the party in 2015 and is now considered one of the largest political forces in France.
The first round of the French presidential election will be held on 23 April 2017, and if no candidate wins an outright majority, a run-off between the leading two will take place in May.
Join our commenting forum
Join thought-provoking conversations, follow other Independent readers and see their replies