France 'blocks' Russian sailors from boarding a warship
President Hollande has been under pressure to deny Putin access to two €1.2 billion helicopter carriers over the Ukraine crisis
Adam Withnall
Wednesday 19 November 2014 12:09 Comments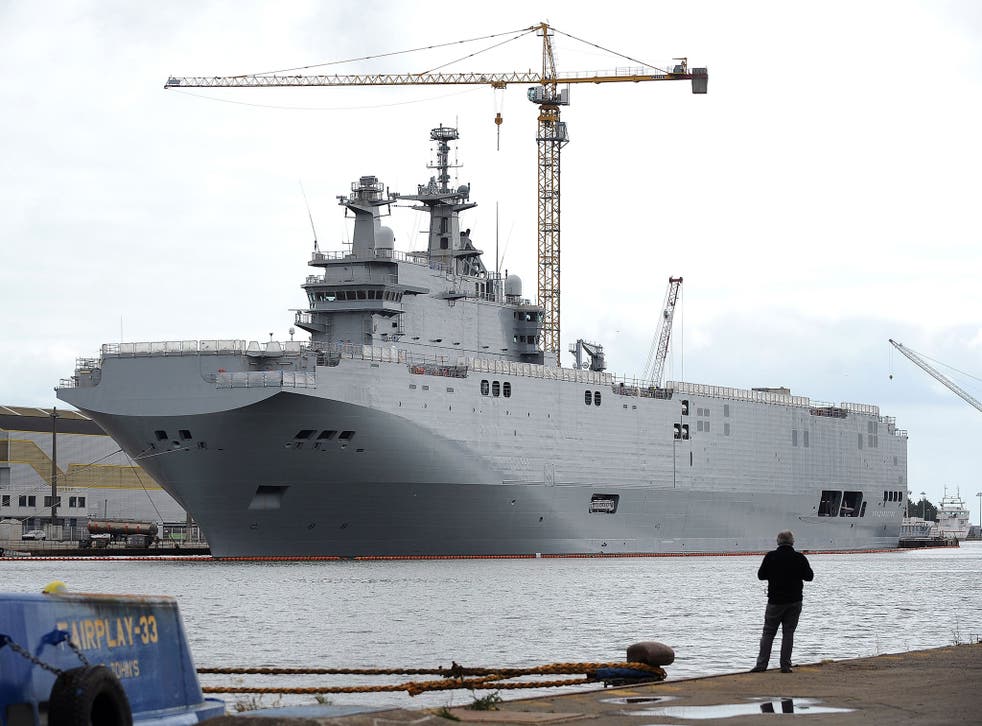 Amid a growing diplomatic crisis between Vladimir Putin and the rest of Europe, hundreds of Russian sailors have reportedly been prevented from boarding a warship built for them in western France.
The €1.2 billion (£960 million) contract between France and Russia for the delivery of two new Mistral-class helicopter carriers has been the subject of intense pressure from the US and other nations.
President Hollande has spent months resisting calls to cancel the deal altogether in response to what David Cameron has described as "Russia's illegal actions in Ukraine", but has reportedly delayed the handover of the first of the two ships until the ceasefire in the conflict region is "fully observed".
Russia has warned that France will be subject to huge compensation fees if it does not give up control of the vessel, named the Vladivostok, before the end of November. It was supposed to be handed over on 14 November, the Russian news agency Itar-Tass reported.
On Monday, the regional French newspaper Ouest-France reported that 400 Russian sailors due to board Vladivostok for training were refused access at the request of the Paris authorities.
Russia's Interfax agency has since reported that the sailors in the port city of Saint Nazaire were allowed to board the vessel on Tuesday, citing a military source.
Tensions between Russia and the Western world

Show all 8
But the tussle for control of Vladivostok will do nothing to ease tensions between Russia and France, which insists that because of the fighting in Ukraine "the conditions are not in place" for delivery.
Separate Itar-Tass reports suggest the French shipbuilder responsible for the project, DCNS, is keeping quiet about a potential date when the second helicopter carrier, the Sevastopol, will be ready to float out.
And France's prime minister Manuel Valls hit out angrily last week at suggestions Moscow was setting strict deadlines for the ships' delivery.
"Today, the conditions to deliver the Mistral aren't there," Valls told reporters. "France honours its contracts, but France is a nation that counts, wants peace in Ukraine and that makes sovereign decisions without anybody from outside dictating how it acts."
President Hollande and President Putin were due to meet on the sidelines of the G20 summit at the weekend, but reports suggested the Mistral situation was not overtly discussed.
"What's key - and the president will discuss it with several leaders during the G20 - is to rediscover the path to peace between Ukraine and Russia," Valls told reporters last Friday. "We're far from that today."
Register for free to continue reading
Registration is a free and easy way to support our truly independent journalism
By registering, you will also enjoy limited access to Premium articles, exclusive newsletters, commenting, and virtual events with our leading journalists
Already have an account? sign in
Join our new commenting forum
Join thought-provoking conversations, follow other Independent readers and see their replies